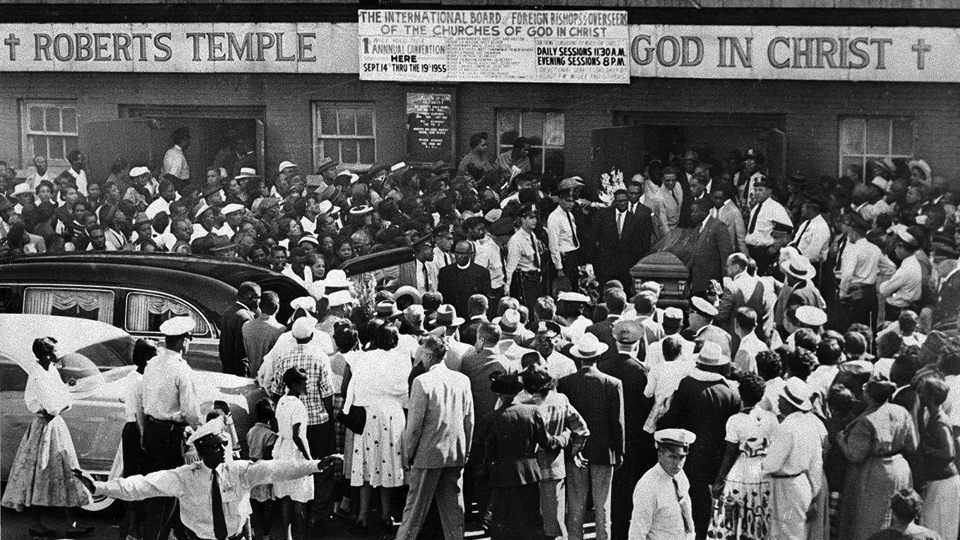 CHICAGO — Arlene Brigham's eyes still blaze when she talks about Emmett Till. At 88 years old she can still vividly recall the pain and outrage surrounding the lynching of the 14-year-old African American on Aug. 28, 1955.
Two white men were tried for the murder of Till in Mississippi. The all-white jury found them not guilty after deliberating for just 67 minutes. Fifty years later, the Department of Justice was compelled to reopen the investigation into one of the nation's most heinous racist crimes. But that was only after a PBS documentary, "The Murder of Emmett Till," had exposed the prosecution's shoddy case.
Brigham was one of many brave activists who aided the Till family in trying to bring Emmett's killers to justice. She has been a foot soldier for equality and a revolutionary her entire life. Today she lives with her husband Lonnie, a retired Chicago transit worker, in their modest home on Chicago's South Side.
From Mississippi to Chicago
Brigham was born in Jackson, Miss., in 1917. She moved to St. Louis with her family when she was 1 year old. The Depression left her father jobless, which caused the breakup of her parents' marriage.
Her mother couldn't care for all her children, so three siblings were sent to the family in Mississippi. For a time her mother worked in a nut factory. One day she left home and didn't return. Brigham and her brother Cliff were shuttled between her father's relatives.
Brigham met and married her first husband in St. Louis. She heard that her mother was in Chicago. So she, her husband and baby son Donald moved to Chicago. They hoped to find her mother and to find a job.
When Arlene arrived in 1936, Chicago was bursting with struggle. As she puts it, "I was like a rabbit that had been thrown into the patch." The city's African American community was large and growing. Since World War I, African Americans had streamed in from the South as part of the "Great Migration." Many found jobs in basic industry. Because of its size and industrial character, Chicago's African American community became a nationally recognized political and cultural center.
Jumping into the struggle
Brigham jumped into the struggles of the Unemployed Councils that were organizing daily protests, moving evicted furniture back into homes and turning on heat and electricity.
"I had never seen anything like that. I got involved right away. They were going to Washington, D.C., and chose me to go. Eleanor Roosevelt spoke at the meeting," she recalls.
Her mother, Lillian Reliford, was a garment worker. Reliford had been active in the 1933 strike of 1,500 African American women working at starvation wages in what were known as the Sopkins sweatshops. The shops were being organized by the Fur and Leather Workers Union. The workers won after a difficult battle.
Brigham also learned her mother had joined the Communist Party. Arlene joined the party and Young Communist League soon after. The African American community was pulsating with activity. During this period she met many outstanding activists, including party leader Claude Lightfoot, future Congressman Gus Savage and Dr. Margaret Burroughs, who later founded the DuSable Museum of African American History.
Brigham remembers vividly the huge nightly meetings held in Washington Park. The crowd "would choose a chair and go to it. Everybody was talking about the conditions and how to get out of it. I used to tag along with my mother. It was a big school on the street," says Brigham.
After discussing an issue, the crowd would often take some action. Once they decided it was time to demand jobs for African Americans on the streetcars. So they marched out of the park and stopped the streetcars.
"Many people would come to our house after the park meetings and talk all night. It started making sense," she remembered.
Pioneering work for labor and civil rights
During World War II jobs started opening up. The elevator operators in the downtown clubs and hotels had been white men. Many joined the armed services. Women, including Brigham, filled their jobs. She later got her beautician's license and opened up a shop in her house.
During the 1930s and '40s there were big struggles to organize the packinghouse workers in Chicago's stockyards. Sixty percent of the workers were African American, but there were also Poles, Mexicans and Lithuanians. The United Packinghouse Workers Union was founded in 1943.
Communists who were active in the union challenged job discrimination and fought for African Americans to be elected into leadership positions, such as Sam Parks, who became president of Local 25, and Leon Beverly.
During the anticommunist McCarthy period, the union refused to expel Communists from their leadership. The left leadership of the Packinghouse workers succeeded in building Black-white unity and civil rights activism throughout the 1950s. The union built coalitions between labor and the African American community to advance civil rights.
"I was close friends with Parks," said Brigham. "Anytime anything would happen, they sent me. When they killed (NAACP leader) Harry T. and Harriett Moore in Florida, I went to meet with the governor."
Brigham was also part of a national delegation that met with the governor of Virginia to try to save the Martinsville 7. The seven African American men had been falsely accused of raping a white woman in 1949. They were "tried," convicted and scheduled for execution. Protests erupted across the country. Despite a worldwide movement to save the men from legal lynching, they were executed in February 1951.
"They killed four on Friday and the other three on Monday, because they don't kill on Sunday," said Brigham angrily. Brigham organized speaking appearances in Chicago for Josephine Grayson, whose husband was executed.
"A lot of the activity came from our (South Side) Communist Party club," she said. "Once I met Josephine Baker who was appearing at the Chicago Theater. I went backstage and told her about an African American they intended to kill in Mississippi. She listened. She stopped the whole show and told the audience, 'They're fixing to kill one of my people.'"
Responding to Emmett Till's lynching
Brigham's involvement in lynching cases spurred her into action when she heard about the murder of Emmett Till.
In August 1955, Till traveled from Chicago to Money, Miss., to visit relatives. Till and some friends went to buy refreshments at a store. He was accused of whistling at a white woman in the store. The armed white storeowner barged into Till's uncle's home in the dead of night and kidnapped Till. His body, nearly unrecognizable from being brutally beaten and shot, was discovered three days later in the Tallahatchie River.
Brigham remembered, "Mamie, Emmett Till's mother, lived near me. I read about it in the papers and decided to go over there. I went with my sisters and Pat Ellis, another party member known to many by her maiden name, Jonnie Lumpkin. Mrs. Till's mother was resentful of people coming and sitting around there. I had to do something to be welcome."
So Brigham went to the Packinghouse Workers for help. Sam Parks gave her money to buy some groceries for the Till house. She, her sisters and Ellis went back with the groceries the next morning. They were welcomed in.
"They hadn't found the body then. The family was really afraid because two white people had come to the house from Mississippi. They asked to talk with Mrs. Till but we wouldn't let them in," said Brigham.
Presumably they were authorities that wanted to convince Mrs. Till to bury the body immediately to cover up the crime. But the family refused.
"The body was found and shipped to Chicago. When they brought the body in, Pat and I were there. Mrs. Till hadn't seen it either. So the first thing I did, I called Parks and Leon Beverly. I said 'Come over right now.' Sammy Rayner (a prominent African American funeral director who aided progressive causes) had a little place then under the elevated train. They took the body there," she recounted.
"When they opened the bag, everyone was in shock and didn't know what to say. The newspapers were there but said, 'We're not going to take these pictures.'"
"Gus Savage was outside. I told Gus to take the pictures. He was the first to take the pictures of Emmett. He published a little magazine then called the American Negro. That's how the pictures were first shown. Then everyone started putting them out."
The decision for an open casket
Pat Ellis had been through a similar experience. Her brother-in-law Taft Earl Rollins was murdered by racists during a riot at Fort Bragg, N.C., during World War II. The Army sent the body back to Orlando, Fla., in a sealed casket with orders not to open it. Pat opened it anyway. She saw the skull was smashed and the head was caved in. At her insistence, the casket remained open.
"Everyone was asking, 'What are we going to do?'" Brigham added. "I said, 'Let's keep the body out. Walk up and down the street with it. Let everybody see a lynching.'"
It was announced that Till's wake would be at Rayner's. That night people were lined up for 10 blocks. An estimated 100,000 people eventually viewed the body. "Now everybody was shocked and upset," recalled Brigham.
"The first place Mamie spoke was at the Packinghouse Workers union hall. I traveled with her the first trip she made to an NAACP meeting in Cleveland. Mamie and I were supposed to go to Mississippi. I had my bags packed. But some preachers intervened. Mamie told me, 'Little Bit (Brigham's nickname), we can't go. They say you are a Communist.' 'I don't care what they say about me,' I said. 'I can't go. But you've got to go.'"
Till turned to Rayfield Mooty, her cousin by marriage and a leader in the United Steelworkers of America. Mooty became her most trusted adviser and accompanied Till to the Mississippi murder trial. He later became a leader of the Ad Hoc Committee of Black Steelworkers, and the Committee for Trade Union Action and Democracy, and key rank-and-file groups that help transform the U.S. labor movement during the period of the 1960s-80s.
"The Till murder shook up the country to this day. It was the first time so many people had seen someone who had been lynched. It was an awakening. This was just before the Montgomery Bus Boycott," Brigham said. "Keeping the casket open was a courageous decision on Mrs. Till's part. It gave strength to her entire family to fight and it affected masses of working people."
Mamie Till-Mobley spent the rest of her life fighting to bring Emmett's murderers to justice. A new federal investigation is under way.
Courage and perseverance
Arlene and Lonnie Brigham were involved in many battles to end segregation. Friend Bea Lumpkin recalls a protest to integrate a theater in Bridgeport, a neighborhood then noted for racist violence. The theater was near Wentworth Avenue, which was a Mason-Dixon line dividing the African American and white communities.
"We got a call that the theater was refusing African Americans entrance. About 20 South Side Communists and friends went into the theater as a test. Arlene and Lonnie arrived late. By that time, a huge racist mob had gathered out front. Instead of turning around, Arlene and Lonnie marched right through the mob. That took a lot of guts," said Lumpkin.
Later Brigham became friends with an up-and-coming young lawyer named Harold Washington. She and Lonnie became active in his election campaigns. They worked in a number of struggles that resulted in a growing independent movement of the African American and Latino communities and a section of white voters. This culminated in Washington's historic victory for mayor in 1983.
Through it all Brigham has remained steadfast in her belief in socialism. "Things will never be right for the working class under capitalism. Most people live under the illusion that capitalism will forever be here. The only thing that's permanent is change," she said with a twinkle in her eye.