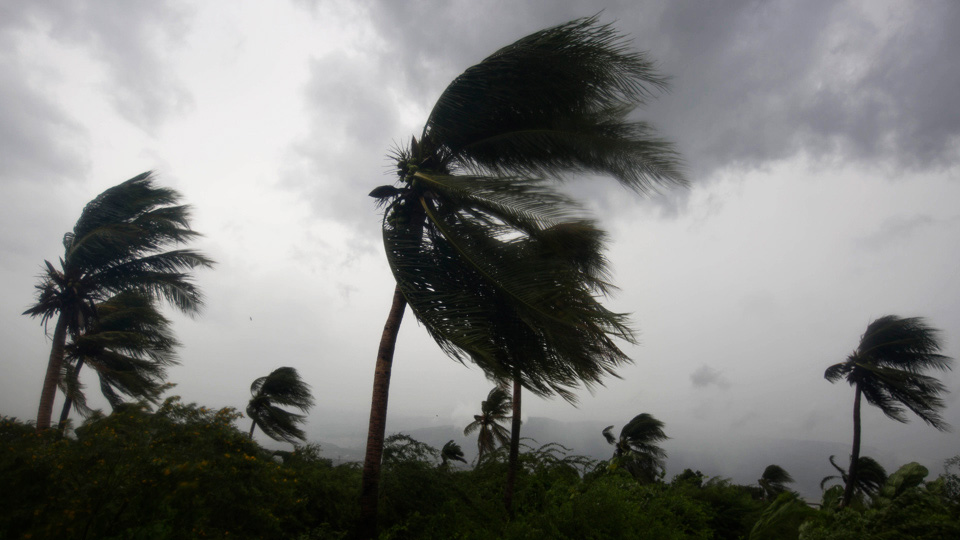 LES CAYES, Haiti (AP) — Two days after Hurricane Matthew rampaged across Haiti's remote southwestern peninsula, authorities and aid workers still lack a clear picture of what they fear is the country's biggest disaster in years.
Convoys and helicopters have begun venturing to marooned corners of the country to assess the damage and determine how to help thousands of people who lost homes, livestock and crops. Civil protection officials said they still don't have any information on potential deaths and injuries in the southern department of Grand-Anse, one of the hardest hit.
So far there were no reports of casualties from better-equipped Cuba or the Bahamas, which was being hit by the hurricane on Thursday.
In Haiti's southern peninsula towns where Matthew arrived around daybreak Tuesday with 145 mph winds, there was wreckage and misery everywhere.
"The floodwater took all the food we have in the house. Now we are starving and don't have anything to cook," said farmer Antoine Louis as he stood in brown water up to his thighs in the doorway of his deluged concrete shack.
In Aquin, a coastal town outside the battered city of Les Cayes, people trudged through mud around the wreckage of clapboard houses and tiny shops.
Cenita Leconte, age 75, was thankful she made it through the terrifying ordeal with her life. "We've lost everything we own," she told The Associated Press as neighbors poked through wreckage hoping to find at least some of their meager possessions.
Marie Alta Jean-Baptiste, head of the civil protection agency, said the storm also made roads impassable and knocked out communications in the Grand-Anse department, on the opposite side of the narrow peninsula from where Matthew first hit.
"We do know there's a lot of damage in the Grand-Anse, and we also know human life has been lost there," Jean-Baptiste said, though the official death toll did not yet include reports from there.
Civil aviation authorities reported counting 3,214 destroyed homes along the southern peninsula, where many families live in shacks with sheet metal roofs and don't always have the resources to escape harm's way.
The government has estimated at least 350,000 people need some kind of assistance after the disaster, which U.N. Deputy Special Representative for Haiti Mourad Wahba has called the country's worst humanitarian crisis since the devastating earthquake of 2010.
International aid groups are already appealing for donations for a lengthy recovery effort in Haiti, the hemisphere's least developed and most aid-dependent nation.
Bahamas
Capt. Stephen Russell, head of the Bahamas National Emergency Management Authority says the capital Nassau is now receiving the full brunt of Hurricane Matthew.
"We are experiencing the brunt of the hurricane force winds now so we just have to wait and see how we fare over the next five or six hours," he told The Associated Press.
Those in Nassau without generators are without power because authorities shut down the power when winds reach 40 mph to protect the grid. The major tourist hotels are on generator power.
Cuba
In nearby Cuba, Matthew blew across that island's sparsely populated eastern tip, destroying dozens of homes and damaging hundreds in the island's easternmost city, Baracoa. But the government oversaw the evacuation of nearly 380,000 people and strong measures were taken to protect communities and infrastructure, U.N. officials said.
Florida
Hurricane Matthew has strengthened to a catastrophic Category 4 storm as it barrels toward the heavily populated coast of Florida.
The National Hurricane Center in Miami said the storm's maximum sustained winds had strengthened to 140 mph as of late Thursday morning and were expected to maintain their strength as the storm approaches the Florida coast. The storm was expected to start affecting Florida by early afternoon Thursday.
Gov. Rick Scott is warning Florida residents living in evacuation zones to "get out." He said anyone living in low-lying areas or on barrier islands should "evacuate, evacuate, evacuate." He says tolls have been lifted on all roadways to help make evacuations easier. Scott says more than 1.5 million people are living in evacuation zones.
Remarking that "this is game day," Scott warned people to stay off beaches up and down Florida's Atlantic coastline Thursday, adding that "no one needs to be on the beach doing anything."
The governor has activated another 1,000 National Guard members, bringing the total to 2,500. He says they'll be available to help with evacuations and getting people to shelters.
Georgia
Gov. Nathan Deal has ordered mandatory evacuations along the entire Georgia coast as the National Hurricane Center placed all 100 miles of coastal Georgia under a hurricane warning Thursday.
Deal said Thursday that everyone east of Interstate 95 should flee Georgia's six coastal counties — Chatham, Bryan, Liberty, McIntosh, Glynn and Camden. Those counties have a combined population of more than 522,000 people.
Officials say powerful winds and heavy rains from Matthew could begin to arrive in coastal Georgia late Thursday. The storm is forecast to pass Saturday.
The Georgia coast hasn't seen a hurricane evacuation since a near-miss with Hurricane Floyd in 1999.
South Carolina
Gov. Nikki Haley says parts of two counties along South Carolina's northern coast are being evacuated ahead of Hurricane Matthew.
Haley told reporters Thursday morning evacuation orders go into effect at noon Thursday for parts of Horry and Georgetown counties.
Haley warned anyone in an evacuation zone not to take the orders lightly. She says surge from the storm could be as high as 8 feet and affect not only the coast but also areas farther inland.
So far, Haley says 175,000 people have evacuated from the coast. On Wednesday, the state reversed the eastbound lanes of Interstate 26 from Charleston to Columbia, allowing more motorists to move inland at once.
The Island Packet reported that Palmetto Breeze Transit workers were helping tell Beaufort County's residents where they could go to be evacuated ahead of Hurricane Matthew, what shelters they'd be heading to, who they could call to hang on to their dog or cat, and what would happen if they missed the bus.
"Hour after hour, callers with no ride or no place to go learned there were dozens of pick-up locations from Lady's Island to Hilton Head; there was room for thousands of people in shelters from Ridgeland to Hampton; kind-hearted animal control employees were taking in animals for the duration of the storm; and if you miss the bus, it'll come around again. "
North Carolina
North Carolina Gov. Pat McCrory says the latest predictions show that his state will avoid a direct hit from Hurricane Matthew.
But emergency workers are continuing to prepare for high winds, rain and storm surge.
McCrory says North Carolina cities like Jacksonville and Morehead City could still see wind gusts of up to 60 mph beginning Saturday. Widespread power outages are possible. There could be a foot of rain in some areas.
The National Hurricane Center in Miami says the hurricane is strengthening and called it dangerous and life-threatening. About 1.5 million people in Florida have been ordered to evacuate.
Barbara Russum contributed to this article.