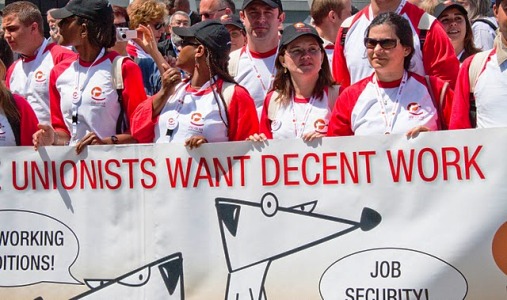 TORONTO (PAI)–The world's top political leaders are failing to meet the global job creation challenge resulting from the Great Recession, and instead seem to be inclined to listen to deficit-cutting policies pushed by the business elite, international union leaders say. And those policies could put the world back into another slump.
Speaking after representatives from the International Trades Union Congress met German Chancellor Angela Merkel during the G-20 summit in Toronto, new ITUC General Secretary Sharan Burrow added such a choice risks sleepwalking the world back into a double-dip recession "due to their haste to halve fiscal deficits by 2013 or even sooner." Burrow, an Australian, is the first woman to lead the ITUC.
"Jobs and better wages are at the heart of economic recovery, and last year G20 Leaders seemed to have recognized that" when they met in Pittsburgh last year, Burrow added. "This year they are sending mixed and ambiguous signals that risk undermining the weak shoots of recovery."
The G-20 leaders, including Democratic President Barack Obama, leaders of major European nations, plus South Africa, Saudi Arabia, Australia, Brazil, Japan and several others, pledged to try to cut deficits in future years, especially in the most-developed countries, such as the U.S.
"The leaders' communiqué frequently contradicts itself, speaking of cutting deficits by 2013 yet welcoming recommendations from their own labour ministers that say jobs should be a priority," said top British trade union leader John Evans.
"This is the wrong communiqué at the wrong time — an essentially descriptive text bespeaking unacceptable complacency in the face of a worsening jobs crisis, at a time when unemployment risks surging again as a result of premature deficit reduction measures," added Burrow.
In the U.S., Obama faces similar pressures to cut the deficit and against further "stimulus" spending. A Senate Republican filibuster successfully trashed a jobs bill, the day before he left for Toronto. That measure would have further extended jobless benefits, at a time of 9.7% unemployment — and when half of the jobless had already exhausted their benefits. Economists calculate millions more people could lose aid.
But even that measure was watered down in an unsuccessful effort to get votes and appease financial conservatives: COBRA health insurance extensions for the jobless were dumped, as was a prior $25-per-week increase in jobless benefits — aid that was particularly useful in low-benefit states such as Mississippi and Arkansas.
ITUC said it was pleased that Merkel, who met the union delegation in Toronto on June 26 "supported union demands to reference the recent G-20 labour ministers meeting in Washington in the final statement." Merkel also said Germany is ready to host a labor ministers meeting "during the next year."
Neither Merkel nor the ITUC said what that "reference" would include. The labor ministers, in their D.C. meeting earlier this year, presented a set of recommendations to Obama and the other leaders that included support for workers' rights.
Labor Secretary Hilda Solis implicitly said that included the right to organize, but labor ministers from large economies that lack workers' rights — notably China and Saudi Arabia — were not at the press conference where she made that statement.
"At least the leaders endorsed the G-20 labour ministers' recommendations," stated Evans. "However, they failed to set dates for a follow-up labour ministerial, or to establish a mechanism to consult with unions and implement urgently needed employment-intensive solutions to the crisis."
And the union leaders were also irked that the presidents, prime ministers and other leaders of the G-20 nations listened to the business elite — and not to workers hurt by the Great Recession.
"The Canadian and Korean hosts of this year's G-20" summits "seem to consider it more important to rub shoulders with their 'B-20' and 'B-100' groups of business leaders, than to include trade unions in the process," stated Burrow. The next G-20 summit, later this year, will be in Seoul, South Korea.
"They should take care: Working people around the world are getting angry at the assumption they will meekly pay the price for the crisis. On the streets and through the ballot boxes, politicians can expect them to make their feelings known," Burrow warned.
The ITUC declared that world leaders should reverse that course of listening to business, and start listening to the workers, on everything from creating jobs to fixing the banking system to foreign aid to alleviate poverty and controlling climate change.
"The G-20 set up a 'Framework for Strong Sustainable and Balanced Growth,' yet decisions they have taken could drive the world in the opposite direction," said Evans. Burrow added, "The International Labour Organization must be given the task of writing the recommendations on employment and social protection, central to all economic and social policy, for the G-20 framework." But ILO has no enforcement power.
Photo: Scott Marshall/PW