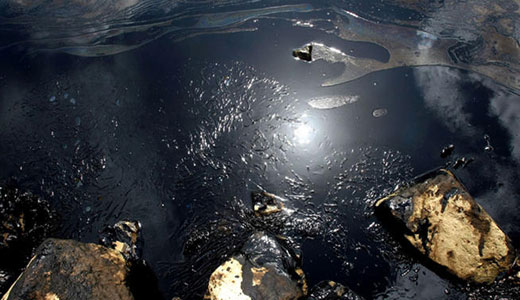 When the Deepwater Horizon oil spill occurred in 2010, the story was mostly front and center at major news sources. The disaster's aftermath is still ongoing, and the nature of oil corporation BP's profit-driven carelessness rattles those in the environmental movement to this day. But the oil spill that occurred in Texas City, Texas, and which has largely affected Galveston Bay, has flown under the radar. Though smaller when it came to the amount of spillage, the incident may grow to be just as large in scope and damage, with everything and everyone from wildlife to workers currently paying the price.
The oil spread quickly
During foggy conditions on Mar. 23, a Liberian merchant ship named Summer Wind, owned by Greek company Cleopatra Shipping, collided with a barge owned by Houston-based Kirby Inland Marine Corp. The impact damaged both vessels and sent 170,000 gallons of a strong "bunker fuel oil" into the Houston Ship Channel. The particularly noxious oil, called RMG 380, split into various patches and traveled in two different directions – toward Galveston Bay and the Gulf of Mexico, both of which the channel is connected to.
Strong wind caused the oil to spread quickly and across a wider distance, and it has now affected a bird sanctuary, a wildlife refuge, and numerous pristine ecosystems. The sanctuary, Bolivar Flats, has been visited by many oil-covered birds, and the refuge, Matagorda Island, which is home to endangered species, has been affected.
More recently, large tar balls washed ashore in Mustang Island State Park, a popular camping and swimming spot near Corpus Christi and another sensitive area for wildlife. The area is a nesting ground for turtles and shore birds.
Over 300 birds and 29 dolphins found dead
Birds affected by the spill include ducks, herrings, herons, pelicans, sanderlings, loons, willets, and plovers, the latter of which are classified as threatened by the Endangered Species Act. Over 300 birds have been found dead after being exposed to the oil, while 500 more were covered in and sickened by the crude.
Richard Gibbons, Houston Audubon conservation director, said he and others are worried because they expected the number of oiled birds to dwindle as time went on. Instead, they're rapidly increasing, and that's likely indicative of the oil's long reach and lasting effect on wildlife. Furthermore, he believes the oil has spread all the way into the marshlands.
"I don't know where it is in the marsh, but some marsh birds have been oiled," he said. "Right now I'm looking at a ruddy turnstone [a type of bird] that looks like a black turnstone, covered head to toe. Part of the reason that this was a significant spill was not because of the amount of oil, but because of the proximity that it has to natural habitat and globally important wildlife sanctuaries."
Meanwhile, 29 dolphins have washed ashore, dead. Though annual dolphin deaths do occur, experts believe this particularly high number is likely due to exposure to the oil. The Texas Marine Mammal Stranding Network is handling the issue, and testing will be required to determine for certain the cause of death. However, two dolphins were confirmed to have been found covered in oil.
Heidi Whitehead, Texas state operations coordinator for the network, noted that even the dolphins that did not yet die from oil exposure are now at great risk. She remarked, "Even if the oil does not kill the dolphins immediately, it could cause health problems for the mammals in the long run. Long-term chronic effects can also happen. It's going to be something we're going to be investigating for a long time following this event."
At least two turtles have also been found dead.
Dire consequences for workers, human health, local economy
The ripple effect is also creating dire consequences for workers, human health, and the local economy. Attorney Brett Coon, who is representing an unnamed shrimp boat captain, said on Apr. 9 that shrimp caught in the area near the spill have come up soaked in oil. "He discovered a significant amount of oil on the captured shrimp," he noted. "A closer inspection revealed that his entire catch was covered with oil."
Around the same time, the Galveston County Health District issued a warning about eating fish caught in the immediate area of the spill. And restaurant owners have already taken a hit because of that.
Linda Speth, owner of Emery's Seafood, a local seafood eatery, said, "The sale is down, and the reason why is people are afraid of eating the shrimp because of the oil spill." Though her larger shrimp are from further out in the Gulf, she said, her smaller bay shrimp have been directly affected by the spill and exposed to the crude. Oysters have also been affected, and as a result, Speth has been forced to get these and other seafood from Louisiana. "That's caused prices to go up," she said. "You've got to truck it in. That costs money." And having it delivered from elsewhere also means that local shrimp and oyster catchers are being put out of work. "You're going to put local fishermen on welfare because they can't make a living," she explained.
A waitress at Stingaree Restaurant and Marina in nearby Crystal Beach, Texas added, "Since the oil spill, oyster fishing has been closed. Our popular Oyster Jubilee we served at $21.95 for one and $23.95 for two is currently off the menu." Normally, oyster season is from November through April, she said, but "we've missed it. We won't have oysters again until next November."
Doug Rader, chief oceans scientist for the Environmental Defense Fund, said, "The health of the local seafood populations is intimately tied to the health of Galveston Bay."
Greg Stunz, a biologist at the Harte Research Institute for Gulf of Mexico Studies at Texas A&M University – Corpus Christi, suggested the situation with the shrimp is going to grow worse as they get closer to the shore. "Once they start using the marshes," he said, "that is the defining moment of when everything's got to be just right." Unfortunately, a shoreline covered in tar balls does not provide such conditions. "The marshes are their homes and grocery stores," he concluded. "And if your home's polluted, you're not going to survive."
Photo: A part of Galveston Bay covered in thick, black oil, some of which has spilled onto rocks near the shore. AP