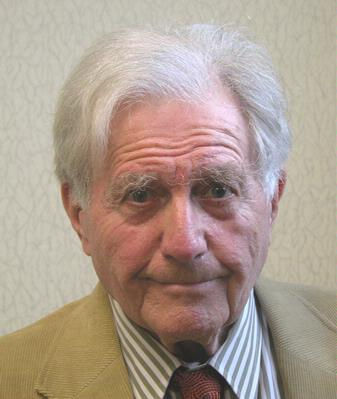 PITTSBURGH – The fourth floor meeting room of the United Steelworkers national headquarters rang out with cheers, applause and music Nov. 19 as nearly 200 friends, family, neighbors, union brothers and sisters and comrades, gathered to pay tribute and celebrate the life of George Edwards.
The highly respected union and community activist and Communist Party leader died of heart failure Oct. 5.
"George was an activist every day of his adult life," USW President Leo Gerard said. "Even when he was red-baited, he stuck to his principles. He kept up the fight for social and economic justice."
Gerard said there was "hardly a dry eye" when he introduced Edwards to a standing ovation at the 70th Anniversary union convention in Cleveland last May. "He was the only person there who was also at the first convention."
And, he added, immediately afterwards Edwards threw himself into the campaign to re-elect Pres. Barack Obama, knocking on doors and mobilizing SOAR, the Steelworkers Organization of Active Retirees, which he helped to found and lead.
He recounted the fight Edwards had started in 1948 for minority representation on the union's Executive Board and kept pushing for until it was won 30 years later.
"At 94, he walked the full distance in the Labor Day parade."
Gerard was self-critical that, after the 2008 election, labor had "let Obama down. We should have been in the streets in 2009." But, "we learned our lesson and on election night, we won one for George. We must learn from George's life to never stop being an activist on behalf of working people."
Then after belting out the verses of "You ain't been doing nothin' if you ain't been called a Red," folk singer Annie Feeney launched into a rousing rendition of the Internationale, the working class and Communist hymn, bringing some members of the audience to their feet.
"And that," said emcee and USW Vice President Fred Redmond, "is the best introduction to our next speaker, Sam Webb, National Chairman of the Communist Party."
"There is no better place to celebrate George's life," Webb said, thanking Gerard and the union for hosting the memorial. "This union meant everything to him," he said. "Nothing made George happier than to volunteer his labor in this building."
Edwards, he said, "always amazed me at the many hats that he wore – gardener, wilderness enthusiast, photographer, camper, chef, sports fan, environmentalist, avid reader, mentor to young workers and sculptor … but the main hat that he wore so well and so long was that of a union activist against corporate power. He punched into the class struggle at an early age and only punched out when his heart stopped beating."
As many nodded in agreement, Webb said Edwards' "nearly inexhaustible source of energy even as an old man came from his belief that his cause was just and righteous. It came from his belief that the 99 per cent are the real creators of wealth and would do a better job running the country than the 1 per cent. It came from his belief that a united working class had the power to bring the multi-national corporations to their knees."
Edwards "had a big heart; he always had the back of working men and women; and he loved his family, his neighbors, his union brothers and sisters, his comrades, and his country.
"He will be missed, but he will live on in our hearts as we continue to fight for a more just, equal and peaceful world."
Other speakers rounded out the picture of Edwards' rich life. Deborah Sakach, his daughter, shared memories of camping vacations while she grew up in Lorain, Ohio, where her father was a machinist at U.S. Steel, and "kept a mimeograph on the dining room table."
Beverly McCord, a former member of Wilkinsburg City Council, elected along with Edwards' widow, Denise, as part of a reform slate in 1997, called him a "Renaissance Man, a true caring people person."
"He helped you discover your dreams. He disdained material stuff and had a deep love of democracy."
Their group, she said, beat back an attempt to privatize a city school, the only community in the state to do this.
"He loved Wilkinsburg. He loved its diversity. He marched in every Martin Luther King parade….He was a socialist, a community activist and a Communist," she said to loud applause. Portraits of Denise and George Edwards are on a mural in the city, she added.
Former SOAR Director Oliver Montgomery, who Edwards backed when he ran for USW International Secretary-Treasurer in 1976, called him "a giant, similar to Dr. King and A. Phillip Randolph. He was a true trade unionist, a true freedom fighter."
Bruce Bostick, now retired from Local 1104 in Lorain, said Edwards had been "more than a friend. He was a mentor" who was able to reach across generations, races and cultures.
"We can't allow that torch to fall."
Connie Mabin, representing Next Generation, the USW's youth group, unveiled a photo montage of Edwards, who, she said, spent a lot of time with the young workers at the union's 70th Anniversary, generating a barrage of messages on Facebook and Twitter. She said the group was recommending to the International Executive Board that the union's newly established mentoring program be named after George Edwards.
Edwards' family urged that donations in his honor be sent to Next Generation or SOAR (60 Boulevard of the Allies, Pittsburgh, PA 15222) or the People's World (235 W. 23rd St., NY, NY 10011).
Photo: George Edwards (SOAR)