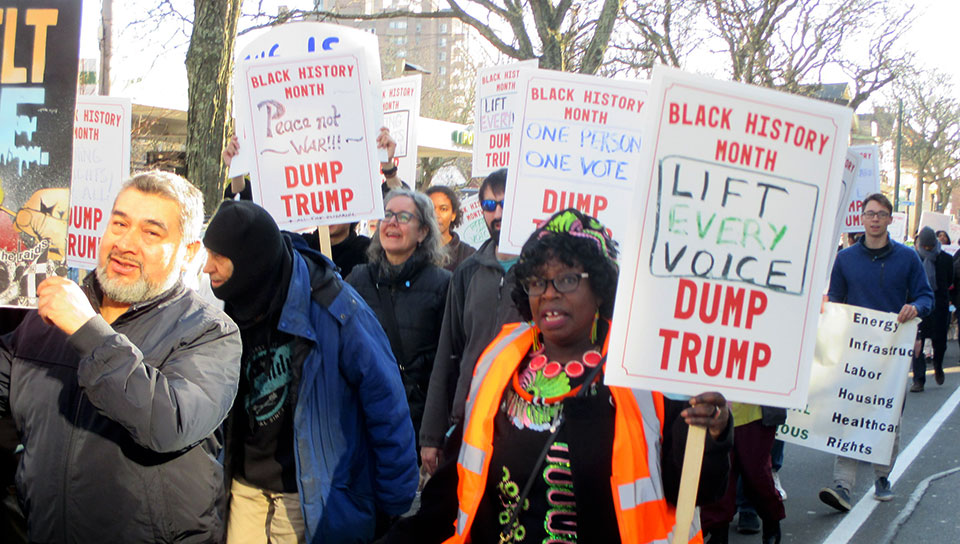 "Georgia on My Mind: The Third Reconstruction," is the theme of a series of scheduled events including a Black History Month Youth March / car caravan, a virtual event, and an arts and writing competition highlighting the 47th People's World African American History Celebration in Connecticut. Register here.
NEW HAVEN, Conn.—Co-sponsored with the Young Communist League, Ice the Beef, and New Haven Rising, the city's Annual Black History Month Youth March will kick off at Tyrick B. Keyes corner (Bassett and Newhall Streets) at 1 pm on Saturday, Feb. 20, with a march, car caravan, and rally to end at the Dixwell Community House (Q House) on Dixwell Ave., currently under reconstruction.
Youth discussions about the devastating impact of the pandemic and racism on their lives resulted in a multi-themed march aimed at creating hope and unity. "We call upon our New Haven community to support our city's youth in their demands to end gun violence and police brutality, to tax the rich, to demand from the state and federal government a people-centered recovery in the wake of the COVID-19 pandemic, for an end to gender-based violence and discrimination, for the safety of LGBTQ+ and homeless youth, and for deep systemic change to transform and heal the legacies of trauma inflicted upon communities of color as a direct result of capitalism's and racism's exploitation of black and brown lives for profit." says the event's Facebook page.
As youth march in New Haven on Feb. 20, the statewide Recovery for All coalition of unions and community groups will host a giant car caravan in the capital city of Hartford at noon to demand a state budget that puts peoples' needs first. This demonstration is being organized in response to Gov. Ned Lamont's fiscal proposals which fall short in fully funding vital public services and fail to increase revenues by addressing the inequitable tax system and taxing the rich.
A week later, on Sunday, Feb. 28 at 4 pm, the annual state-wide Connecticut People's World African American History Month event will be held virtually. The theme, Georgia On My Mind: The Third Reconstruction, reflects the organizing and victory of the runoff election in Georgia last month which flipped the U.S. Senate to Democratic control.
Keynote speaker Lewis R. Gordon—social activist, musician, and head of the Philosophy Department at University of Connecticut—will highlight the event along with a panel of New Haveners who knocked on doors in Georgia campaigning with UNITE HERE.
Event organizers characterized the election in Georgia as "a call for fundamental reconstruction to finally uproot the poisonous legacy of slavery," noting that the mobilization in Georgia "overcame every vicious white supremacist and corporate effort at voter suppression."
Led by Stacey Abrams, more than 100,000 voters who did not participate in the Nov. 5 presidential election voted in the January run-off election, disproportionately voters of color and young voters.
Six of the 70 New Haven canvassers who went to Georgia with UNITE HERE and New Haven Rising to help get voters to the polls will tell their stories on the panel, including Marcey Lynn Jones, Remidy Sharref, Alder Ron Hurt, Juan Patterson, Justina Torres, and Rep. Robyn Porter.
People's World coverage of the New Haven activists who joined the Georgia run-off battle:

> Connecticut UNITE HERE activists canvass Georgia to take back Senate
Keynote speaker Lewis R. Gordon is the author of many books, including the newly published Freedom, Justice, and Decolonization. A scholar of Africana Philosophy, he holds a PhD in philosophy from Yale University and is honorary president of the Global Center for Advanced Studies; honorary professor in the Unit for the Humanities at Rhodes University, South Africa; chairperson of the American Philosophical Association Committee on Public Philosophy; and chairperson of the Awards Committee and Global Collaborations for the Caribbean Philosophical Association.
During the program, awards will be presented for the Black History Month Arts and Writing Competition, grades 8 to 12. All entries must be submitted by 5 pm on Friday, Feb. 19, 202.1 The competition announcement is posted on Facebook at Connecticut People's World Committee.
The competition invitation quotes Rev. William Barber of the Poor People's Campaign and author of "The Third Reconstruction":
"The first Reconstruction briefly flourished after Emancipation, and the second Reconstruction ushered in meaningful progress in the civil rights era (1960s). But both were met by ferocious reactionary measures that severely curtailed, and in many cases rolled back, racial and economic progress. This Third Reconstruction is a profoundly moral awakening of justice-loving people united in a fusion coalition powerful enough to reclaim the possibility of democracy—even in the face of corporate-financed extremism."
This event is a fundraiser for People's World, which has suffered a severe income loss due to the pandemic. Throughout the decades of struggle for civil rights, peace, and economic justice, People's World has reported and stood on the side of freedom fighters. Your contribution will enable this valuable voice to continue to educate and uplift the movement for equality.