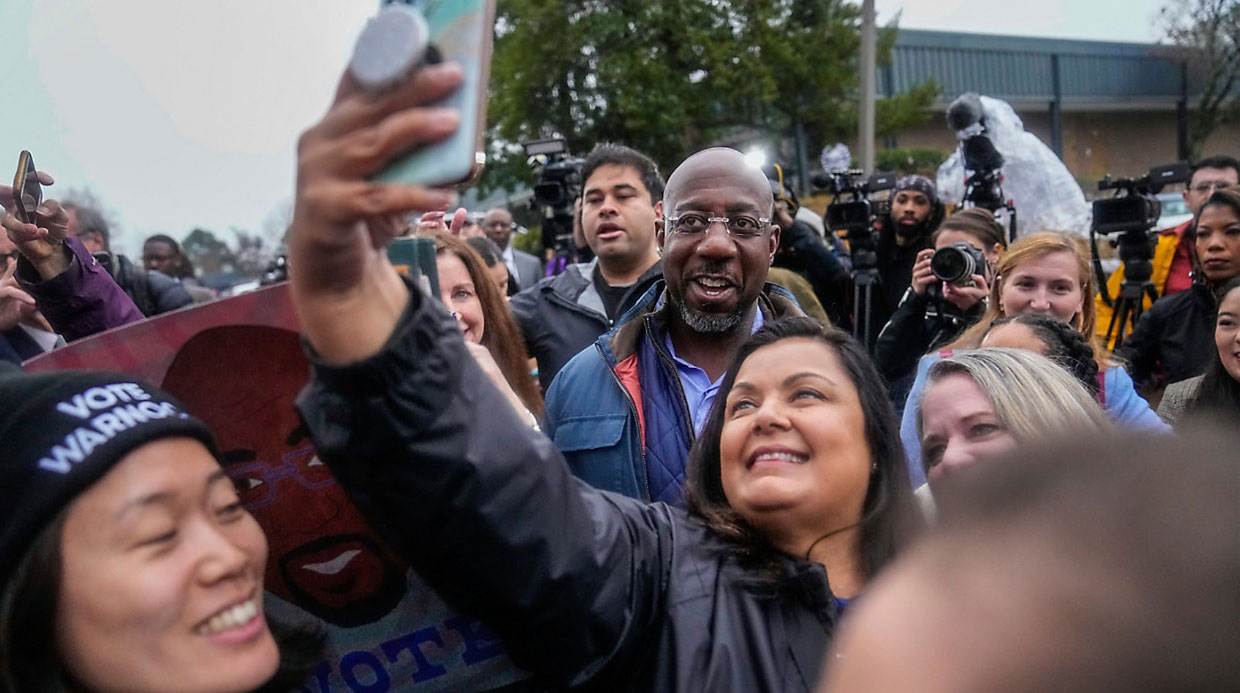 ATLANTA—His mother once picked cotton and tobacco on plantations in fields owned by others. Last night she witnessed the victory of her youngest son, the Rev. Sen. Raphael Warnock, the first African American to win a full Senate term in Deep South Georgia, a place where enslaved people once toiled in the fields.
The victory was particularly sweet because it was won by a multi-racial, multi-generational uprising against a barrage of Republican-orchestrated voter suppression measures designed to keep the very people who won the victory last night from even getting to the polls. It was a message from the people of Georgia to the entire nation regarding those attempts: "We will not be silenced," they declared to the nation and the world.
Sen. Raphael Warnock's runoff win in Georgia on Dec. 6—which he called a victory for the people–will boost the cause of workers, progressives, a president who has pledged commitment to an agenda of progress and economic justice, and senators and lawmakers on Capitol Hill fighting for the same.
In the final totals, Warnock beat Donald Trump-picked Republican Herschel Walker, by almost 3 points, roughly 52 to 49 percent, in a heavy runoff turnout of at least 3.6 million voters. His vote totals increased over the initial Nov. 8 election.
Warnock's win gives Democrats a 51-49 majority in the 100-seat Senate, starting Jan. 3. That's one seat more than the current 50-50 split which required Vice President Kamala Harris to vote when there was a tie.
Warnock's victory came from a multi-racial coalition of Blacks, who are more than a quarter of the Georgia electorate, workers, progressive white voters, other people of color including Latinos and Asian Pacific Islanders, and, of course, young people. They represented all ages and included many LGBTQ people. Even some Republicans voted for Warnock. The Warnock coalition overcame the virtually all-white voting block that votes for hard-right candidates put forward by the Republican Party.
Those voters backed Warnock's opponent, the scandal-scarred Herschel Walker, pushed on them by Donald Trump, himself deep in scandals that grow by the day.
Warnock called his win a victory for the people of Georgia, and he campaigned all over the Peach State, reaching out to voters even in rock-ribbed Republican areas. And voters turned out in droves—early voting set a record—to successfully defy corporate-backed laws to limit or halt voting by people of color, workers, and women.
"It's very empowering," canvasser Raquel Mogollon told People's World in a telephone interview. Unite Here recruited the former Service Employees member from Tucson, Ariz., as one of the hundreds of people it alone sent to Georgia.
She added that voters told her they were "really angry" about the obstacles to casting their ballots, but determined to overcome them. They did.
"When we vote, we win!" declared Unite Here Secretary-Treasurer Gwen Mills, whose union organized the largest labor Get Out the Vote operation in Georgia, bringing in hundreds of canvassers from around the country.
"That's never been truer than today, as we celebrate with Georgia and the rest of our nation a victory for Sen. Raphael Warnock. We did it—again. We won. And we once again changed the course of history," Mills exulted.
"In Georgia, we knew the deck was stacked against us. The runoff is a relic of Jim Crow-era policies aimed at diluting the influence of Black voters, and since the last one in 2021, Republicans changed the rules to make it even harder for people to vote.
Working people are the winners
"But every day working people battle inflation, corporate greed, and weak labor laws—we are no strangers to tough fights. And despite these obstacles, we voted–and we won."
"After a hard-fought campaign or should I say campaigns"—Warnock led on Nov. 8 but didn't win a majority—"it is my honor to utter the four most powerful words ever spoken in a democracy: The people have spoken," said Warnock, who also holds the pulpit Dr. Martin Luther King once preached from at Atlanta's historic Ebenezer Baptist Church.
The Georgia rule that says a candidate can only win with a clear majority, not a plurality, is itself a relic of Jim Crow, designed to keep people of color from winning elective office in the state. The idea is that if an African-American wins, for example, they could be forced into a runoff, giving the state's power structure another chance to head off their ultimate victory.
Warnock's win and Walker's loss are also a loss for obstructionist Senate Republicans, former Oval Office occupant Trump, the corporate class which backs both—including with $135 million in political "dark money" supporting Walker—and the radical and racist right. Other losers: Dissenting Democrats Joe Manchin of West Virginia and Kyrsten Sinema of Arizona who will have less power now to sabotage progressive measures or nominations to the courts by the president.
Also a loser: The cynical idea that Republicans could win a Senate seat by running a Black former football star to pick up Black votes against a Black pastor. It failed dismally. Exit polls in the heavy turnout in the Peach State gave Warnock more than 95% of the Black vote.
Workers and their allies, thousands of whom pounded pavements for Warnock, won him a full six-year Senate term. That same massive mobilization elevated him to the Senate two years ago, in the Jan. 5, 2021, runoff to complete the last two years of an unfinished Republican-held term.
Warnock's win then, and that of fellow Democrat Jon Ossoff in the same runoff, produced the current 50-50 Senate tie, which Vice President Kamala Harris breaks. And breaking the tie is the key for the other winners and losers: With that tie broken in next year's Senate, workers, progressives, and Biden win, too. "Our race will make way for a stronger Senate majority to carry out our bold Democratic agenda," Warnock said in a final money pitch letter.
"Tonight Georgia voters stood up for our democracy, rejected Ultra MAGAism, and most importantly: sent a good man back to the Senate. Here's to six more years," Biden tweeted.
The 50-50 split also meant Senate committees were evenly split and the Republicans could stymie pro-worker legislation, and Biden's agenda, by successfully voting not to even open floor debate on it.
The Protect the Right to Organize (PRO) Act, labor's #1 legislative goal, is a perfect example. The legislation, the most wide-ranging pro-worker labor law reform since the original 1935 National Labor Relations Act, was bottled up because Majority Leader Schumer couldn't corral all 48 Democrats and both independents for a vote to open debate on it.
Manchin said he would vote with the Republicans to keep filibusters going against the PRO Act—and the rest of Biden's agenda—while cynically claiming to support the legislation.
Same scenario with Build Back Better
The same scenario played out with Build Back Better and raising the federal minimum wage, of $7.25 an hour, which hasn't gone up since 2009. Manchin flat-out vetoed both.
Now, the 51-49 Senate edge from Warnock's win gives Democrats a one-seat edge on every Senate committee, including the Health, Education, Labor, and Pensions Committee, which writes labor laws. That lets incoming chairman Sen. Bernie Sanders, Ind-Vt., push the PRO Act through, since neither Manchin nor Sinema can block it there, or on the floor.
Not all is smooth sailing, though. Unless the Senate abolishes the filibuster—which will be determined after Jan. 3—Republicans, backed by the corporate class, can still try to filibuster the PRO Act, the minimum wage hike, and other progressive and pro-worker legislation to death, by mobilizing more than the needed 41 votes to keep such talkathons going.
And even if filibusters are overcome, pro-worker legislation must run a gauntlet in the next Congress's Republican-run House. Rep. Kevin McCarthy, R-Calif., their Speaker candidate, will have trouble holding the infighting in his Trumpite-dominated caucus in check, so he plans to concentrate on phony investigations, not real legislation.
Walker's loss left Senate Minority Leader Mitch McConnell, R-Ky., stuck in that same position for the next two years and with lessened power. That's because, with only 49 votes, he doesn't have enough senators in his stable to even block the start of debate on pro-worker legislation, the Biden agenda, or both—unless he can detach both Manchin and Sinema from the Democratic bloc.
And the corporate class, for all of its money and political clout, will face united determination by progressives and their backers to try to push through the PRO Act, the minimum wage hike, and Build Back Better items that fell by the wayside.
Trump also lost. He handpicked Walker, a scandal-scarred former football star and a Texas resident—at least according to his own tax returns—to seek the Senate seat. Walker joined a list of senatorial losers Trump selected. His candidates, in Arizona, Pennsylvania, Michigan, New Hampshire, and now Georgia, lost, except for J.D. Vance in Ohio.
The corporate class lost because it pumped in the lion's share of the untraceable "dark money" into senatorial races, Walker's among them. The winners who overcame that tsunami will remember that, especially those, like Warnock, who refused corporate campaign contributions.
Manchin and Sinema also lose, and not just this year. As the two often defecting Democrats in what now is a 50-senator group, they had life-or-death power over Biden's agenda and labor's goals, too. Now, with 51 including Warnock, their clout diminishes. And progressives and their allies eye the 2024 election when both must face the voters again.
There's already talk of a primary challenge to Sinema from progressive pro-worker Democratic Rep. Raul Grijalva of Tucson. He has a big war chest. And Manchin has openly mused at times about seeking to reclaim his old spot as West Virginia's governor instead.
Finally, even the Senate itself may win. The upper chamber has been entangled in partisan knots for years, especially in this Congress. Witness: Harris's tie-breaking votes, and the fact that she couldn't, due to its rules, break all the ties.
But a 51-49 majority breaks the tie. Further, non-partisan congressional evaluators laud Warnock's ability, rare in the Senate now, to work across the aisle, even with right-wingers such as Texas Republican Ted Cruz. Warnock's negotiating skills will be valuable to bridge other partisan divides.