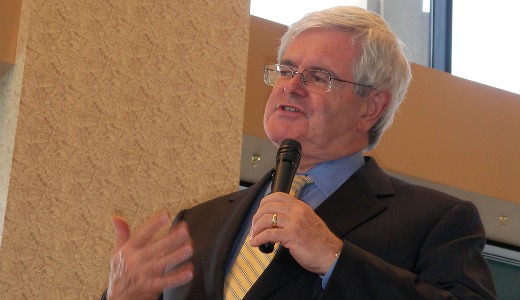 At a recent town hall meeting in Marshalltown, Iowa, Republican presidential candidate and former Speaker of the House Newt Gingrich told assembled voters that young people should be required to take a poll test before being allowed to vote. Gingrich said, "It wouldn't be bad to have a test for young Americans before they start voting," making a comparison to the citizenship test new immigrants are required to take.
The former House speaker prefaced his comment by calling President Obama, "the most successful food stamp president in modern American history." Gingrich began his presidential bid at an event in Georgia where the "food stamp president" label was first used.
Reaction to the poll test proposal was swift. According to Thinkprogress.org, the Georgia Republican's remark drew rampant "criticism from both sides of the aisle."
Poll tests along with grandfather clauses and literacy tests are among the tools historically used to deny African Americans the right to vote. They were outlawed by the 1965 Voting Rights Act.
Youth and students groups were among those who called out Gingrich while at the same time criticizing Sen. Jay Rockefeller, D-W.Va., who at a Senate hearing said, "It's my general feeling that people who are 20, 21, 22 years old really don't have any social values."
The National Youth Rights Association, along with several others, including the United States Student Association, have called for an apology from Gingrich and Rockefeller.
Our Time, a group that "stands up" for Americans 30 and under, calls the comments "condescending." Matthew Segal, president and co-founder of the organization, commented, "It's no wonder that so many young people are cynical about politics when our leaders make remarks that call into question our value in society." He continued, "These comments from Senator Rockefeller and Speaker Gingrich prove that Washington's condescension toward people under 30 is bipartisan."
Lisa Bergmann, a youth activist and national organizer of the Young Communist League USA, however, remarked, "There are huge differences between the Democratic and Republican parties and how they affect young people," adding, "Many Democrats fight for public services that are available to all people and Republicans fight to eliminate such services. The Republican effort to privatize social services makes them increasingly financially inaccessible."
So far the GOP hopeful's presidential campaign has been peppered with comments that he later retracted. He quickly retreated from his poll test proposal, saying in an on-the-spot interview, "I'm just making the point, not that we ought to create a test for young people, but that every young person who graduates from school ought to know American history, and all too often nowadays the schools don't teach you anymore."
Main Street, a project of Working America, has made the connection between the most recent proposed restrictions on young voters and Jim Crow-era poll tests.
They also point out that despite the 1965 Voting Rights Act and the protections it affords all voters, there has been a recent wave of anti-youth-voter sentiment on the right. In dozens of states, the GOP is attempting to introduce voter identification laws aimed at suppressing the youth and student vote.
Image: iowapolitics.com // CC 2.0