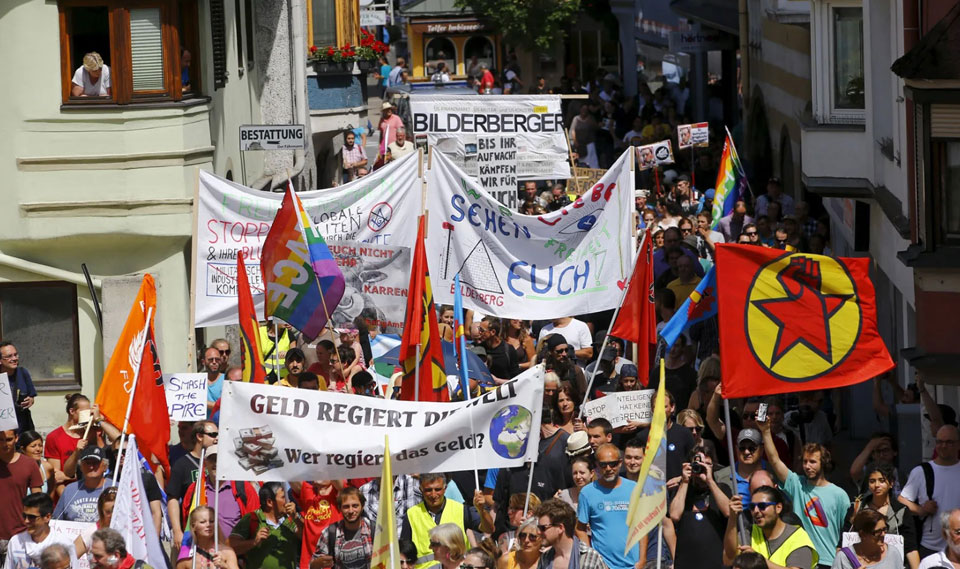 A solitary protest was held by an anti-war activist and army veteran at a secretive meeting of world political and financial leaders in Washington, D.C., on Saturday, June 4. The Bilderberg Meeting opened at the Mandarin Oriental Hotel in the U.S. capital last Thursday with the location not disclosed to the public and media banned from entering and reporting on the proceedings.
CIA chief William Burns was in attendance along with U.S. National Security Advisor Jake Sullivan, Dutch Prime Minister Mark Rutte, and proprietors and editors of monopoly media outlets. Britain's shadow foreign secretary David Lammy was included on the list of invitees along with European Council President Charles Michel and NATO secretary-general Jens Stoltenberg.
Discussions at the secretive gathering were focused on Ukraine, Russia, China, and the global economy, with Pfizer chief Dr. Albert Bouria invited to speak about the post-pandemic world.
U.S. journalist Max Blumenthal explained that he tried to enter the meeting but was told that participants had been barred from revealing the location and from quoting anyone during the off-the-record sessions. Speaking to Blumenthal, U.S. army veteran Robert Mitrosak described Bilderberg as a gathering of "high level, institutional white supremacists" to benefit the Euro-Atlanticist elite.
According to a press release, the Bilderberg Meeting was founded in 1954 "to foster dialogue between Europe and North America."  "Every year, between 120-140 political leaders and experts from industry, finance, labor, academia, and the media are invited to participate in the meeting," it continues.
The meeting is billed as "a forum for informal discussions about major issues," with the participants taking part as individuals rather than in an official capacity so as not to be bound by the conventions of their office. The sessions are held under Chatham House rules, meaning the discussions and identity of the speakers cannot be publicly revealed.
Blumenthal said the 2022 gathering had a "more secretive and forbidding" feeling to it, with the guest list "a who's who of trans-Atlantic national security hawks, financial industry elites, Big Tech and Big Pharma titans, and pro-war pundits."
Journalist Josh Friedman explained that it was the first time the Bilderberg meeting had been held since 2019, with many geopolitical developments taking place since, including the war in Ukraine.