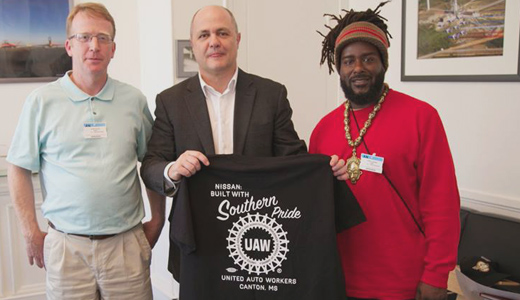 CANTON, Miss. – Workers at the Nissan plant here have appealed to the French government for support in their fight for an opportunity to decide for themselves whether to elect the United Auto Workers union as their collective bargaining representative.
The workers are being subjected to unrelenting intimidation from management, which is also bombarding them with a seemingly endless barrage of anti-union propaganda.
What can the government of France do to influence the behavior of Nissan, a corporation based in Japan?
Plenty.
The government of France has a huge say in how Nissan operates.
Like most huge corporations, Nissan is a multinational. The physical location of its headquarters has little to do with who calls the shots.
The CEO of Nissan, Carlos Ghosn, is also CEO of Renault, a French automobile manufacturer. The French government controls nearly 20 percent of Renault stock and 32 percent of its votes. Renault, in turn, owns 43.4 percent of Nissan shares.
The globalized nature of Nissan and Renault might work in favor of workers in Mississippi, because while the state government here is viciously anti-union, the ruling party in France is backed by organized labor.
Workers have travelled twice from Mississippi to France to show government officials there proof of Nissan's illegal anti-union tactics.
Christian Hutin, deputy chairman of the French National Assembly's Social Affairs Commission, asked the Assembly on April 27 to help Mississippi workers. The National Assembly is comparable to the U.S. House of Representatives.
"The situation in [Canton] is dire and sadly not new," Hutin said in a recent statement. "… the rights of workers [are being] seriously compromised. Every possible step is taken to prevent the personnel from organizing a union inside the plant: pressure, threats, harassment, routine propaganda … Every possible step is taken to prejudice the rights of workers in what is known as an historic cradle of the Civil Rights Movement in the United States of America."
Before Hutin had delivered his speech to the Assembly, CEO Ghosn had testified that Nissan cooperates with unions in every country and that there is no history of its being anti-union in Mississippi.
Hutin sent a letter to Ghosn, calling him out. "The affirmations [you made to Assembly members] do not correspond with the facts," Hutin wrote. "Two weeks after your testimony, management at the Canton plant showed an anti-union video to the 5,000 workers at the site, which we have now seen."
Further evidence that Ghosn lied to the Assembly is the fact that the U.S. National Labor Relations Board has issued an order charging Nissan with, among things, illegally threatening workers with reprisals and discharge "for their union and protected concerted activities."
Aside from appealing to the French government, Nissan workers have gained the support of French unions.
In addition, Nissan technician Betty Jones testified in Brazil about Nissan's anti-union campaign in Mississippi. Nissan is a top sponsor of the Brazilian Olympics and Jones asked that the corporation be ordered to follow the Olympic Code of Conduct for sponsors, which prohibits threatening workers.
Jones spoke at a public hearing of the Human Rights Commission of the Brazilian Senate which was broadcast live nationwide. Brazilian labor leaders also spoke in support of the Nissan workers.
Senator Paulo Paim, who chaired the hearing, said "We need to curb these malpractices from the beginning in the countries where this occurs. Only a great union with the support and international solidarity will change that."
Nissan was invited to testify, but did not appear
Meanwhile, Nissan management's intimidation tactics continue.
In an open letter to the plant manager, Nissan technician Jeff Moore wrote:
"Why can't I and my fellow Nissan technicians even consider a union in an atmosphere free of fear and intimidation? Recently you sent an anti-union mailing under the name of Mr. Gibb and in early March you showed a video threatening us about signing union cards.
"It is clear that you are trying to put fear in my coworkers and create a hostile climate for the Nissan Workers Organizing Committee both in and outside of the plant."
Moore's letter concluded "You want to trick us here in Mississippi into believing that unlike every other Nissan or Renault worker in the world, we alone are not deserving of a voice and union representation."
Moore told the Peoples' World, "I am for a union because I believe we workers deserve a seat at the table when it comes to deciding issues the affect workers.
"I want a voice to make Nissan better for our workers, our community and those who come to work here in the future."
Video: Nissan worker Robert Hathorn, testifying before the Democratic Party Platform Committee, June 9. Used with permission.
Photo: Nissan technicians Shambe' Jones and Travis Parks met in France with Bruno Le Roux, who is the speaker of the house for the French parliament. Speaker Le Roux was briefed on Nissan's recent escalation of their anti-union campaign. Do Better Together, Facebook.