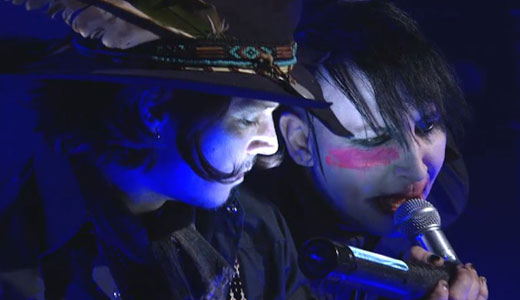 On Apr. 11, the 2012 Revolver Golden Gods – the annual awards show for metal and hard rock – took place, streaming live on Facebook and Xbox. In addition to honoring the biggest names in underground music, it marked the first public appearance of Damien Echols, who gave a brief, deeply touching and profound speech.
Echols was one of the "West Memphis Three" – three teenagers in West Memphis, Ark. who were imprisoned for a crime they did not commit: the 1993 murder of three young boys. The three were finally freed in Aug. 2011, when new evidence arose proving that none of their DNA was present at the crime scene, and furthermore that the stepfather of one of the victims was most likely responsible for the crime.
Despite this, Echols served 18 years on death row and, as countless documentaries, civil rights activists, and supporters of the WM3 pointed out, these teenagers were vilified simply because they looked and dressed differently, and listened to heavy metal.
"I can't even articulate what this means to me," said Echols at the awards last night, shaking with emotion as he stood before a crowd of thousands. "Just last year at this time, I was sitting on death row waiting to be executed for a crime I didn't commit. In 2010, when Marilyn Manson spoke out about my predicament, I never dreamed that tonight I'd be standing here with you. I just want to say thank you to everyone who gave us their love and support over the years. It kept me alive. It's what kept me going and kept me from dying inside. I am thrilled beyond words to be able to introduce this performance tonight. So without further ado, my very dear friend, Marilyn Manson."
At that point, goth-rocker Manson stepped on stage and gave Echols a heartfelt 'thank you.' Manson was among the artists and celebrities who have been vocal supporters of the WM3s' innocence.
Police had targeted Echols, "because he dressed like we do, listened to music like we do, and acted like we do," Manson had declared at the Golden Gods two years previously. "This is a person who was singled out in a small town with his friends and subjected to the basic Salem Witch Trial that everyone talks about.
"These guys have gone through things we can't even imagine. I wish I had the strength that [Echols] had, because he's gone to prison for just looking and thinking [like an individual], which is what all of us as a music community believe in [doing]."
This year's awards show featured musicians such as Alice Cooper, Dee Snider (of Twisted Sister), Vinnie Paul (of Pantera), KISS's Gene Simmons, and Rush, who were presented with a Lifetime Achievement Award. It also included new up-and-comers to the rock/metal scene, and performances by thrash/metalcore band Trivium, post-hardcore screamers Black Veil Brides, Slash (of Guns 'n' Roses), Cooper, and others.
Actors Johnny Depp and Jack Black, wrestler Chris Jericho (who hosted the show), and writer/producer Brendon Small were also present.
All in all, this show represented a passing down of the proverbial torch from one generation of musicians to the next; many found it deeply moving to see young rockers joined by classic hard rock legends.
Manson's four-song performance – the conclusion to the show – was marked by two guest appearances that made the crowd positively explode with enthusiasm.
First, 18 year-old actress/hard rock singer Taylor Momsen performed a racy duet with her shock-rocker idol. Next, Johnny Depp stepped on stage, to tumultuous applause, and played guitar as Manson performed "Sweet Dreams" (a cover of the 1980s Eurythmics' pop song), and original fan favorite, "The Beautiful People."
Manson also included in his set the new song "No Reflection" – the first single off his upcoming album, on which he has collaborated with Depp for a cover of Carly Simon's "You're So Vain."
But, as illustrated by Echols' emotional words, this year the event signified something much deeper than simply music.
There was an indisputable and palpable feeling of brotherhood and sisterhood present, as Dee Snider and hard-rocker Lzzy Hale (the hosts of the black carpet pre-show) noted, "we're all like one big family."
This was about all the artists who are swept under the rug by the music industry, in the interest of making higher profits on more marketable music. It was about these talented musicians coming together in solidarity and thanking their fans for their support – support that is the only thing allowing these bands to continue making music; the only thing allowing these awards to take place at all.
And, as Jericho remarked, it was about everyone who is different – whether it's the way they dress, their personal beliefs, their sexual orientation, or the music they enjoy. It was about putting on a good show, and it was a night in music history that will never, ever be forgotten.
"This is about everyone on the [cultural] fringes of society, everyone who doesn't have a voice," said Hale. "We stand together tonight as one. This is our time."
Photo: Marilyn Manson and Johnny Depp perform "Sweet Dreams (Are Made of This)." Xbox official Facebook page & Wire Image, via MansonWiki