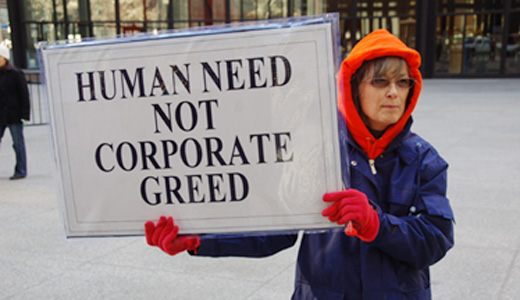 After months of struggling to put together a two-thirds majority to pass a budget extending some temporary tax increases and making billions in cuts to human needs programs, California's Democratic legislators in a night session June 28 passed a "majority vote" budget based on further cuts to education, health care and other services. A "trigger" provision would cut billions more if revenue falls short of anticipated levels.
Though a ballot measure voters approved last year allows legislators to pass a budget by majority vote, raising taxes still requires a two-thirds majority. Democrats lead both legislative houses but fall short of that level, and nearly all Republican legislators have signed a Grover Norquist "no new taxes" pledge.
Governor Jerry Brown, a Democrat, sought for months to convince a small handful of Republican legislators to support the Democrats' proposal. He is expected to sign the budget before the end of the fiscal year June 30. Two weeks ago he vetoed an earlier proposal by Democratic legislative leaders, saying it included too many "gimmicks."
Brown originally proposed closing a nearly $27 billion budget gap by a combination of deep cuts and extending existing temporary increases in sales and income taxes and vehicle license fees.
Putting measures on the ballot to keep the temporary increases for another five years required a two-thirds legislative vote, and Republican legislators refused even to let voters decide the issue.
Echoing developments in Midwestern states, the Republicans held up the ballot measures over their insistence that voters must also decide on a new spending cap and cuts to public employees' pensions. Democrats refused to compromise on these issues.
In the last several years, health, education and other human needs programs have endured repeated severe cuts. Earlier this year legislative Democrats passed bills further slashing welfare programs, higher education, aid to old and disabled people, and many other programs. The budget that finally passed included still deeper cuts.
Democrats still want to put measures on the ballot in 2012, to restore the about-to-expire tax increases, in an effort to redress some cuts and balance the state's budget for a longer period.
Reactions were mixed including some relief at passage of a budget before the end of the fiscal year – for the first time in many years – yet with continuing distress at the depth of cuts mainly to social programs.
Jean Ross, executive director of the California Budget Project, a nonpartisan public policy research group, said in a statement that it is "deeply disappointing" that the budget "does not reflect a balanced approach that combines additional revenues with spending reductions to move the budget toward balance. Unfortunately," she said, "this goal will likely prove elusive without a change to budget rules that allow a handful of legislators to block passage of a spending plan that reflects the priorities of a majority of Californians."
California Federation of Teachers President Josh Pechthalt commended the governor and Democratic legislators for finalizing the budget under difficult conditions, but added, "Unfortunately, because of Republican obstructionists, this budget continues to hurt public education and millions of Californians who depend on state services," while continuing to "protect the wealthiest 1 percent of Californians and the corporations at the expense of the vast majority of Californians."
In an action June 28 that greatly distressed the United Farm Workers union and its labor and community allies, Gov. Brown vetoed SB 104, which would have given the state's farm workers the right to organize through majority sign-up, or "card check," in addition to the present secret-ballot elections.
The UFW and supporters had campaigned vigorously for the measure, repeatedly vetoed by former Republican Governor Arnold Schwarzenegger.
During an earlier term as governor, Brown signed the state's Agricultural Labor Relations Act. This time he said he believes SB 104 "alters in a significant way" the ALRA's "guiding assumptions."
UFW President Arturo Rodriguez told KQED public radio, "We're very disappointed, we're frustrated, that the governor decided to side with the powerful agribusiness industry, which is a $36 billion industry, as opposed to siding with farm workers."
Photo: Pepe Lozano/PW