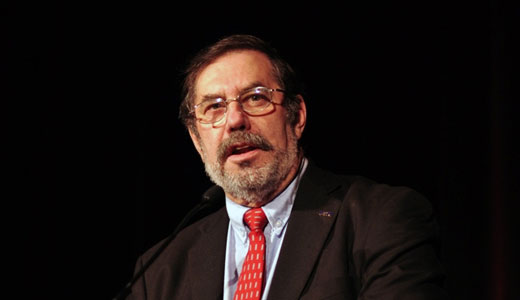 DETROIT – "It's not a choice between good jobs and the environment; we can and must have both," declared Leo Gerard, United Steelworkers president. If we don't achieve both, neither will occur, "climate change is a reality," Gerard said.
Gerard made those pointed remarks Thursday in Detroit at the fourth and final 2012 regional Good Jobs, Green Jobs conference. The conferences have taken place for five straight years but this is the first year they've occurred on a regional basis.
According to David Hecker, President of the Michigan American Federation of Teachers, solving Gerard's challenge is not that difficult. He cited the deteriorating condition of many schools and said a good way to create millions of green jobs is to retrofit all public schools built before 1970. If we can put two spaceships into space, connect them, have people leave the inside of the capsules to do repairs, and return to an exact point on earth, then we can "fix almost anything," said Hecker.
He said such retrofitting of schools is needed everywhere but particularly in our urban areas where the effect of high asthma rates could be lessoned by creating sustainable schools filled with clean air.
"The money is there, its how we best use it," he said.
Sierra Club Executive Director Michael Brune said, "There is far more that unites us than pulls us apart." He was referring to the Blue Green Alliance, a national partnership of labor unions and environmental organizations dedicated to expanding the number and quality of jobs in the green economy.
The "core strategy" of the one percent is to divide us said Brune saying their vision is to consolidate power and wealth in the hands of a few; our vision is to solve the jobs crisis and the environment.
Like Hecker, he indicated green jobs can be a win-win proposition resulting in good paying jobs and a cleaner environment. He praised the work of United Auto Worker President Bob King and environmental leaders for creating new fuel standards that will double fuel efficiency and cut carbon emissions in half.
"Those standards are putting people back to work," he said.
"Protecting our jobs and protecting our climate are inexplicably linked," said Michigan AFL-CIO President Karla Swift.
She referred to the Michigan AFL-CIO's comprehensive 2012 Jobs Plan unveiled earlier this year that calls for investing in infrastructure, retooling, and creating green jobs.
She said there are hundreds of thousands of green jobs and Michigan stands to capture a large number of them if our legislature does the right thing.
Unfortunately, instead of partnering with labor and environmentalists, Swift noted Lansing politicians have introduced 80 bills to dismantle collective bargaining rights.
To loud cheers she said protecting collective bargaining rights is an important environmental issue noting, "Without collective bargaining protections, employees have less power to deal with companies breaking environmental regulations."
Expressing a new working relationship between labor and environmentalists Swift said, "Working together we can and we must build a greener future on the foundation of workers rights."