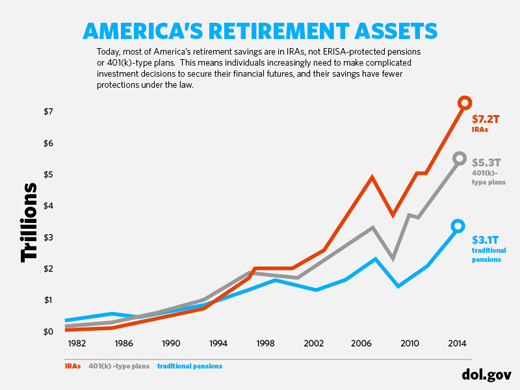 WASHINGTON (PAI) – By a 234-183 party-line vote – with every Republican for it and every Democrat against it – the GOP-run House passed legislation on April 28 to overturn the Labor Department's new rule that orders financial advisers to workers and citizens to put clients' interests first, not their own.
But the measure, HJRes88, is headed for the graveyard. Even if the GOP-run Senate agrees to it, President Barack Obama's Office of Management and Budget says in no uncertain terms that he will veto it.
The DOL rule orders financial advisers for workers' 401(k) accounts, or to anyone for anything else, to put their clients' interests ahead of their own gains. Republicans, led by the fiercely ideological majority on the Education and the Workforce Committee, claimed DOL's rule would force the advisers to stop serving workers and small businesses on investments.
The OMB called the GOP's claim poppycock, in so many words.
"The outdated regulations in place before this rulemaking did not ensure financial advisers act in their clients' best interest when giving retirement investment advice. Instead, some firms have incentivized advisers to steer clients into products that have higher fees and lower returns – costing American families an estimated $17 billion a year," OMB's statement said.
"The rule will ensure workers and retirees receive retirement advice in their best interest, better enabling them to protect and grow their savings. The final rule reflects extensive feedback from industry, advocates, and members of Congress, and has been streamlined to reduce the compliance burden and ensure continued access to advice, while maintaining an enforceable best-interest standard that protects consumers. It is essential that these critical protections go into effect.
"If the president were presented with HJRes88, he would veto the bill," the statement concludes.
Graph: U.S. Department of Labor.