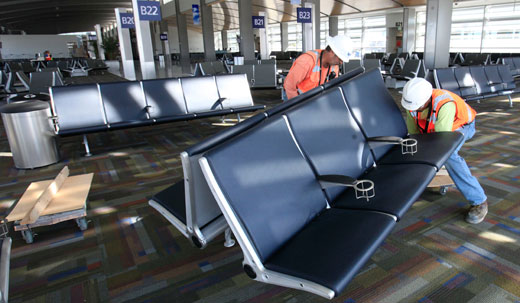 Unions are mobilizing this week to fight anti-labor provisions the Republicans have inserted into major transportation bills. The GOP is pushing its agenda, labor unions say, by inserting anti-worker measures into a variety of bills.
The main targets of the right wing efforts are bills designed to guarantee air safety and security and to create thousands of jobs in construction, revamping of highways, and the rebuilding and improvement of the nation's airports.
Some 19 unions this week issued a statement demanding passage of a "clean" bill reauthorizing the Federal Aviation Administration. That bill is just one of the three bills anti labor lawmakers in the House re-wrote this week.
Behind closed doors even Democratic Senators agreed to changes in rules concerning union recognition and decertification on airlines and railroads that the labor movement is very unhappy about.
That rewrite, an attempt to end a fight over union recognition votes at airlines and railroads, ended up leaving workers and their unions with the short end of the stick.
The House GOP, doing the bidding of Delta Airline lobbyists, tried this week to re-impose a rule requiring unions to get 50 percent plus one of the entire eligible pool of workers to achieve recognition, with non-voters counted as "no" votes. Right now, a majority of those voting is sufficient for recognition.
In return for allowing unions to win recognition by just a simple majority of ballots cast, Senate Democrats yielded to the anti-worker House GOP and agreed that unions must get election recognition cards from 50 percent plus one of all workers in the pool before they can get a recognition vote. In the case of a runoff election management gets a second chance, under the "compromise," to overturn the original decision by the majority of workers that they want union representation. A "no union" option can be inserted onto the runoff ballot.
"An aviation safety and security bill is no place to impose unrelated and controversial labor provisions that will ultimately harm both airline and railroad workers," the 19 union leaders say in their statement. "The proposed Railway Labor Act changes would drastically rewrite a statute crafted by labor-management cooperation that has not been changed for over 75 years without the agreement of both employer and employee representatives."
"Airline and rail workers would suffer big losses because you could jettison contracts, cut collective bargaining rights and place legal hurdles in the way of workers trying to gain a voice at work," said Larry Cohen, president of the Communications Workers of America, by phone. Cohen, whose union represents airline attendants, was one of the 19 signing the statement. He characterized the concession by Senate Democrats as "a sellout."
The GOP run House is scheduled to vote on the FAA bill Feb. 3 and the Senate is scheduled to vote on Feb. 6.
The new House GOP-adjusted version of another bill, the highway mass transit bill, is not only anti-union but actually anti-public transportation, according to the Amalgamated Transit Union.
The House Transportation Committee did its damage to the highway mass transit bill this morning, the union's president said.
"The two year Senate highway bill is fine," said ATU President Larry Hanley, "but the 5-year Hose GOP bill recalls Reagan era anti-transit policy." The House bill includes some issues that have little to do with highways or mass transit including approval for oil drilling in the Arctic and building the Keystone XL pipeline.
"The two bills (the House and Senate versions) are a lesson in contrast," Hanley said. "The House Republican bill would effectively coerce cash strapped governments into privatizing their transit systems. It is an early Valentine to foreign national corporations who operate U.S. transit systems and who would reap a financial bonanza."
The Senate version improves passenger safety and security and lets transit systems develop a well-trained workforce, according to Hanley. He also said he liked the portions of the Senate bill that allow large transit systems to use federal dollars not just to keep their operations going but also to buy needed equipment.
Failure to meet the needs of mass transit systems is not the only objection unions and others have to the House version. They note that the GOP version includes extraneous issues that have nothing to do with highways and mass transit, among them approval for oil drilling in the Arctic and building the Keystone XL pipeline.
A third GOP initiative in the House this week that labor opposes was a move to slip into the highway construction bill a clause that would allow extra-long tractor-trailers, weighing up to 97,000 pounds, to travel on all U.S. highways. Unions say the measure would end up killing workers and endangering public safety .
Highway safety advocates have already joined Teamster President James Hoffa in condemning the Republican attempt to allow triple tractor-trailers on the highways.
"Once again, we have the trucking lobby in line with the Republicans in pursuit of profits while pushing safety aside," Hoffa said at a press conference yesterday. He said the trailers are the "equivalent of railway trains on the roads" and that "with larger and larger trucks trying to enter our highways on ramps built for smaller trucks, the probability of crashes increases."
Photo: Workers install seats in new terminal at the Sacramento International Airport. The $1 billion terminal, which opened in October 2011, created 2,400 jobs during the 2 1/2 year construction project. It was designed to expand the airport's capacity to 16 million passengers a year. Rich Pedroncelli/AP