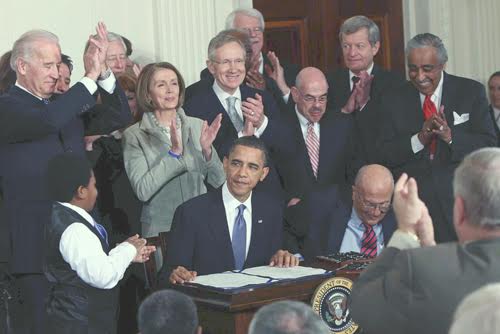 WASHINGTON (PAI) – Here we go again. In the week of Jan. 8, the Republican congressional majority used its hatred of President Obama to once again set up votes to repeal the 2010 Affordable Care Act.
But there were three differences this time:
The GOP runs both the House and the Senate, so both chambers sent the measure to Obama's desk
Senate Democrats couldn't stop the repeal because it was the entire budget "reconciliation" bill, which is immune to filibusters
Obama has already said he'll veto the repeal.
Still, the votes augur what is likely to be a year full of the usual extreme partisanship and loathing of the president among Congress' ruling Republicans.
The AFL-CIO strongly opposed the reconciliation bill, Legislative Director Bill Samuel said in an earlier letter to lawmakers. Repealing the ACA would especially hurt women workers, notably low-income female workers, he added.
He said workers and unions back repeal of the so-called "Cadillac tax" on health care plans, which is in reconciliation. But that should not be an excuse to junk the entire ACA, he added. Worker, union and business lobbying got lawmakers last month to approve a 2-year delay, to 2020, in imposing the Cadillac tax. That delay was part of a larger money bill that Obama signed.
But the reconciliation bill "will undermine the coverage expansions of the Affordable Care Act and restrict women's access to safety-net medical services," Samuel's letter said.
"We cannot take a giant step backward in exposing these individuals to the risk that their medical care will be unaffordable or that a catastrophic illness will bankrupt their families. HR 3762 will repeal elements of the ACA that enable the coverage expansions to work, resulting in a loss of coverage for millions."
Samuel said organized labor also opposes yanking Medicaid funding for "nonprofit providers of women's health services" by killing payments for a year "for certain providers."
The bill itself prohibits federal funds for any provider that could offer abortion-related services and that receives at least $350 million in federal funds for health services. The only provider that does so is Planned Parenthood, target of a right-wing vilification campaign over a phony issue about non-existent sales of fetal tissue for profit.
"The Congressional Budget Office estimates many women will lose access to medical services," Samuel said. He quoted CBO as saying: "The people most likely to experience reduced access to care would probably reside in areas without access to other health care clinics or medical practitioners who serve low-income populations."
"It is simply unacceptable to cut women off from these services," Samuel concluded.
Two unions, though, are extremely dissatisfied with the ACA, for different reasons. But they have not taken stands on the reconciliation bill itself.
In mid-2013, Roofers President Kelsey Robinson said his union reversed course and wants to repeal the ACA. And National Nurses United says the ACA does not rein in health care costs, and that it gives insurers, drug companies and big hospital chains a financial windfall. NNU reiterated its stand for single-payer government-run national health care.
Reiterating the union's stand a year later, the Roofers' Robinson said the ACA "is threatening to dismantle multi-employer health and welfare funds that provide affordable, high-quality health care to roofing workers and their families by imposing substantially higher costs.
NNU said "In daily practice, the world nurses see every day at the bedside, the picture is decidedly mixed," with ACA's bans on "disgraceful insurance restrictions" on women or for pre-existing conditions offset by its directed profits for the insurers and lack of cost controls, NNU added. Single-payer government-run health care, it adds, would end such gouging of workers.
Photo: President Obama signs the Affordable Care Act. South Carolina Policy Institute. | SC Policy Council