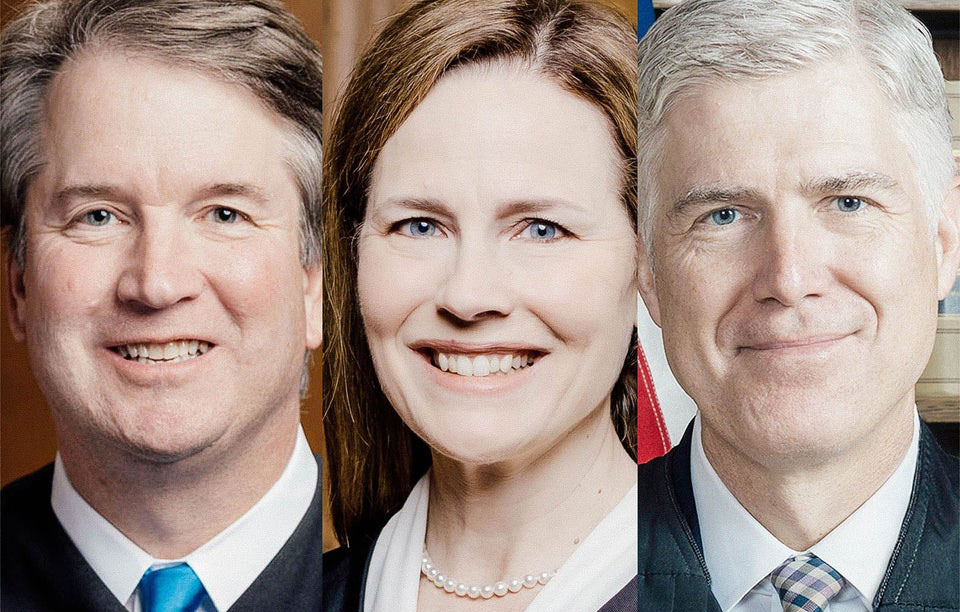 WASHINGTON—Recalling the 1930s, when the "Nine Old Men" scrapped key New Deal legislation, the GOP-named U.S. Supreme Court majority may again show its implementation of the right-wing pro-corporate agenda, this time by nullifying OSHA's anti-coronavirus Emergency Temporary Standard.
It is clearer than ever now that rather than being legitimate justices members of the Court are nothing more than Republican Party operatives. And it's not just because at least five of the Republican justices appear poised to toss the Biden administration's mandate that firms which employ at least 100 workers must require masking, vaccinations, and other protections against the modern-day plague.
Instead, it's shown by a string of rulings stretching all the way back to the Lilly Ledbetter case, if not before, that go against workers, against people of color, against the right to vote, and for corporate domination and control of politics.
The majority's opposition to Biden's mandate is in line with an analysis by AFL-CIO General Counsel Craig Becker, testifying before Biden's Supreme Court reform commission this past June.  Becker cited a study commissioned by Sen. Sheldon Whitehouse, D-R.I., a former state Attorney General, who found "80 partisan, 5-4 Supreme Court decisions clearly favoring a big Republican donor interest, all since (John) Roberts became Chief Justice in 2005.
"One of the biggest workers' rights cases of the decade, Cedar Point Nursery v. Hassid, was decided on a partisan 6-3 split, erasing years of precedent to decimate basic union access to workplaces," Becker noted. That ruling last year barred union reps from approaching farm workers in California growers' fields—the only place they could contact them—without the growers' permission. Becker called Cedar Point "a segregationist throwback" since most farm workers are people of color.
Dismantled voting rights too
And that same month, June, "The conservative majority dismantled Section 2 of the Voting Rights Act," Becker said. Before that, "They also decided wealthy dark money donors now have a constitutional right to influence our politics in secret."
Even before that, the court's conservative majority usually ruled against workers, people of color, and voters.
In one ruling, which drew yet another scathing dissent from the late Justice Ruth Bader Ginsburg, the majority said forced arbitration of boss-worker disputes takes precedence over union contracts. In an early ruling on voting rights, the majority upheld Indiana's "voter ID" law. And in June, it also uphold Arizona's curbs in absentee voting.
And, of course, in the 2018 Janus case, the right-wing majority overturned a 44-year-old precedent and declared all state and local government workers potential "free riders," able to use union services and protections without paying one red cent for them. There, the right actually seized upon a suggestion by right-wing Justice Samuel Alito, in a footnote in a prior case, that challenged state free rider bans, in favor of "agency fees" for state and local workers.
No wonder, Becker said, workers and their advocates now expect the majority to rule against them every time. That may happen again, at least in one of the two cases the justices considered on January 7, pitting the National Federation of Independent Business—a key cog in the right-wing machine—and other business lobbies against OSHA.
The other case the justices heard on January 7 saw right-wing state governments, led by Missouri, railing against Biden's second order. Biden's Center for Medicare and Medicaid Services told hospitals, nursing homes, and other health care facilities to implement anti-coronavirus protection plans as a condition of receiving Medicare and Medicaid reimbursements for patients' medical bills.
In that case, because the two federal programs account for a large share of those businesses' revenues, the health care firms must accept federal rules—including anti-coronavirus rules—if they want the federal cash.
The NFIB got a favorable hearing from the court's right-wing majority. Its attorney, Scott Keller, also used a favorite right-wing talking point, "states' rights," which segregationists used to justify Jim Crow.
"States could have policies like this" OSHA mandate for vaccinations, masking or frequent testing, Keller told Justice Elena Kagan. So could private businesses, he added. Kagan, like Justices Sonia Sotomayor and Stephen Breyer, emphasized the real-world aspects of the coronavirus pandemic, whose omicron variant is now producing at least 700,000 positive test results a day.
That's a unique emergency justifying OSHA's move now, Kagan, Sotomayor, and Breyer said.
And Keller pointed out OSHA issued its own standard covering health care workers, separate from the Medicare and Medicaid standard for hospitals and nursing homes receiving federal funds. But when OSHA did that, it went through the usual drill of putting the proposal out for public comment before taking any final action.
"What it did there, similarly to how OSHA proceeds in many contexts, is it says, 'Employers, give us a plan,' and then, if there are heightened needs in particular workplaces, then additional measures can be put into place. But this is covering economy-wide, all industries, 84 million Americans," said Keller.
Admitted dollars behind the deal
Keller admitted, to Justice Neil Gorsuch, that corporate dollars were behind the business demand to thwart OSHA. What Keller did not say: Dollars have been the reason for unreasoning corporate opposition to OSHA both before its founding in 1970 and since then, complaint by complaint and standard by standard. Corporate interests fought OSHA's beryllium standard in courts for 17 years.
"As soon as businesses have to put out their plans and this takes effect, workers will quit. That itself will be a permanent worker displacement that will ripple through the national economy," Keller told Gorsuch, in his argument for dumping the anti-coronavirus Emergency Temporary Standard.
"We can talk about the billions in non-recoverable costs the government even concedes, and we can talk about the lost profits and lost goodwill and lost business reputation, and we can talk about the businesses that are going to be put out of business.
"That's why we're here. We're asking for an extraordinary stay. We understand the gravity of the situation. But, in balancing the sheer size and scope of this emergency power that is supposed to be exercised delicately and the national economic implications of this when states and businesses can and have acted, we are entitled to a stay" of OSHA's Emergency Temporary Standard.
But Justice Breyer shot a big hole in NFIB's argument when he asked Benjamin Flowers, Ohio's Solicitor General—who spoke on behalf of some right-wing states—whether OSHA could regulate workplace risks that could spread outside the job.
"I was searching for an example," Breyer commented. "Universal risk inside and outside the workplace, including the workplace. Can OSHA regulate it?" he asked, citing anti-fire regulations OSHA imposes. "If they can regulate fire risks, then why can't they regulate this risk?" Flowers agreed the state OSHA can regulate fire risk.
"We accept the line that's been drawn for every important industry that simply the fact that a risk exists outside the workplace doesn't mean you can't address it when it's inside the workplace," he said. "What we dispute is the idea that a risk that is ever-present in all places can be regulated simply because it's also in the workplace."
Biden's Solicitor General, Elizabeth Prelogar, argued for protecting the workers.
"Covid-19 is the deadliest pandemic in American history and it poses a particularly acute workplace danger. Workers are getting sick and dying every day because of their exposure to the virus at work," she began. Prelogar told the justices, none of whom have a job safety and health background, that "OSHA amassed substantial evidence of widespread workplace outbreaks across all industries.
"It studied the science of how this virus is transmitted and found workers are exposed to danger when they're inside together for as little as 15 minutes, and OSHA considered the extensive evidence that unvaccinated employees are at heightened risk of contracting the virus, of transmitting it to others and infecting their coworkers, and of suffering the gravest consequences, hospitalization and even death.
"To protect against that grave danger, the standard requires employers to adopt a policy that unvaccinated employees either get vaccinated or mask and test. Those are commonplace and highly effective measures OSHA determined were essential to stopping the spread of this dangerous disease at work."
Try to portray it as "unprecedented"
NFIB and its corporate allies "try to portray this standard as unprecedented. But this lies in the heartland of OSHA's regulatory authority. Congress charged the agency with setting nationwide standards to protect the health and safety of employees throughout the nation, and Congress specifically appropriated money to OSHA to address Covid-19 in the workplace. Nothing in the statute or the agency's regulatory history bars the use of these measures. Just the opposite," she declared.
Justice Clarence Thomas jumped on that. "Who is declining to do that? Is it the employer or the employee?" he asked.
"I think it can be both," Prelogar replied. "There are many employers around the country that voluntarily imposed these kinds of requirements with their workers in recognition that vaccination is the single most effective way to protect workers in the workplace or that used masking and testing requirements to the same end.
"So many employers are doing it, but part of OSHA's function and what Congress charged the agency with is to look at those kinds of best practices and impose them through standards to ensure workers, no matter what specific controls their employers have in place, are maximally protected," she replied.
In the second case, Missouri and its allies sought to stop Biden's Center for Medicare and Medicaid Services from conditioning federal money on hospitals' and nursing homes' implementation of anti-coronavirus plans—including masks and vaccinations—on health care workers. Unions support Biden.
That let Brian Fletcher, Biden's principal deputy solicitor general, take the offensive.
"Hospitals, nursing homes, and other Medicare and Medicaid providers serve patients who are especially vulnerable to Covid-19 in settings especially conducive to the spread of the virus," he said.
The federal agency, which regulates them and doles out the money, "required those providers to make sure their staff are vaccinated, subject to medical and religious exemptions." Biden's Health and Human Services Secretary "found vaccination is the best way to prevent workers from infecting their patients with a potentially deadly disease. He also found any delay in implementing that requirement would cause preventable deaths and severe illnesses.
"The preliminary injunctions in these cases are delaying that urgently needed protection for Medicaid and Medicare patients in half the country…Requiring medical staff vaccination during a pandemic falls squarely within the secretary's statutory authority to protect the health and safety of Medicare and Medicaid patients. Vaccination requirements are a traditional and common way to curb the spread of infectious disease," Fletcher continued.
"Second, the secretary's decision was thoroughly explained and supported by the record. The states do not seriously deny that requiring vaccination will save lives. Instead, they predict it will cause staffing shortages, especially in some rural areas." HHS explored that claim and found "experience from around the country shows that most workers actually will choose to be vaccinated rather than to leave their jobs in response to vaccination requirements."
HHS "concluded the risk of some temporary staffing shortages is outweighed by the urgent need to protect all Medicare and Medicaid patients during a deadly pandemic."
The justices were expected to issue a ruling on both cases by January 10, the new effective date for OSHA's anti-virus emergency temporary standard, but did not. The right-wing and corporate interests sought to permanently block both the OSHA rule and the Center for Medicare and Medicaid's rule.