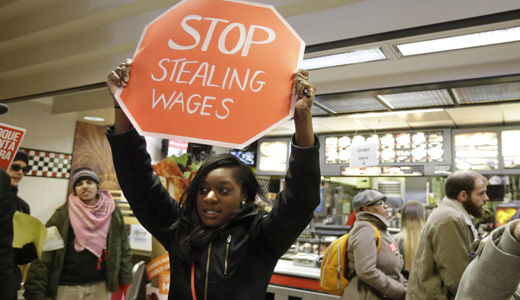 WASHINGTON – Right-wing Republicans who run the House Education and the Workforce Committee are apparently pushing the Labor Department to ease up on wage theft, in favor of "compliance assistance" – department counsel to businesses. But DOL is resisting, an advocate for low-wage workers says.
The push came at a July 23 subcommittee hearing, where lawmakers noted a steep rise in the last two decades in lawsuits alleging wage and hour violations. They commissioned a report from the non-partisan Government Accountability Office about the increase.
GAO found most of the increase in lawsuits came from private lawyers, while the share of the suits filed by the Labor Department's Wage and Hour Division had declined. Wage and hour law lets workers and their lawyers sue for wage theft, too.
"You'd think employers were engaged in some kind of coordinated national conspiracy to deny workers their rights," said panel chairman Tim Walberg, R-Mich. He denied that.
"Improving guidance could increase the efficiency and effectiveness of the department's efforts to help employers voluntarily comply with the law," Walberg claimed.
The Wage and Hour Division's role is important because it enforces minimum wage laws, overtime pay laws and child labor laws. And the lawbreaking is widespread, Judith Conti of the National Employment Law Project told the panel's worker protections subcommittee.
A 2009 academic report on wage and hour violations in the nation's three largest cities, New York, Chicago and Los Angeles, Broken Laws, Unprotected Workers found "an astounding 68 percent of those surveyed experienced at least one pay-related violation in the work week preceding the survey."
"More than one-fourth (26 percent) of workers were paid less than the legally required minimum wage in the previous work week, and 60 percent of these workers were underpaid by more than $1 per hour," Conti testified.
Nearly a quarter of the workers came to work early or stayed late, but 70 percent of that quarter "received no compensation for this 'off the clock' work." Of the workers who survive on tips, 30 percent did not get the tipped minimum wage – $2.13 an hour – and one in eight said employers or supervisors stole some of the tips.
The average worker who suffered lost 18 percent of her pay, Conti added. Most did not report the wage theft to DOL's Wage and Hour Division for fear of retaliation – suffered by 43 percent of those who reported wage theft. Most workers reporting wage theft are women.
If wage theft through underpayment of the minimum wage is bad, theft of overtime pay is worse, she told the lawmakers. One of Wage and Hour's main duties is to pursue overtime pay violations. The survey showed three-fourths of the workers were shorted overtime pay.
In 12 occupations, more than half of the workers reported being denied overtime pay: Child care (90.2 percent denial), stock and office clerks (86 percent), home health care (82.7 percent), beauty/dry cleaning and general repair workers (81.9 percent), car wash workers and parking attendants (77.9 percent), waiters, cafeteria workers and bartenders (77.9 percent), retail salespersons (76.2 percent), janitors and grounds workers (71.2 percent), garment workers (69.9 percent), cooks and dishwashers (67.8 percent), construction workers (66.1 percent) and cashiers (58.8 percent).
"Extrapolating from these findings, the research team estimated that in these three cities alone, low-wage workers lose more than $56.4 million per week as a result of employment and labor law violations," Conti said.
"At a moment when our economy continues to suffer from lack of demand, these findings suggest that one important key to economic recovery is more vigorous enforcement of wage and hour protections, so workers are paid what they earn, and can pump money back into their local economies. It goes without saying that wage theft of this magnitude also contributes to the phenomenon of working poverty."
The subcommittee's ruling Republicans ignored Conti's data and concentrated on the rising numbers of lawsuits. They suggested solving the problem by having DOL issue more "guidance" to companies, while cutting down on enforcement. The GOP Bush regime emphasized "guidance" and "compliance assistance" over enforcement of various labor laws.
"What's the harm in assisting employers in understanding their legal responsibilities?" Walberg asked. "Why wouldn't we want to help employers understand their obligations, so they can stop spending time inside a court-room and instead invest their resources into growing a successful business and creating jobs?"
Photo: Steven Senne/AP