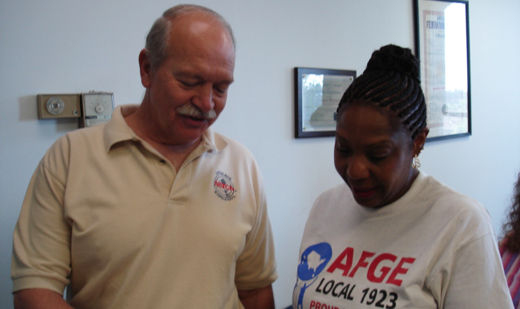 WASHINGTON (PAI) – An influential right-wing group among the House's new GOP majority, the 170-member Republican Study Committee (RSC), is using "budget cutting" as an excuse to attack federal worker union reps.
The RSC's endorsement of a bill by Rep. John Gingrey, R-Ga., to ban the reps from being paid for time they spend on such things as grievances and bargaining was one of two anti-federal union moves the GOP launched in the first days of February.
The other was a move by Sen. Roger Wicker, R-Miss., to ban unionization of the 40,000 Transportation Security Officers, or screeners. TWicker tried to attach his idea – floated before by Sen. James DeMint, R-S.C. – to legislation renewing the Federal Aviation Administration and approving modernization of air traffic control systems.
The American Federation of Government Employees (AFGE) pointed out that paying shop stewards and bargaining committee members their regular wages while they handle grievances and negotiating is a frequent provision in private-sector union contracts. It's also in the 1978 federal civil service law.
But the RSC and Gingrey say such pay subsidizes unions. Gingrey, cloaking his campaign in budget language, argues that eliminating the pay would save $120 million a year. "We have seen an increase in union activity on official time lead to a more inefficient workforce, and it is time to stop subsidizing this problem," Gingrey claimed.
AFGE said axing pay for representation time "would prevent effective union representation" of federal workers on everything from grievances to flexitime requests.
"Those who make these attacks do so to distract the American people from our unfair and regressive tax system and corporate welfare state that led to the Great Recession," AFGE said in a position paper on the issue – and on other attacks on federal workers. "Their ultimate target is the very government programs that serve the needs of the people and protect the American Dream."
The foes "know they must silence our voice in order to achieve their goals. This is the motivation behind the latest attempt to prevent effective union representation by attacking the use of official time by employees. Use of reasonable amounts of official time has been supported by government officials of both political parties for some 50 years. AFGE will strongly oppose any proposal that would weaken federal employee unions by curtailing, restricting, or eliminating the reasonable and judicious use of official time."
Photo: Creative Commons 2.0 Public workers are under attack from the GOP.