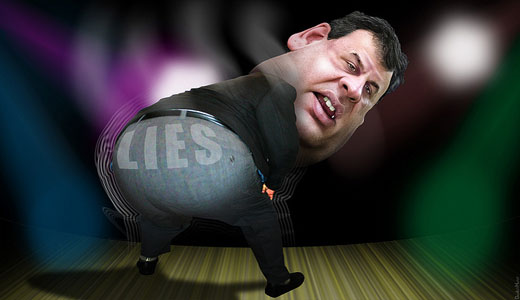 All politicians lie or at least exaggerate on the campaign trail to win elections. But they're usually shrewd enough to stake a position so vaguely that they can't be hammered with accusations of stark reversals. Rarely do they contradict word for word, position by position, a stance that set the tone of their leadership.
Such self-serving hypocrisy has now blown up for two Republican governors who are both clearly maneuvering to be considered for the GOP nomination for president in 2016 – reversals so clear and politically devastating that it could impact their state re-election bids even before they get to the big national test in 2016.
The biggest hypocrite, descriptively and in terms of attention, is New Jersey's Chris Christie, facing re-election this November, who made a clearly "Christie grabs the lifeboat first" decision upon the death in office of Democratic U.S. Sen. Frank Lautenberg. Political satirist and former Jersey resident Jon Stewart summed it up perfectly on Comedy Central June 6.
Here was one former Jerseyan who recognized a politician "giving the finger" to his state voters.
In 2009, shortly after being elected governor and knowing even then that Lautenberg, in his eighties and frequently ill, was a possible death in office, Christie said forthrightly and on tape: "I don't think any responsible governor would call for a special election that would cost $10 million."
Yet in June he told taxpayers to spend a useless $12 million to give him a bare three-week advantage in his re-election. Seriously.
Claiming he was eager to give New Jersey a senator in D.C., but politically savvy that a state leaning blue was likely to turn out in force for the popular Democrat chafing to run, Newark Mayor Corey Booker, Christie didn't want to see his 30-point lead in the polls evaporate if he and Booker shared the same November 2013 ballot.
This is not a small issue. Victory margin is essential for Christie. Even if he tacks back to the right, he has taken heat from GOP extremists for doing what any governor should – buddying up to a president, in this case a black president, when a hurricane strikes, and then criticizing opponents of federal disaster relief, in this case House Republicans. But such behavior, while normal in the past, elevated his reputation in his state. If he wants to be regarded as a national conservative, it's key to prove his power with both parties and independents – and not scare the public into thinking he is just another politician willing to do anything to put No. 1 first.
Lookie what happened. Rather than appointing a Republican to fill out Lautenberg's term until November of 2014, something the Republicans wanted and the Democrats loathed, and rather than sharing a ballot with Booker (who would be listed first under New Jersey election rules), Christie called for a special election Oct. 14, three weeks before he runs, to the tune of $4 million a week for taxpayers they didn't have to spend.
Voters were outraged in polls. Particularly since Christie had just vetoed a similar amount for early voting registration, something both parties wanted. Other commentators immediately noted that he could have restored cuts to after-school programs, hospital charity care and dropped increases in tuition costs for the same amount.
You really can't fully blame him for the other $12 million it will cost for an August primary election for both Democrat and GOP senate hopefuls, but he could have delayed that cost as well and it was clearly part of deflecting media attention from his own November contest.
Mock-sobbed Stewart on cable, "That is such a self-serving corrupt abuse of power. I miss New Jersey so much. It's just hard to see a corrupt abuse of power and not think about home."
Coming up close behind
Coming up close behind Christie in politically motivated deception over another set of problems is Wisconsin Gov. Scott Walker. Back in 2010 when playing up his family image running for governor, he said on the trail, "I have two teenagers and I tell them that nothing good happens after midnight. That's even more true in politics."
He even offered precise detail in a promise to voters: "As governor, I will sign legislation to prohibit the members of the State Legislature from voting after 10 at night or before 9 in the morning. This common-sense reform ensures the public has the opportunity to contact elected representatives about their votes on any pending legislation important to them. The people of Wisconsin deserve to know what their elected leaders are voting on."
Now they don't know – and he's primed to sign a two-year state budget negotiated behind closed doors with cursory public hearings and passed in the wee hours invisible to public scrutiny.
It bears slight resemblance to the budget he introduced because Republicans recognized it was the most gosh-awful flawed proposal in their memory. The game, and the reason for all the secrecy, is how to seem to support Walker and take advantage of his well-heeled political machinery, to resist the minority party wholesale and yet change things enough to squeak by with GOP district voters including fuming school districts and local officials.
The game was further compounded when the tea party wielded its muscle and forced through more regressive tax policies and blatant rewards of political backers that even so-called centrists were forced to accept as the price of doing business. The budget even slaps a band-aid on hospital costs to try to disguise the billions of dollars and thousands of jobs Walker's refusal to participate in Obamacare or Medicaid expansion will cost in the next few years.
What required all this hidden GOP surgery? Walker's economic ideology just isn't working, he can't hire competent staff that can stay out of prison, and his nationwide political speeches (trying to quash Christie, Cruz, and Paul fever) and deadpan fact-flipping have so far failed to even put underwear on the emperor of Wisconsin's fiscal disaster.
The budget moving out of the legislature is a witches' brew (and that is kind) that dismembers Walker's original proposals without letting the public realize what is going on. Just one example: A new school voucher plan expands to almost every school district in the state but pledges a ridiculously low cap on participating students. It is the camel nose in the tent that Milwaukeeans experienced in a largely failed voucher program that started with similar harsh caps and has now grown into the equivalent of the state's fifth largest school district.
Backing away from Walker or forcing extremist tax cuts and regressive rates are the double whammies that dominate this budget, and explain why the deal-making had to be in secret and passed with minimal debate before the voters realized what was happening, just the "dead of night" danger Walker pretended to be concerned about in 2010.
But expect Walker to sign it and then forthrightly defend it as just what he ordered. He has to behave as if things are swell, that the rebelling GOP really adores his ineptitude and that the state is not at the bottom of job creation compared just to surrounding states that are attracting business.
Walker and Christie have a lot in common – misdirection to justify tea party stance. Both states have failed their citizens in economic terms, since both were elected at the height of the nation's fiscal collapse and now both can't keep up with the normal gains the rest of the nation is experiencing.
New Jersey also lags its neighbors in job creation and economic growth — not as blatantly as Wisconsin, but rest assured: At least Christie has disappointed commuters more than Walker has in turning down federal transit help.
In Wisconsin, Republicans are quietly upset, balancing how to support Walker and handle him without hurting themselves at the ballot box.
In New Jersey Republicans are more vocally upset – not just because Christie did not fully protect them with a long-term GOP appointment to the Senate but because many also face election November 5 and fear that Christie has roused the opposition rather than isolating it.
Among the opposition – Barbara Buono, the Democratic challenger for governor who was lagging far behind Christie in the polls but now may catch fire by reminding voters that Christie is failing their economy and will say and do anything to preserve his image. After all, he opened the door.
Walker has a different political problem. The Democrats are more than willing to bide their time since the election is not until November 2014. They can let his failures sink in on Wisconsin voters – how he, too, will say anything and pass anything to get re-elected. They are internally advising each other to wait until early 2014 before announcing a challenger – to let Walker twist in the wind of his economic failures and then go full bore to counter with facts his much larger campaign coffers.
Christie and Walker have given them a big opening – the hypocrisy both just demonstrated and the consequences of such maneuvering at the polls.
Freelance writer Dominique Paul Noth served for the past decade as editor of the Milwaukee Labor Press and before that as film and drama critic, then senior editor and then special assistant to the publisher for the Milwaukee Journal.
Photo: DonkeyHotey/Flickr (CC)