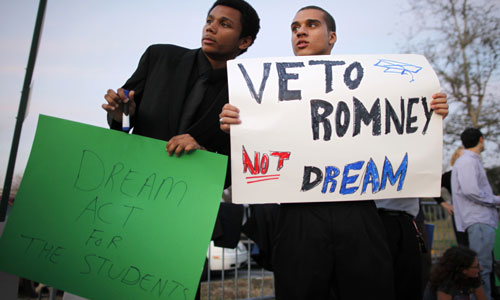 WASHINGTON – U.S. Rep. Raul Grijalva, D, Ariz, and immigrant rights leaders held a press confeence here today to shine a light on Supreme Court deliberations on Arizona's controversial immigration law and to warn of the dangerous implications of Mitt Romney's promise to make the Arizona law a "model" for the nation.
A vicious backhand to undocumented people, Arizona's SB1070 is a law that allows local police to detain and arrest anyone, due to so-called 'reasonable suspicion' of being "illegal." It is generally viewed as extreme racial profiling, and an attack on hard-working undocumented citizens.
The previous day, as the justices heard opening arguments on the legality of the law, about 400 protesters had gathered outside the U.S. Supreme Court building.
"Every day, I talk with undocumented folks on the ground who really suffer the consequences of this," said Erika Andiola, Arizona Director of the DRM Capitol Group, a political advocacy organization. "This is not the right thing to do, and it should not be the model for the nation."
"SB1070 as the model for this nation goes against every American value we have," said Grijalva. "It creates a legal separation for a class of people – one that says, 'you're not part of this whole.' That attitude, which Romney" and those who endorse him "have…it is the most extreme, harsh policy America has ever seen.
"This is very frightening. It separates society in a very racial, profound, linguistic way.
"1070's very obvious agenda is to keep the [so-called] racial 'balance' in this country at a certain percentage. These are harbingers of really ugly politics, and we should all be very concerned."
AFL-CIO President Richard Trumka said yesterday that SB1070 and similar laws "are tearing families apart. These laws have legalized discrimination, encouraged racial profiling, and sanctioned egregious violations of civil and human rights, and labor laws.
"Arizona's attempt at state-level immigration lawmaking is unconstitutional."
Romney, in addition to glorifying SB1070, has promised to veto the DREAM Act, which is legislation intended to provide U.S. residency for the undocumented, on the conditions of arrival in the U.S. prior to adulthood, and high school graduation.
"Ever since Jan. – ever since Romney said he would veto the DREAM Act, we have been declaring that we're not going to tolerate it," added Cesar Vargas, managing partner of DRM Capitol. "And we're going to make sure everyone knows what Romney's position is. We are talking to undocumented youth [who are affected], and they're listening to us."
In the coming days, Vargas declared, "We're going to be pushing ahead more aggressively. We're gonna be letting everyone know that Romney is not on the side of DREAMers, and not on the side of America."
Photo: Students Emmanuel Catalan and Jean Cocco protest Romney's position on the DREAM Act. Charles Dharapak/AP