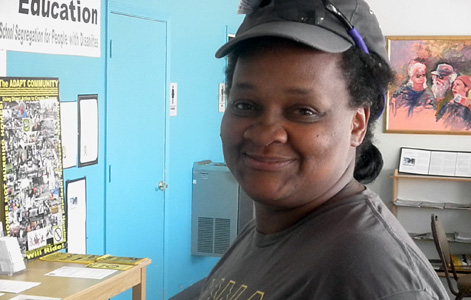 MEMPHIS, Tenn. – Marion Bacon has worked at The Memphis Center for Independent Living, an action and advocacy organization for people with disabilities, for over five years. She describes her job, and the overall mission of MCIL as essentially fourfold: to "assist individuals learning how to advocate for themselves, peer counseling, helping people find resources in the community, and educating people about various disabilities visible and invisible."
Deborah Cunningham, MCIL's Executive Director, explains "my old boss used to describe it [MCIL] as a supermarket for people with disabilities." Before MCIL people looking for resources would have to go to lots of different agencies spread out all over town, a difficulty compounded by the overall low quality and availability of public transportation for people with disabilities in Tennessee's largest city.
According to Cunningham, clients visit MCIL for a number of reasons, "we do lots of things from helping people get disability benefits to learning how to ride main-line transportation, to helping them find an apartment."
The bulk of the center's funding comes from the Department of Education's Rehabilitation Services Administration with some additional funds coming from the city of Memphis and the state of Tennessee, according to Cunningham.
Some of the most routine tasks in everyday life can present real challenges for an individual with a disability. Ms. Bacon puts it plainly: "You need to look like you don't need assistance in order to get assistance." One's ability to "look like they don't need assistance" is often more difficult if an individual has multiple disabilities. "For instance," Bacon says, "a soldier who lost both of his legs might also have post-traumatic stress syndrome."
So while, "their primary disability might be their physical disability, their dominant disability might be their PTSD." The same is true for people with other physical disabilities — like but not limited to — blindness, or the need to walk with a crutch, who also have a current diagnosis of bipolar or any number of mental illnesses.
Unfortunately, the stigma our society still places on people with a current diagnosis of a mental illness can be profound. "One of the hardest things in Memphis," Marion Bacon says, "is the stigma and stereotypes the African-American community has towards mental illness."
According to Bacon, in the African-American community, "mental illness is taboo and many think it [mental illness] is a demon that if you pray hard enough will go away." She continues, "When I first came to Memphis it was hard. People said I shouldn't talk about mental illness because people will think you're 'crazy'."
Marion Bacon hates the word 'crazy.' She also hates the word 'handicapped.' Both words are essentializing and prejudicial, they both suggest a person to be a victim, or not as capable a human being as someone else.
MCIL likes to think its work provides evidence of the falsehood of these stereotypes.
The center is also devoted to what is called "nursing home transition." Bacon describes it as "help[ing] individuals that are in nursing homes [solely] because their family doesn't want to deal with them."
Because transitioning people out of nursing homes challenges the assumptions made by the medical community as well as peoples' families Bacon says that "sometimes there can be a lot of resistance from family and / or the nursing home doctors."
In part, no doubt, some of the resistance to nursing home transition arises from the sad fact that "in the old days the State of Tennessee did not provide enough services for people who wanted to live outside of the institutions" says Deborah Cunningham, "so we had to send a lot of people to Denver."
Back in the 1960's, according to Cunningham, a man named Wade Blank was studying to be a minister when he started working as an orderly in one of the nursing homes. There he saw the horrific conditions where people were warehoused, simply because there were not sufficient services for people with disabilities. In 1983, Blank helped start ADAPT, an organization widely known as the radical wing of the disability rights movement.
ADAPT of Tennessee holds regular meetings at the Memphis Center for Independent Living.
Cunningham explains, "The Center has realized for years that people with disabilities are treated as second-class citizens."
"Often," she says, "it is patronizing. They give you something and pat you on the head. Other times, it is outright hostility."
Photo: Marion Bacon at the recent community meeting. James Raines/PW