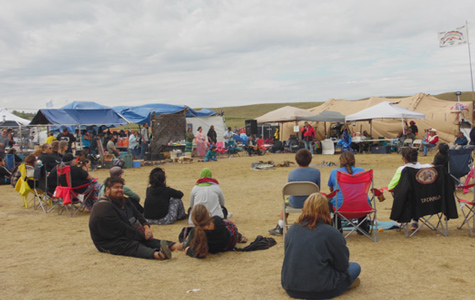 CANNON BALL, N.D. — It was a wet and windy weekend at the Standing Rock Reservation, N.D. but weather was the least of the problems facing protestors who have camped out on the intended site of the Dakota Access oil pipeline. Their struggle to maintain the sovereignty of Standing Rock Sioux land in the face of expansionist capital has carried on for weeks now, achieving status as the largest gathering of Native Americans in over 100 years.
Their fight to stop the pipeline, which has taken the form of civil disobedience as well as legal remedies, has drawn the ire of Energy Transfer Partners, the corporation behind the pipeline. They sent in  private mercenaries  last Saturday in an attempt to repress the protestors. The mercenaries used pepper spray and sicced dogs on non-violent protestors.
But later that day, as people nursed their wounds, messages of solidarity were received from groups who see their struggles in the struggles of the Standing Rock Sioux.
Tala Moh of the Palestinian Solidarity Network in Cincinnati gave her solidarity and love to those gathered on the plains as a person "whose people who lives under a military occupation, who have been ethnically cleansed and who have had their water and resources stripped from them."
She read a letter from the Muslim spiritual leadership in Cincinnati which read, "We stand behind them because they stand up for water and the sacred connections between human beings and nourishment from the earth… the Muslims of Cincinnati stand in solidarity with the native peoples who lands have been stolen and colonized… we will be behind you, beside you, and if you become tired we will stand up for you until the pipeline is dismantled and humanity is rebuilt."
Another member of the Palestinian Solidarity Network in Cincinnati read a letter from Black Lives Matter Cincinnati, members of which could not be there in person.
The letter calls the three billion dollar project to run pipelines near and through reservations and sacred lands "unacceptable." Black Lives Matter Cincinnati is also calling for the immediate release of all protestors and the dropping of all charges and fines.
"We know that first peoples still living on this continent face rampant police brutality and discrimination as this government seeks to erase their very existence," the letter reads, citing the fact that while Native Americans make up .8 percent of the population, they also account for 1.9% of all police killings.
The Standing Rock Sioux are hoping that a motion for a temporary restraining order to prevent the construction of the Dakota Access Pipeline that they filed in the U.S. District Court for the District of Columbia will succeed. A decision is expected as soon as September 9.
For more coverage of Native American issues, as well as in-depth coverage of the Dakota Access Pipeline protestors, check out the work of Albert Bender, contributor at People's World.
Photo: Omar Muthana, Earchiel Johnson/PW