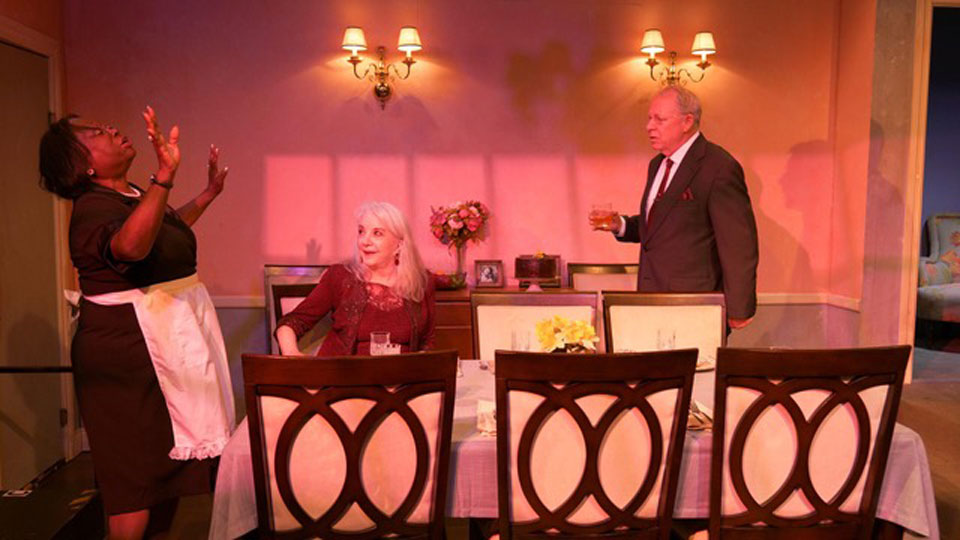 SANTA MONICA, Calif. — Many Americans have warm memories of the 1967 film Guess Who's Coming to Dinner, William Rose's screenplay directed by Stanley Kramer. Nominated for ten Academy Awards, it won two, for Katharine Hepburn as Best Actress in a Leading Role, and for Rose for Best Original Screenplay.
It was Hepburn's last film playing opposite Spencer Tracy, and of course it provided a stellar role for the late great Sidney Poitier.
A common source for a film is a play, but in this case, it took years before this iconic film was turned into a stage play, written by Todd Kreidler and based closely on Rose's script. It's now being presented by the Ruskin Group Theatre.
Interracial marriage was illegal in 17 Southern states until six months before the opening of Guess Who's Coming to Dinner, when in the celebrated Loving v. Virginia case, the Supreme Court unanimously struck down such laws as violating both the due process and equal protection clauses of the 14th Amendment. With the minoritarian-appointed constitution now of the Court, that is on the cusp of throwing Roe v. Wade overboard, as having been "egregiously" decided (7-2) in 1973, because abortion was not mentioned in the Constitution in their "originalist" interpretation, civil rights advocates are now fearful for other established law, including same-gender marriage and interracial marriage. The right wing is eager to toss such matters back into the swamp of "state's rights," in what would appear to be a provocation for a new civil war.
So the play is not just a suspenseful comedy drama and a lesson in American history, but an ever-timely warning for the foreseeable future.
In the film and play, a white couple's proud liberal sensibilities are put to the test when their daughter brings her Black fiancé home to meet them. Matt Drayton is a longtime editor of San Francisco's progressive newspaper The Guardian, and his wife Christina is an accomplished artist and gallerist. Supporting civil rights and racial equality in your newspaper and teaching your children that white supremacy is wrong is one thing, but welcoming a person of color into your own family is completely different. They couch their objection, naturally, only as concern for the couple's future. Their longtime Black servant Tillie is not thrilled about this Dr. John Prentice either, assuming he's a grifter with ulterior motives. When his parents enter, John Sr. and Mary, they also express opposition to the match, never having been welcomed into white company their entire lives. It's not long before a multi-family clash of racial and generational difference sweeps across the Draytons' toney San Francisco residence, with only Monsignor Ryan, a personal friend, golf partner and dinner guest, voicing unequivocal support for the young couple. Will the lovers prevail by the end of the play, or will the forces of prejudice continue to rule the day?
The film inspired a broad national conversation, but young people came to their own conclusion themselves. In a multiracial, multicultural society such as the United States, inevitably, in neighborhoods, schools, religious and social groups, political campaigns, online, through travel, military service and in every other way, people met one another in settings that American apartheid never would have tolerated, and the rate of interracial and interfaith marriage has multiplied exponentially since 1967.
One common explanation for the outburst of racist terrorism today is the fear that white people are being "replaced" by immigrants, people of color and Jews. Their thinking seems not to have evolved since the days before the Civil War. Yet how visible and active these "Caucasians" would be without resources from deep corporate pockets (Koch, deVos, Coors, etc.) is open to question. They are very useful in keeping America's working people divided, their attention diverted from the problems (addiction, homelessness, debt, substandard healthcare, declining public education, etc.) resulting from the extreme concentration of wealth and power in the hands of a new oligarchy of billionaires.
"What's more current," says the stage adaptor Todd Kreidler, "than a story set in a society riven by intolerance and fear? We forget: only a generation ago America drank from separate fountains. See what happens when a couple attempts to share the water in even the most apparently liberal of homes."
Kriedler should know: He worked with August Wilson on Broadway and in regional theaters across the country, developing the final three plays in Wilson's famed American Century Cycle. Together they conceived How I Learned What I Learned, an autobiographical solo show that Wilson originally performed and Todd directed. He's also a co-founder of the August Wilson Monologue Competition. On Broadway, Todd worked with director Kenny Leon and producers Eric Gold and Afeni Shakur to develop a musical fable based on the lyrics of Tupac Shakur entitled Holler If Ya Hear Me. Additionally on Broadway, Todd was the dramaturg on August Wilson's Radio Golf and Gem of the Ocean as well as Associate Director of the Tony Award-winning revival of Fences starring Denzel Washington and Viola Davis. In addition, he wrote a musical with Nikki Sixx, based on Sixx's music and best-selling memoir, The Heroin Diaries. Kreidler is that rare white figure who has devoted most of his professional career to the nurturing and exposure of African-American talent.
As the play's director, Ruskin Group Theatre could not have done better than to engage Lita Gaithers Owens, Tony Award-nominated co-author and vocal director of the Broadway musical It Ain't Nothin' but the Blues. Owens also directed the powerful Lorraine Hansberry classic A Raisin in the Sun at Ruskin. She's a veteran performer of numerous legitimate stages around the country.
"You are never wrong when you fight for truth, love, and unity," says Owens. "That's why this play is not for cowards. I chose to direct this beautifully written adaptation of the film because even though our nation's laws and policies have improved for people of color, I believe there's still work to be done, especially in the hearts and minds of many Americans. This play carries the audience on a journey of love and empathy. It encourages us to question what we truly believe about justice and equality and shows us that love must be our guide in finding the answers."
Much is made in the play of a powerful San Francisco titan and politician who Drayton believes is taking the wrong position about "this war," meaning, of course Vietnam at that time. He's supposed to come to dinner, mostly to show him some artwork for sale, but because of all the other surprise guests he's dropped from the guest list. This unseen character takes up too much space with no discernible payoff and might have been eliminated. Two other people who do not appear, but who do play a meaningful role in the other characters' psychological makeup are the Draytons' son Michael, who died some years earlier (as a teenager, I believe), and Dr. Prentice's wife Faye and young son Anthony who died together in an accident. All these deaths weigh heavily on these two families, helping the two grieving mothers reconcile and influencing how the two surviving children will choose their partners.
Owens's cast is superb, featuring Brad Greenquist and Lee Garlington as Matt and Christina Drayton, Mary Pumper as their daughter Joanna and Vincent Washington as Dr. John Prentice, Vickilyn Reynolds as Matilda (Tillie) Binks, Mouchette van Helsdingen as the art gallery director Hilary St. George, Paul Denk as Monsignor Ryan, and Dan Martin and Renn Woods as the fiancé's parents John Sr. and Mary Prentice. There were one or two bumbled lines owing to opening-night jitters (June 3), but the cast will surely grow tighter as the run proceeds.
John Iacovelli provided the scenic design, Edward Salas the lighting and sound design), Michael Mullen the costume design. The run time is approximately two hours, not including the 10-minute intermission.
The production cleverly uses a soundtrack of carefully curated Nat King Cole songs appropriate to the action. The singer was a longtime resident of L.A. who endured well-known struggles over housing discrimination. Music also has an important role in the play itself—spirituals sung and remembered  by the Black characters serve to bond them more closely, especially "Plenty Good Room," about the inclusiveness of the message of redemption.
Guess Who's Coming to Dinner plays through July 17, Fri. and Sat. at 8 p.m. and Sun. at 2 p.m. (no performances June 17 and 18). Ruskin Group Theatre is located at 3000 Airport Ave., Santa Monica 90405. Tickets can be purchased in advance at the company website or by calling (310) 397-3244. Free parking available on site. All Ruskin Group Theatre staff, cast, and crew are fully vaccinated. All vaccinated guests should be prepared to wear masks for the duration of their visit while inside, subject to amendment as conditions change.