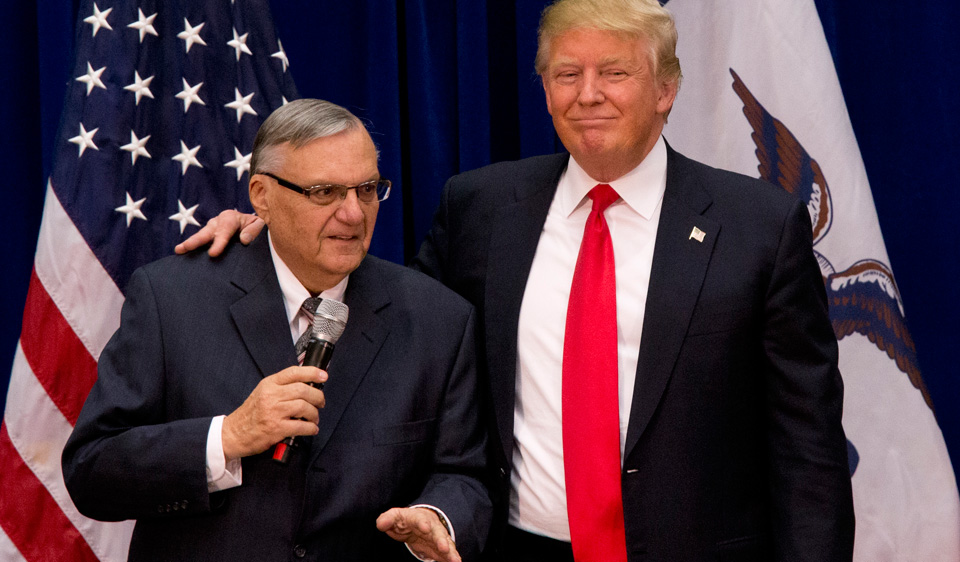 Joe Arpaio, the infamous former sheriff of Arizona's Maricopa County, was found guilty on Monday of criminal contempt. Arpaio, who made anti-immigrant actions the trademark of his law enforcement efforts, was held in contempt after defying a judge's 2011 order to stop traffic patrols targeting Latino drivers. He has come under fire repeatedly in past years over this and other policies he enacted as sheriff.
Boasting that he was "America's toughest sheriff," Arpaio launched a "hotline" for West Valley residents to report information about undocumented immigrants in 2007, which drew widespread criticism from immigrant rights groups across the nation. It was one of a series of outrageous actions he took while in office.
Shortly after his first electoral victory, Arpaio traveled to New Mexico to hunt down 70 surplus Korean War military tents and used them to build an outdoor jail that became infamously recognized for its inhumane conditions. Of the average 10,000 prisoners incarcerated in Maricopa County at any given time, approximately 800-900 of them could be found at his "Tent City." There, inmates were dressed in black-and-white striped uniforms and pink underwear and forced to swelter outside in Arizona's 120-degree weather. They were also made into a public spectacle, as Arpaio allowed the public to book tours of the facility multiple times a day.
Despite his history, it still came as a shock to many when Arpaio willfully continued his racial profiling patrols for an additional 17 months after U.S. District Judge Susan Bolton ordered that they cease. According to BBC News, Arpaio claimed that the judge's 2011 injunction, which he was found to have violated, was "vague" and "unclearly worded."
A number of immigrant rights collectives have responded to the verdict, including Puente Arizona, a grassroots migrant justice organization based in Phoenix that has spent over ten years fighting against Arpaio's terror-inducing policies against the undocumented. "We have always known Arpaio was guilty," said Carlos Garcia, the group's executive director.
"He has always been guilty of racism and hatred, guilty of breaking families apart, disappearing thousands of people in the community and of a gross abuse of his powers, Garcia said. "Unfortunately, today some of Sheriff Arpaio's anti-immigrant policies are still in place."
Arpaio served a 24-year stint as sheriff of Maricopa County before losing to Democrat Paul Penzone in November 2016. The loss came on the heels of escalating public outrage over a number of harmful policies implemented under Arpaio's long tenure and his unwavering stance on stopping immigration.
Despite raising more than $12 million from donors, and publicly aligning himself with Donald Trump, who said "Sheriff Joe" was "a man who believes in borders," Arpaio was unable to secure a re-election victory.
The legal backlash that Arpaio is now facing is both bittersweet and ironic, given the amount of time he's invested in harassing undocumented individuals for their lack of "legal" citizenship status.
The immigrant community has spent years denouncing his regime, known most for its extensive human rights violations. Arizona native, Erica Anna, spoke to People's World about the charges filed against Arpaio. Anna, who is now a Chicago-based activist, highlighted the former sheriff's long history of transgressions. "Sheriff Joe willfully ignoring the ruling to cease racial profiling practices was only one in a decade-long string of actions that proved his hatred of a community that makes Arizona the vibrant place that it is."
Anna has been protesting Arpaio's policies since she was a sophomore in high school back in 2008, and for her, and other Latinx activists, this conviction only confirms to people outside the brown community what has been clear to them from the start: Joe Arpaio is a racist criminal.
"This victory shows us that even though he was able to duck other past charges, we can win battles against state violence, and I couldn't be happier to see this small piece of justice being served," Anna said.
Though Arpaio potentially faces up to six months in prison as a result of his conviction, lawyers say it is unlikely that the 85-year-old former sheriff will ever serve time behind bars.
Even with Arpaio out of office, the lingering threat of Immigration and Customs Enforcement (ICE) still remains for the immigrant community. "As long as ICE is in the jails, Arpaio is still in control," said Garcia of Puente Arizona.
"True justice will be served when Sheriff Penzone ends all collaboration with ICE and finally breaks with the legacy of Sheriff Arpaio."