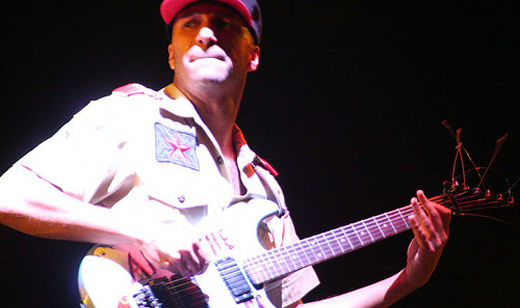 Tom Morello, guitarist of Rage Against the Machine and Street Sweeper Social Club, alongside musician Serj Tankian, of alternative metal band System of a Down, joined representitives of Korean guitar workers in a protest against Cort Guitars on Jan. 13, at the Nanum Cultural Center in Los Angeles, Calif. The protest was endorsed by local labor groups, including AFL-CIO United Steel Workers' Local 675, Koreatown Immigrant Workers' Alliance and ENLACE International.
Cort Guitars, the Korean equipment manufacturer for guitar companies such as Gibson and Fender, fired all of its Korean workers and closed all of its Korean plants in an illegal and immoral move to avoid "paying proper taxes" and "fix deplorable working conditions" in 2007.
In 2006, the workers had formed a union demanding justice and dignity in the workplace.
Morello says, "The company fired everyone wholesale, shut the factory and moved them to China."
The workers hope that awareness has been raised regarding the conditions, which contribute to the creation of many American guitars.
"Guitars should be a means to liberation, not exploitation," said Morello. "I fully support the Korean workers' demands for justice in the workplace. All American guitar manufacturers and the people that play them should hold Cort accountable for the awful way they have treated their workers. No one should have their job taken away because they stand up for their rights."
Tankian added, "As musicians, our axes are not immune to the global race-to-the-bottom techniques incorporated by those escaping responsibility to workers and the environment. As consumers and rockers we have to be very careful that everything we touch and use is created and handled with ethics and equity in practice."
A week of events, press conferences and protests will be taking place through Jan. 17 in the LA and Anaheim area. On the 16th, musicians are invited to perform at any time between 12:30 and 2 p.m. in tribute to workers' rights and putting an end to corruption.
Morello and Tankian are the co-founders of The Axis of Justice, a nonprofit organization whose purpose is to bring together musicians, fans of music, and grassroots political organizations to fight for social justice together.