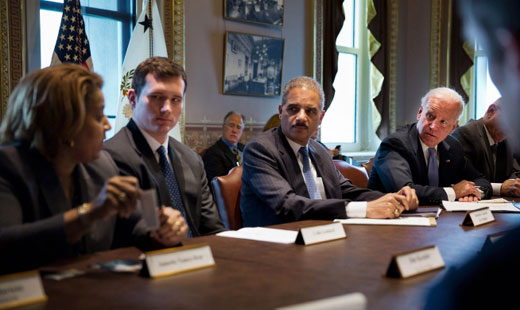 Will the Newtown, Conn., massacre of 20 small children and six adults, 28 days ago, become just one in a growing list of American shooting tragedies? Or will the outcry it spurred lead to meaningful curbs on the profitable gun industry? From the White House to anti-violence groups, it's widely agreed that grassroots mobilizing holds the key.
Ten gun-related bills were introduced in the House of Representatives on the first day of the 113th Congress last week.
Eight of the 10, introduced by Democrats, were for various curbs on guns. Two of the 10, introduced by Republicans, took the opposite approach, calling for ending "gun-free zones" at schools.
Sen. Dianne Feinstein, D-Calif., plans to introduce an updated assault weapons ban when the Senate takes up new bills later this month. Feinstein wrote the original 1994 assault weapons ban that was allowed to expire in 2004. Feinstein's new bill would ban the sale, transfer, importation and manufacturing of more than 100 specific assault weapons as well as large-capacity ammunition magazines and other feeding devices that hold more than 10 rounds. The expired ban prohibited the manufacture of 19 gun models and did not bar the sale of previously manufactured weapons or large-capacity magazines.
Sen. Frank Lautenberg, D-N.J., is sponsoring a bill to ban high-capacity magazines and Sen. Chuck Schumer, D-N.Y., has a bill to enhance background checks and close the loophole that enables gun show sales without background checks.
Rep. Carolyn Maloney, D-N.Y., is sponsoring legislation to require background checks for all gun sales – including at gun shows – and ban online ammunition sales. She is also co-sponsoring with Rep. Diana DeGette, D-Colo, a bill to ban high-capacity magazines. DeGette's district includes Columbine High School, where two students killed 13 people in 1999. Her district is next to Aurora, where Jason Holmes killed 12 people and wounded more than 50 in the "Dark Knight Rises" mass shooting at a movie theater last July. Holmes' weapons included a semi-automatic rifle with a 100-round drum magazine.
Following the Newtown tragedy President Obama named a White House task force, headed by Vice President Joe Biden, to come up with gun control legislation to present to Congress and other measures that can be implemented administratively. In addition to a new assault weapons ban, these reportedly will include such things as universal background checks for gun purchasers, strengthening mental health checks, and stricter penalties for carrying weapons near schools or giving them to minors.
But in Congress, U.S. News reports, "Democrats from conservative states would prefer a focus on mental healthcare reforms and House Republicans appear vehemently opposed to restricting gun ownership or reinstating something akin to an assault weapons ban."
Once the administration's proposals have been finalized, Obama "plans to lead a public-relations offensive to generate popular support," says the Washington Post.
"The White House is also developing strategies to navigate the rocky and emotionally fraught terrain of gun politics," the Post reports. "The administration is quietly talking with a diverse array of interest groups, including religious leaders, mental-health professionals and hunters, to build as broad a coalition as possible."
An indication of the need for a broad grassroots campaign to pass even the most modest gun curbs is the reaction of freshman North Dakota Democratic Sen. Heidi Heitkamp. On George Stephanopoulos' "This Week" show last Sunday on ABC, she called the reported Obama proposals "way in the extreme." Heitkamp is a National Rifle Association member and has an A rating from the organization. Mitt Romney won North Dakota by 20 points last November. In her comments on Sunday, Heitkamp said mental health issues should be the priority "before we start talking about gun control."
On the same show, Senate Minority Leader Mitch McConnell, R-Ky., told Stephanopoulos gun control legislation will have to wait at least three months because "the single biggest issue confronting the country is spending and debt."
And freshman Texas Republican Sen. Ted Cruz told Fox News on Sunday that gun control is "unconstitutional." However, in the wake of Newtown, even some conservatives, for example the Cleveland Plain-Dealer, are challenging that view. This may help build momentum for gun curbs.
At state and local levels, some will be taking up gun control measures, while others are pursuing easing gun curbs and arming teachers. New York Gov. Andrew Cuomo said Wednesday he will press gun restrictions that would be "the toughest" in the country and "set an example for the rest of the nation."
On Tuesday, Jan. 8, former Rep. Gabrielle Giffords and her husband Mark Kelly, a former astronaut, announced formation of a new political action committee, Americans for Responsible Solutions, that aims to match the money and influence of the gun lobby. Jan. 8 was the two-year anniversary of the shooting of Giffords in Tucson, Ariz., in a blast of gunfire that killed six people and wounded 13.
"We saw from the NRA leadership's defiant and unsympathetic response to the Newtown, Conn., massacre that winning even the most common-sense reforms will require a fight," Giffords and Kelly wrote in a USA Today op ed. "Special interests purporting to represent gun owners but really advancing the interests of an ideological fringe have used big money and influence to cow Congress into submission."
The Brady Campaign to End Gun Violence is urging the public to join in an online letter from family members of victims of mass shootings, asking every member of Congress to act on gun violence. The grouop also urges phone calls and in-person meetings with senators and representatives.
ColorofChange.org has a petition to corporate CEOs asking them to stop funding the far-right American Legislative Exchange Council (ALEC) because it is pushing increased gun access laws across the country.
And CREDO Action has a petition asking senators to pass a ban on military-style semiautomatic assault weapons and high-capacity ammunition magazines.
Photo: Vice President Joe Biden and Attorney General Eric Holder listen to Annette Nance-Holt as she holds a photo of her son Blair, who was shot and killed while riding a bus from school in 2007. Colin Goddard, who was shot four times at Virginia Tech in 2007, is second from left. Biden and Holder met with representatives of victims' groups and gun safety organizations on Jan. 9 as part of the administration's effort to develop policy proposals in response to the tragedy in Newtown, Conn. (Official White House Photo by David Lienemann)