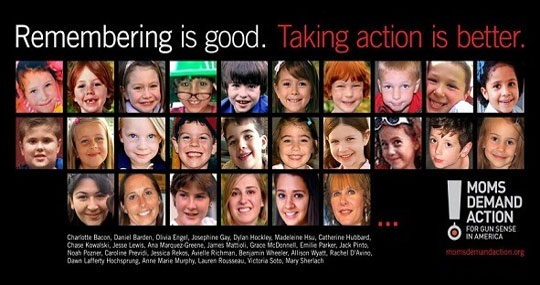 On Saturday, four members of Moms Demand Action were lunching at the Blue Mesa Grill in Arlington, Texas, when dozens of Open Carry protesters brandishing long arms showed up in the parking lot.
Open Carry Texas advocates open carry of handguns, while the Texas chapter of Moms Demand Action for Gun Sense seeks responsible gun laws in the wake of the mass killing at Sandy Hook Elementary in Connecticut.
Shannon Watts, the founder and spokeswoman for Moms Demand Action, said in a press release that the Open Carry's actions terrified restaurant patrons.
Said Watts, "They felt like they were in an armed ambush." One of the group's members went from table to table to explain to diners why a band of strangers were standing outside the restaurant with weapons drawn. The MDA luncheon was not a rally, Watts stressed, but a private meeting.
Chris Barton, the CFO of Blue Mesa Grill is quoted in a US News article as saying that a police dispatcher informed his manager at the time that Open Carry was within its legal rights as long as the demonstration remained peaceful. The police did arrive as the group was leaving the restaurant area.
Open Carry's protesters were armed with semi-automatic weapons and shotguns, which are legal to carry openly in Texas. Their parading of weaponry ended after two hours when they decamped to celebrate at a nearby Hooters restaurant.
Despite the uneven odds, the unarmed women did try to reach out to the protestors. Quoting from the MDA Facebook account, "The tense situation (tense, at least, for those on the inside of the eatery) did not conclude until four rather brave members of MDA came out of the restaurant and faced the army of 40 armed men, women and…yes…children."
One of the MDA women was blocked from filing a police complaint Monday when told that no law had been violated.
Open Carry Texas says on its Facebook page that its purpose is to educate Texans about their right to openly carry rifles and shotguns in a safe manner and to "condition Texans to feel safe around law-abiding citizens that choose to carry them."
Watts said that public MDA rallies have drawn armed protesters in other states, including Indiana, Ohio, Oregon, and Michigan.
According to the MDA statement, "Sadly, these bullies feel they must use guns to intimidate moms and children and try to inhibit our constitutional right to free speech. But Moms Demand Action will not be deterred.The desperate actions of this vocal minority only fuels our determination to fight for gun reform in Texas and across the country."
Photo: Flickr (CC)