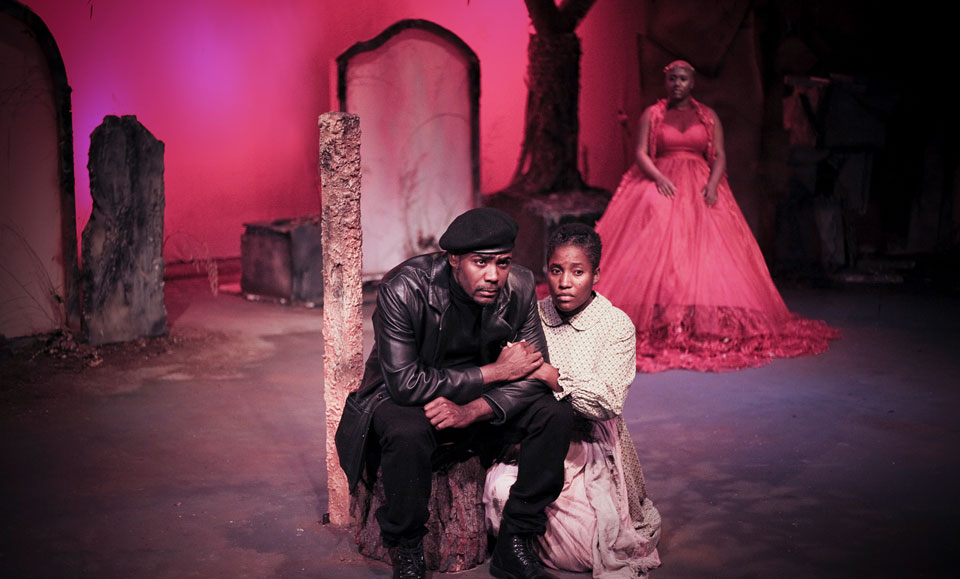 VENICE, Calif.—A lyrical and mystical new play with live music is a high-power rifle shot across the bow of systemic American racism. Gunshot Medley: Part I is set in "The Hereafter" in a haunted North Carolina graveyard. There Black souls of past and present mingle together in a sorrowful and violent, yet at times also tender and humorous saga of lives destroyed by slavery and all the related tensions and conflicts that have sullied America's history to the present day.
Rogue Machine´s short 2018 run of this production received critical acclaim and toured to the community of Watts. A geographical move of the theatre cut the play's run prematurely. It has now reopened in its new home in Venice by the sea, in a special American Saga Revival coproduction with Collaborative Artists Bloc.
A writer, actress, and vocalist from Winston-Salem, N.C., playwright Dionna Michelle Daniel is now 24, and reportedly wrote this play when she was only 20 in response to the continued slaughter of Black lives in America. She is currently writing Part II. Ms. Daniel shows a precocious mastery of theme and idiom that will certainly only grow with time. Hers will be a name to reckon with, I have no doubt.
"I believe that art, especially live performance, has the potential to dramatically change hearts and mind," says Daniel. "It has the ability to plant the seeds of empathy, inquiry, and discussion. From those seeds, real social change begins."
The 80-minute play (no intermission) is deftly directed by Desean Kevin Terry, a distinguished actor in his own right and artistic director of Collaborative Artists Bloc. He was honored as last year's recipient of the Stage Raw award for best male leading performance for his role in Lorraine Hansberry's important yet rarely staged drama Les Blancs.
Dionna Daniel encountered a slave burial ground in North Carolina with three gravestones giving only a first name and date of death: BETTY May 2, 1860, ALVIS April 2, 1860, and GEORGE November 26, 1850. Many of the enslaved never even got that much recognition in death, tossed into a hastily dug hole in the ground and marked by a wooden cross that before long disintegrated into the humus.
Gunshot Medley: Part I exhumes that subsoil and reimagines the lives of Betty, Alvis, and George, the people they knew, their neighbors and descendants, their reincarnations and spirits. Glowing magisterially over and above them all is the immovable and eternal African High Priestess of Souls and queen songstress Sha'Leah Nikole Stubblefield, all dressed in red with her keening lullabies, spirituals, and hymns guiding the restless undead toward peace. But there is no peace, no R.I.P., for new recruits to this tragic community of the murdered and mourned arrive to this awkward purgatory of memory every day.
As the play unfolds to a near-constant barrage of fatal bullets, each one punching Betty (Mildred Marie Langford, memorable for her roles in the Antaeus Theatre's Native Son) painfully in her gut, she is seen constantly cleaning and scrubbing not only the floorboards of her cabin but any little found object that crawls out of the earth to remind her of past tragedy—a cigarette package from the tobacco fields, the wrapper from a bag of Skittles that she'd like to see buried. But everything is soaked in the African-American blood that's been interminably flowing since the first slaves arrived in what is today the U.S. of A. 400 years ago in 1619. I hate to sound overly pessimistic, but those stains are never going to come clean, and those reminders are never going to stay buried.
Her friend and lover Alvis (Derek Jackson) is a powerhouse of multigenerational energy and song, recapitulating the music, the rhythms, the moves and dance steps of every period from minstrel down through folk tunes and jazz to hip hop and rap. As he tells Betty, every song "becomes my story when I sing it." He has a brief but moving speech declaring that Black lives are here to stay in America—there's no going back, there's only the way forward.
George (Donathan Walters, who played Bayard Rustin in the recent Mexican Day) is the serious, brooding type given to thoughtful rumination on the African-American condition. We see him in various guises, such as the propagandist for the Back to Africa movement, the Black Panther Party, and Black Lives Matter, trying to make sense, trying to make a difference, trying to stop the race carnage. At one point Betty flips him a sharp rejoinder: "What you was preaching ain't what people wanted to hear."
These characters are beyond, more than and larger than themselves: They are archetypes whom we recognize among us even today.
The names multiply, many familiar to those in the daily struggle, others half-forgotten, some hardly known, a requiem for a medley of lives ended too soon. We need to properly memorialize even as we feel the trauma that revisiting these crimes stirs up.
Priti Donde is credited with the scenic design, though parts of what we see have been adapted from the set of the simultaneously running play Ready Steady Yeti Go, a companion piece also about racism in America. Matt Richter as lighting designer captures the shadowy space between worlds in which the action takes place.
Wendell C. Carmichael's costume design indicates period, locale and class well. Jeff Gardner's sound design is punctuated by the regular gunshots (jolting but not deafening, unlike another play with gunshots that I saw not too long ago that had my ears ringing for weeks afterward) as well as other sounds of the woods and fields. Christopher Eclipse does fine work as choreographer, recognizably summing up whole eras and styles in a minimum of gestures.
Three musicians—Garrett Lofgren on bass, Anna Mat on violin, and Ann Polednak on banjo—provide a magnificent score thanks to musical director Calvin L. Blake III, both on their own and as accompaniment to the actor/singers, that is fresh, authentic, and richly layered. Many of the hymns and spirituals they play are familiar from later iterations in the labor and civil rights movements, set to new lyrics. In many cases, a song becomes more than it started out to be, for example, a love song Betty croons in remembrance of the one man she most loved, "Black is the Color of My True Love's Hair." Worth the price of admission alone!
In the printed program, the dramaturg describes the play as "an act of remembrance," which sits nicely alongside some other terms that had occurred to me as I experienced the play—an "anti-requiem," an "elegy," a "pageant," a "lamentation." As lovingly and poetically written as the play is, these words seem to circle around what I think may be not so much a weakness as an incompleteness. We certainly need our memorials and professions of moral witness, but at the same time, we need something more and different in the theatre: Call it development, plot points, storyline, challenges, growth of character, catharsis, a path toward the light.
Perhaps I'm jumping ahead: Maybe all that's in the forthcoming Part II. If so, and if it's a work of more or less equal length, they could be presented together in the same stunning evening, and I would be a happy critic.
A short but powerful video about the theme of the play can be seen here.
An American Saga Revival of Gunshot Medley: Part I plays through August 11, in repertory with Ready Steady Yeti Go. See the company website for ticket information and schedule, or call (855) 585-5185. Performances on July 26 and Aug. 9 are $10 ticket nights: Pay $10 or more, no advance sales. Box office opens one hour before the show. Availability is limited. The Electric Lodge is located at 1416 Electric Ave., Venice 90291. Limited free valet parking onsite up to one hour before performance, otherwise street and metered parking.