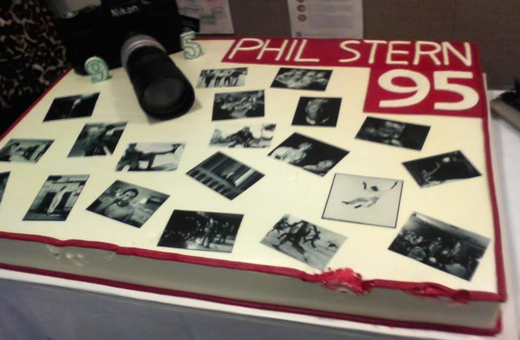 Phil Stern, chronicler of many of the icons and epic moments of the twentieth century, celebrated his 95th birthday at the Veterans Home of California, West Los Angeles (where he resides), on September 6. For the occasion, he donated 95 prints of his photos for permanent display at the Veterans Home. The list of Stern's subjects reads like a who's-who of mid-century American luminaries, including presidents, movie stars, war heroes, jazz musicians, and often incorporating the everyday workers around them.
Phil Stern worked for Life, Look, and Collier's magazines, but I first encountered his work in reprints in Spy Magazine in the 1990s. The range of iconic real-life moments he captured is astounding: from the portentous, ghostly image of Frank Sinatra lighting a blurred JFK's cigarette at his inaugural ball in 1961, to the holiday snap of a very casual John Wayne, lighting a cigarette while sporting serious moose knuckle in short-shorts and espadrilles during a 1959 Acapulco vacation, to the surveillance-like photo of a pregnant Marilyn Monroe walking amongst workers on the MGM lot, shot from Samuel Goldwyn's office window.
A colloquial humor and warm humanity pervade all of Stern's work. His photos capture the simple human responses of individuals caught in moments of intimacy during momentous historic and cultural events. Stern pulled the Hollywood picture frame back so we could see the stars surrounded by behind-the-scenes technicians and workers doing their jobs. He got James Dean to break through his brooding image by asking him to make goofy faces for his kids.
Stern started his career as a WWII combat photographer documenting the activities of the élite fighting unit, Darby's Rangers, in North Africa and Sicily. Subjects ranged in scope from intimate portraits of GIs to broad landscapes of battlegrounds, and a "mug shot" of Rommel's dog Fritzi in a little barbed wire enclosure, under a sign reading: "Prisoner of War Camp."
Stern continues to produce work. His latest series, "Shooting from the Hip," documents, (via digital photos taken from his wheelchair) the staff and residents of the Veterans Home in which he lives.
According to an essay included in the show, Stern had a politically contentious, to say the least, relationship with one of his favorite subjects: John Wayne. Stern, some of whose friends lost jobs to the Hollywood Blacklist, said, "I was a lefty and he was a right-wing. Whenever we'd get loaded we'd have terrible arguments."
Stern, whom John Birch Society member Wayne labeled a "bomb-throwing Bolshevik," describes a prank he played on the fanatically anticommunist Duke:
"I was in the USSR on my first visit in 1959 doing general coverage for my agency. While there I went to the main post office in Moscow and found the most graphic stamps with the largest images of Stalin and Lenin that I could find. I put them on postcards and addressed them to Wayne at his Newport Beach home. About a year later in a meeting he said to me: 'I did get those postcards from Russia, you son of a bitch!'"
The Veterans Home of California is located at 11500 Nimitz Avenue, Los Angeles, CA 90049. Enter the front door of Building D any time between 6 a.m. and closing at 8 p.m. The phone number there is (424) 832-8200
Photo: Chris Elliott