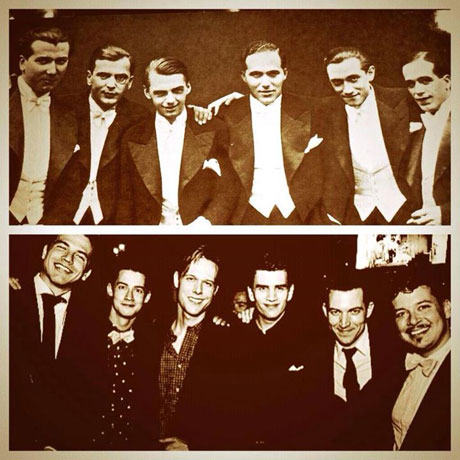 LOS ANGELES – The logo for Barry Manilow and Bruce Sussman's new musical Harmony has the title in all caps, but the final letter is printed askew, falling off to the right, calling attention to the question "Why?"
Why indeed would the most popular Boy Band in the world from 1927 to 1935, acclaimed for their recordings, films, and international appearances, just fall to the wayside and go virtually unremembered by history?
Well, the Comedian Harmonists happened to be a cosmopolitan bunch of young men from Berlin, and it happened to be the time of rising fascism, and three of the six happened to be Jewish.
It took the creators a dozen or so years to research this show, mount some out-of-town tryout versions (La Jolla, Atlanta), and eventually hone it into the crack, snappy, polished, full-on Broadway-ready musical that's now on view in Los Angeles. The long gestation paid off handsomely: It's a stunning and powerful piece of theater.
"This Is Our Time," an extended number in the first act, goes through several avatars as the characters, talented, hopeful, forward-looking, imagine the moment of success they're ready to seize. No long-time theatergoer could miss the comparison to Stephen Sondheim's song "Our Time" from Merrily We Roll Along, about a similarly brilliant clutch of kids reaching for the stars. In Harmony, the song eventually gets turned over to the up-and-coming Nazi movement, whose time, alas, has also arrived. Another forerunner is the memorably creepy "Tomorrow Belongs to Me" from Cabaret.
Although the Depression, and then Nazism were rough times in Germany, the joyful sextet brought some harmony to their world, starting from their strict policy of unanimous decisions for all career moves. In a society growing ever more polarized, they kept their differences to manageable proportions, modeling what could be for the larger community. Their material, funny, a little suggestive, apolitical, romantic, and joined to a double-jointed choreographic sense of humor, aimed at an audience far beyond the everyday concerns of social movements and ideologies. But of course it could not last.
The six men get fairly equal treatment in Harmony, although two, Erwin "Chopin" Bootz and "Rabbi" Josef Roman Cykowski, have wives who are very much part of the action. Bootz marries a Jewish Communist (whom we see agitating in the streets), and the "rabbi" marries a non-Jew who converts to be one with his people and his fate. All of the Harmonists survived the war, though they never saw each other again after their last performance in 1935, but the "rabbi" gets a central role as the last one living when he started to record his memoirs in his 80s.
Harmony is a big show, with 19 performers on stage, and nine in the orchestra (playing multiple instruments, and amplified to orchestral levels). It tells a chronological story, but always through inventive music and glorious dance movements. Manilow and Sussman's original songs are more "political" than the Harmonists': Each lyric has been vetted to yield the maximum possible import as we progress inexorably toward the inevitable demise of the group.
Choreography by JoAnn M. Hunter, direction by Tony Speciale, production design by Darrel Maloney, musical direction by John O'Neill, and a great cast, are all superb. Your ears are drawn into an absorbing tale, and your eyes delight in the quicksilver transformation of spaces – a railway station one moment, a classy nightclub the next, adjoining hotel rooms, and much more.
My mind went by comparison to a show I caught in Cape Town last year, Kat and the Kings, by David Kramer and Taliep Petersen, about a South African "Colored" doo-wop group in the 1950s, which also grasped at fame and fortune, but met the axe of apartheid laws and was forced to dissolve. In the wrong context, art can be dangerous indeed.
Besides the theme of harmony itself, another theme of Manilow and Sussman's show is regret: both living with it, and living so as not having to regret. In that sense a show about another time and place is equally about our own.
Harmony is performed at the Ahmanson Theatre in Los Angeles Tuesday through Friday at 8 pm, Saturday at 2 and 8 pm, and Sunday at 1 and 6:30 pm through April 13 (except no 6:30 performance on April 6 or 13). Additional performances on Thursday, April 3 and 10 at 2 pm. Tickets at www.CenterTheatreGroup.org, or call 213.972.4400, or in person at the Music Center.
Photo: The real Comedian Harmonists, top, and the "Harmony" cast, bottom. Center Theatre Group Facebook page