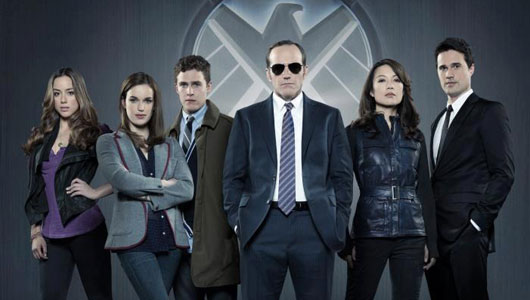 Agents of S.H.I.E.L.D., which premiered September 24 on ABC, is a show based on a Marvel Comics series, and takes place in the same fictional universe as films like Iron Man and Thor. The series picks up after the events of 2012 summer blockbuster The Avengers, focusing on a team of agents who investigate the fallout from superhero conflicts, alien invasions, and other strange phenomena. Seemingly equal parts espionage, sci-fi, and police procedural, the show is interesting in that it offers a behind-the-curtain look at this fantastical world of heroes. But in many ways, it may have missed its mark.
Lead character Phil Coulson (who has appeared in most of the major in-universe films), played by Clark Gregg, is the focal point of the show. He leads a team of agents from government organization S.H.I.E.L.D. to handle the problems that "major players" like Iron Man and Captain America can't take care of. While investigating an apparent hacktivist group called The Rising Tide, and a mysterious alien-related conspiracy called Project Centipede, the team is pulled into a confrontation with a man whose superhuman abilities are spinning out of control.
As a point of interest, S.H.I.E.L.D. (Strategic Homeland Intervention, Enforcement, and Logistics Division) offered a workingclass, anti-one percenter perspective in its premiere episode. The main plot focused on Mike Peterson (J. August Richards), a laid off African-American factory worker trying to provide for his son. When offered the chance to make a change in his life by Project Centipede, Peterson is implanted with technology giving him powerful – and unstable – abilities. It isn't hard for the audience to empathize with the man when he is later confronted by the Agents.
Those agents, by the way, could easily prove to be a point of contention for viewers, as some of these "suits" are seemingly little more than pseudo-CIA cronies, despite the showrunners' attempts to give them emotion or depth. The only characters who are intriguing are Coulson and sarcastic hacker Skye (Chloe Bennet). The other main characters are boring clichés who don't warrant much attention.
Speaking of clichés, the pilot is full of them. They pockmark an otherwise fairly attractive television concept. It simply doesn't make sense to begin Episode One with the typical "hero pulling a woman out of a burning building" scene, as it's a been there-done that sort of thing, and thus an immediate turnoff.
The other primary issue is that the series seems to haphazardly juggle a number of half-formed (though potentially interesting) concepts, such as alien conspiracies and anti-government hacking agendas (to which character Skye might be linked). It's too soon to predict, but this appears to be a series with an identity crisis. Its weaknesses are alleviated by the snappy dialogue and hole-free plot, both signatures of executive producer Joss Whedon (who directed The Avengers).
But the episode ends on a rather lackluster note after a monotonous showdown between S.H.I.E.L.D. and Mike Peterson in Los Angeles' Union Station. Nothing ever really becomes suspenseful, and anything remotely interesting is only a tease at this point. Given that the comics the show is based on have such a rich legacy of interesting story arcs, I can't help but feel that S.H.I.E.L.D. is squandering its potential. Time will tell, and we have yet to see if more elements will be pulled in from the comics, as has been done with recent popular DC Comics series Arrow.
Meanwhile, at the very least, the show will have the Marvel films both to pull from and fall back on, but it should not use them as a crutch to make up for weak storytelling. Nevertheless, fans may eventually encounter some cameos from big-name actors such as Samuel L. Jackson (as his character Nick Fury) and possibly even Jeremy Renner (as Hawkeye). That being said, don't expect any appearances from Robert Downey Jr. And don't expect the in-film characters to dominate the show. S.H.I.E.L.D. will have to rely solely on the acting chops of its main cast. Let's hope they're up to the task.
"Agents of S.H.I.E.L.D."
Clark Gregg, Chloe Bennet, Brett Dalton, Elizabeth Henstridge, Cobie Smulders
Created and executive produced by Joss Whedon
Photo: Agents of S.H.I.E.L.D. Facebook page