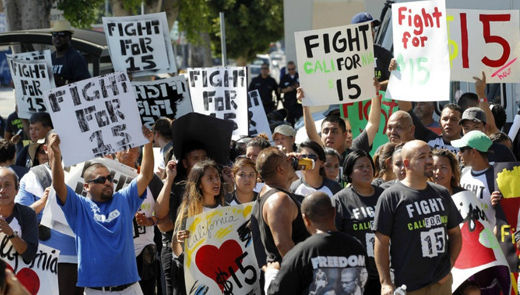 LOS ANGELES – Perhaps no one is happier these days than Rusty Hicks, the man who holds the top job in the Los Angeles County Federation of Labor. Just five months after his election as the federation's secretary treasurer, his vow to push for a $15 minimum wage in America's second most populous city has become reality.
The city council, of course, has just voted to raise the minimum wage, in steps, to $15 an hour.
"It's a great day for all working Angelenos," Hicks said May 26 in an exclusive phone interview with the Peoples World. "The voices of the workers have been heard and this gives us much to celebrate."
Hicks, who took over Jan. 1 from the "legendary," as he described her, Maria Elena Durazo, had declared at the outset that a hike in the minimum wage to $15 was his top priority. "The purpose of this labor federation is to battle against income inequality and to fight both for those who are currently organized into unions and for those who are not. Everyone rises together, there is no going it alone."
Hicks attributed much of the rapid success in achieving the wage hike to the fact that LA unions have been actively reaching out to work with non-traditional labor organizations, worker centers and community groups to fight for the interests of not just union workers, but everyone who works for a wage. The AFL-CIO, nationally, has been pushing this approach to building a broader labor movement for years now.
"The LA federation is very much in the forefront of this model of unionism that involves building partnerships with groups outside the labor movement," he said, noting that "hundreds of groups worked together in a coalition to win the minimum wage increase in LA including community , faith, and many other groups.
"We were in all the way with the Raise the Wage Campaign that joined these groups together to fight for the more than 750,000 low-wage workers in the Los Angeles area," Hicks said. (story continues after video)
Though new in his current job, Hicks who is 34, is not new to the business of building powerful organizations. He moved into his current job from the position of political director of the labor federation. In that role he helped turn the federation into a force to be reckoned with in California politics. Politicians not only in LA but all across the state have sought the fed's endorsements.
Hicks was elected to his position by hundreds of union reps who represent the federation's 800,000 members distributed through more than 300 union locals. He was the clear choice of his predecessor, Durazo, who took a national job with Unite Here, her old union, to enable her to promote her passions, civil rights, and immigration reform.
"Rusty is a brilliant young organizer," she told the Peoples World the day after the mass mobilizations by fast food workers earlier in the Spring, "and he will bring to this job the experience of a great political organizer as he continues the labor movement's commitment to immigration reform and civil rights."
"There was a change in leadership, but there's been no change in mission," Hicks said yesterday. "The labor movement continues now to fight for immigration reform, a path to citizenship for the undocumented millions. It cannot be otherwise. Labor is the movement of the workers, immigrants are a big part of the workforce."
Hicks said the labor movement's aim is to "to fight for the freedom of all workers to have a voice on the job, in the community, and at the ballot box."
He praised President Obama for his executive actions that allow millions to remain in the country without fear of expulsion and added, "There are millions in LA alone who need our support." He singled out wage theft as a particular area of concern for immigrant workers
Hicks also talked about President Obama who, he said, "has done many good things" for workers. The labor leader said, however, that he "could not understand why the president is pushing for the Trans Pacific Partnership trade deal.
"The president has simply lost his way on this," Hicks said, "History shows that these types of trade deals end up hurting workers both here and abroad. Trade is fine, but not when it involves exporting our jobs or exploiting workers at home and overseas."
On the presidential elections Hicks said of the Republicans: "Among the Republican candidates you can't really distinguish between any of them. They are all spewing anti-worker rhetoric and pandering to the far right of their party.
"On the Democratic side, Sen. Clinton has a solid track record as a progressive and so does Sen. Bernie Sanders.
"I'm not sure, though," he said, "that labor should declare for anyone until things develop. What we want to do now is use the campaigns as much as possible to foster a conversation about income inequality and the ways to end it."
Hicks, who was born and raised in Fort Worth, Texas, said he learned in his youth about the need for workers to fight for their rights. His mother was a bookkeeper and he attended Austin College, coming to Los Angeles in 2003. He worked on the staffs of state assemblymen Mike Gordon and Ted Lieu, before taking the job as political director in the labor federation.
He serves now in the U.S. Naval Reserves in intelligence and beginning in August, 2012, spent a year in Afghanistan.
Photo: LA workers can now rejoice, as the city council has voted to raise the wage incrementally to $15 per hour. | Nick Ut/AP
Video by Rossana Cambron/PW