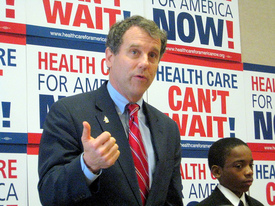 CLEVELAND HEIGHTS – Repeatedly chanting "Yes, We Can," some 600 labor, retiree and community activists loudly voiced determination to win health care reform this year at a rally April 17 sponsored by Health Care for America NOW (HCAN).
The standing room only crowd filling the sanctuary of Forest Hills Presbyterian Church cheered Sen. Sherrod Brown as he outlined plans for a "public option" in legislation expected to be introduced this week in Congress. Brown is seen as the lead Senator in the fight in Congress for health care reform.
"I would love to see a single payer system," Brown said, referring to a national health care program without private insurance companies, "but that is not possible right now." What is possible, he said, is a public option that, in effect, regulates the insurance companies and that "will keep the private plans a lot more honest."
The urgency for basic reform was driven home as speakers gave brief and powerful testimonials of the criminality of a system in which "people must choose between food and pills," according to Pam Franklin of the Amos Project in Cincinnati.
"We must make sure that the care of people means more than the care of profits," she said to loud applause.
This is possible, Brown said, because "the days when the drug companies and insurance companies write health care legislation are over. The conservative era is over. We now have the opportunity for a national health care reform."
The U.S., Brown said, has entered a "new progressive era" similar to the New Deal of the 1930's and the Great Society of the 1960's. "The government is on the side of middle class people," he said, and high on the agenda is an overhaul of the failed health care system.
Over all, he said, the U.S. ranks number 12 in health care among the 13 richest industrial democracies "and we spend twice as much as everyone else." The only area where the U.S. excels is that "people over 65 live longer and you know why that is?"
"Medicare, Medicare," the audience shouted.
Brown received a standing ovation as he voiced confidence that progressive people would act to bring about the change that is needed. "When people in union halls, churches and advocacy groups really want something to happen, it will happen."
Brian Rothenberg, executive director of Progress Ohio, said the event was probably the largest of 50 similar actions held around the country during the Easter Congressional recess.
"I've been to a lot health care rallies, but I've never seen so much energy." Key to passage, he said, may be inclusion of health care reform in the budget. "That way only a simple majority is needed. Otherwise we need 60 votes to stop a filibuster by opponents of reform."
The Cleveland event was simulcast on the internet and can be viewed on Progress Ohio's website at