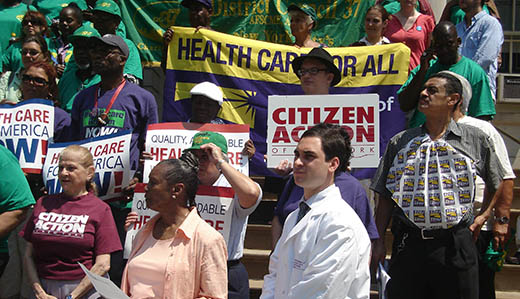 A package arrived for me yesterday – something I ordered a while ago and then forgot about – my "Health Reform is a BFD" t-shirt! (Remember that: Joe Biden's muttered comment about just exactly how big a deal health care reform is?)
I plan to wear the shirt – and in case you're thinking, but the health care reform battle is yesterday's news, think again.
Consider this. A recent Rasmussen poll found that 50% of voters believe the quality of health care will get worse under the law, and 58% expect costs to go up. Put this into the bigger picture – that 55% of all voters asked rate the current U.S. health care system as good or excellent.
Working America, the AFL-CIO's community-based affiliate, has been polling people in Ohio and Pennsylvania, and report that many "don't understand what the health care bill really is, or what it really says. That lack of knowledge is a breeding ground for fear and distrust, fueling a massive opposition campaign that has transformed health care reform from a popular cause into a wedge issue."
A wedge issue? What's going on?
Type "Obamacare" into Google, and you'll get more then 3 million hits. The Republican right is working hard to whip up people's "fear and distrust" of the health care bill will hurt them, and then ride that to midterm election victory.
But the broad movement that fought tooth and nail for health care reform – through many more months than anyone thought it would take, overcoming the loss of the 60 seat Senate supermajority, past the Republican filibuster threats and one can't forget the criticism from progressive Democrats – isn't giving up.
Activists from labor, seniors and health care organizations are hitting the road and getting online and on the phone, organizing meetings, rallies and conference calls to counter that message with the facts.
Immediately after passage of the bill, Metro New York Health Care for All Director Mark Hannay called on health care activists to take a deep breath and then take go to work "educating the public about the law…and defending it against a variety of push-back efforts from reform opponents." Meetings were held all over the state to plan next steps.
Wynne Antonio, the Retiree Council Coordinator at the North Shore AFL-CIO, is organizing a Health Care forum, which she says is to "celebrate the Patient Protection and Affordable Care Act … we also acknowledge the positive effects it will have on the midterm elections which make it incumbent upon us to get the truth out in the community."
Labor is planning to go all out: in addition to efforts to defend the seats of those who voted for healthcare reform and are facing tough races, there are also plans for a grassroots education campaign on the law's benefits.
NYC for Change leader Tim Foley addressed a community meeting in the Bronx last week, the 60th such gathering he'd spoken at since the beginning of the year. His gave a detailed talk describing the positive provisions that will go into effect over the next year, and urged his listeners to familiarize themselves with the facts.
Among the resources he recommended were the American Association of Retired Persons and the AFL-CIO.
AARP has a wealth of material, including online resources, more than a dozen downloadable pamphlets on topics from "Quick Guide to Health Care Reform," to "What the Law Means for Women," to materials in Spanish, a cartoon gallery, slide show, audio and video materials, and an animated "Healthcare Debate."
Photo:http://www.flickr.com/photos/citizenactionny/ / CC BY-SA 2.0