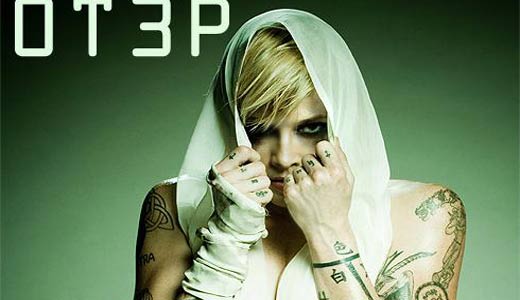 "Metal is expanding and becoming more diverse. It's becoming global and it's becoming a tool for social and political commentary."
These words were spoken by anthropologist and filmmaker Sam Dunn in a report by MSNBC. Dunn directed Metal: A Headbanger's Journey, a 2005 documentary that studied the cultural aspects of metal, as well as opinions on it and the supposed controversy surrounding the music genre. The film debuted at the 2005 Toronto Film Festival.
On nearly every fathomable topic, heavy metallers have made progressive sociopolitical commentary at one point or another. An underground and admittedly extreme genre, metal is also severely misunderstood by concerned parents and religious groups. The music continues to contribute to the progressive movement through its artists today – perhaps now more than ever.
A particularly strong voice in the metal community for peoples' rights is that of Otep Shamaya, front man of the L.A. nu metal band Otep. A lesbian, Otep faced prejudice and adversity growing up, and uses her music to reach out to fans going through the same injustice. Her website even dedicates part of its message board to help fans cope with everyday challenges and deeper problems, in an area called "U Are Not Alone." Otep is an advocate for civil rights and causes, such as LGBT equality and women's rights, and has become dedicated to eliminating homophobia and discrimination based on gender identity.
In 2010, Shamaya was nominated for Outstanding Music Artist at the 21st Gay and Lesbian Alliance Against Defamation Media Awards, an award ceremony that honors films and musicians that support the LGBT community.
In an interview with Revolver, Otep said, "It's always hard for me to read or learn about someone going through difficult times. But what I can do is be authentic and true to my artistic spirit, and be a voice for the voiceless and defend the defenseless. This is a responsibility that I carry as a badge of honor. I want to stand up for people."
And Otep's band is just one of many.
Lamb of God's songs criticize American foreign policy; Cattle Decapitation are vegetarians who use explicit artwork and lyrics in order to speak up for animal rights; Iron Maiden's "Run to the Hills" was an angry reaction to the displacement of Native Americans; and Six Feet Under vocalist Chris Barnes wrote "Amerika the Brutal" – a powerful anti-war song – after his cousin was deployed to Iraq in 2003.
According to Blabbermouth, Barnes received positive feedback in response to his song from American troops in the warzone.
Moreover, Cattle Decapitation recently made waves when they heavily condemned the meat industry.
Frontman Travis Ryan told PETA, "I know of plenty of people who have changed their diets because of the overly [shocking] nature of our lyrics. So I think it does a lot of good, our imagery. People react much more vibrantly to the offensive."
According to the Associated Press, Ryan's band's fusion of aggressive music with a socially conscious message draws in a diverse crowd composed of nearly as many animal rights activists as metalheads.
In 2006, 20 artists displayed art inspired by Cattle Decapitation's 2004 album in an online exhibit. Proceeds from sales of the art were donated to animal rights causes.
Moreover, metallers like The Agonist and The Dillinger Escape Plan have also gotten together with PETA in order to rally fans to their cause.
Donna Gaines, a sociologist who wrote Teenage Wasteland, which analyzed working-class metalheads in New Jersey, concluded that headbangers everywhere have passionately "responded to the culture and politics of the day; this is another generation rising."
Photo: Otep, a civil rights activist, appears in a promotional photo, on her official MySpace page.