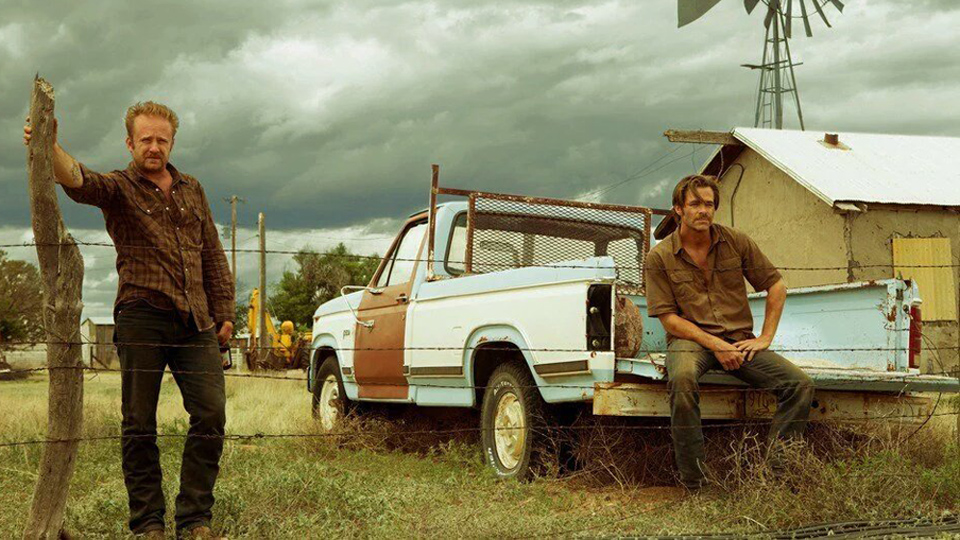 Tanner Howard is fresh out of prison. His brother Toby is fresh out of money. Their mother has died leaving Toby the reverse mortgage indebted ranch. "She never liked me anyway," laughs Tanner. "That's because you killed dad," chimes Toby.
The brothers have a scheme to redeem. They will pay back mortgage holder Texas Midland Bank with money robbed from different Texas Midland branches. David Mackenzie's ("Starred Up") revisionist rodeo "Hell or High Water" makes it clear who are the heroes and who are the villains. In the world between Bonnie and Clyde and Badlands, bankers do not fare well. "He looks like a guy who could foreclose a mortgage" observes Taylor Sheridan's ("Sicario", "Sons of Anarchy") sharply written script, explaining rather than excusing the Howard brothers ironic recycling scheme.
Chris Pine's ("Star Trek", "Into the Woods") Toby and Ben Foster's ("3:10 to Yuma", "Lone Survivor") Tanner start off clearing the cash drawers of Texas Midland branches, laundering the money through casinos. The Midland branches are small outposts of capital in the bleak West Texas wasteland of Bush Depression devastated small towns sinking in a sea of sagebrush. The brothers are reclaiming their reversal not for themselves, but for Toby's two sons. Survival, not profit, is their motive.
The long and lethargic arm of the law is represented by Texas Rangers Marcus Hamilton (Jeff Bridges) and Alberto Parker (Gil Birmingham – "Twilight", "Rango"). They are not exactly in hot pursuit. The Rangers stake out a Texas Midland Branch that Hamilton intuits is targeted. They wait, exchanging racially charged barbs that send up stereotypes and showcase their closeness. They are standing the culture on its head, while Hamilton auditions for retirement and Parker for advancement.
Like oases in this parched landscape are two brilliant cameos by small town diner waitresses: bruised but sultry Debraianna Mansini and tough as the T-bones she serves Margaret Bowman. The Route 66 locals that inhabit and locales that contain the movie make this a West Texas that is beyond the death of the west.
Fortunately, it's the players that we care about as the plot ratchets up to inevitable conflict. Mackenzie adroitly blends character and action toward the brink of resolution, playing his cards closely but not cynically.
Of the films nominated for Best Picture this year, "Hell or High Water" is probably the darkest of horses. But like the best of its genre, the film leaves us with a bigger picture of our society and the forces that have shaped it.
102 minutes, rated R
Reprinted with permission from Huffington Post.