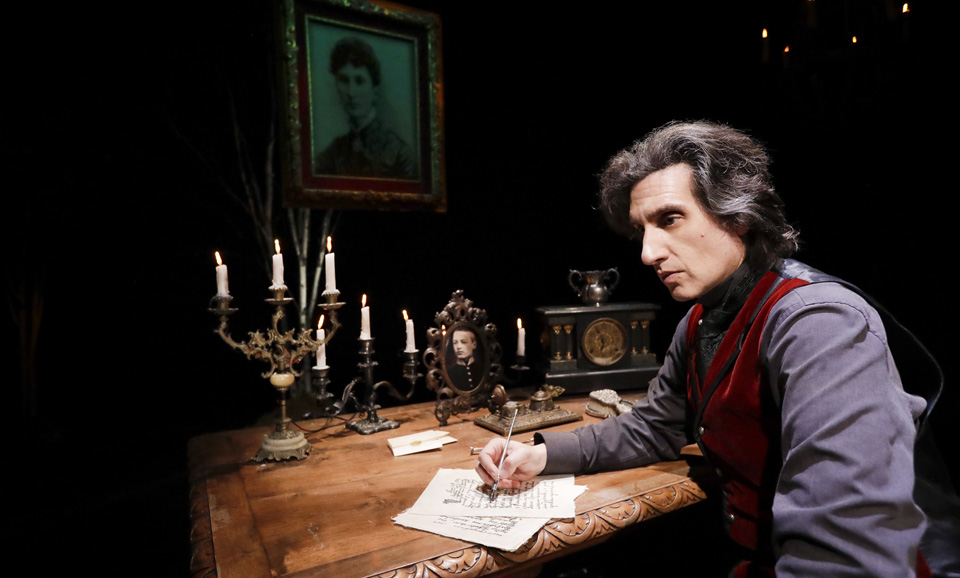 BEVERLY HILLS, Calif.—Hershey Felder is a great popularizer of musical lives. Among other subjects he has tackled with his one-man virtuoso performances as pianist and impressionist are George Gershwin, Irving Berlin, Leonard Bernstein, Chopin, Beethoven, and Liszt. Now he's Piotr Ilyich Tchaikovsky.
The Wallis Annenberg Center for the Performing Arts has just initiated a run of his latest confection, directed by Trevor Hay in the show's L.A. premiere (it enjoyed previous successful outings in San Diego and Laguna Beach). Our Great Tchaikovsky is a combination of musical gems—not just the all-time hits such as The Nutcracker and The 1812 Overture, but also some precious pianistic miniatures—and biographical episodes related in character, starting with the future composer's precocious early childhood in Votkinsk, tumultuously well received foreign tours, and inevitably, the politics of being a social outcast all his life owing to his homosexuality. For brief moments throughout the 105-minute intermissionless performance, Felder breaks out of his mild Russian accent to speak directly to the audience as biographer and commentator.
For his symphonic, balletic and operatic triumphs in his most productive decades from the late 1860s until his untimely death at 53 in 1893, Tchaikovsky has remained one of the world's most beloved composers. Even in the Soviet period, despite the fact that Marxist interpreters generally aligned him squarely with the repressive old Czarist regime, his popularity could not be suppressed.
Punishment for homosexuality in Russia goes back at least to the 1600s, and has barely let up since. Tchaikovsky was subjected to much discrimination and personality distortion as a result. Early on, his parents steered him away from the piano in their family home: "Music is not for boys—music is for ladies," they told him, only relenting when it became clear that music was an irresistible force in the child's life. They sent him away to a St. Petersburg school preparing boys for the civil service.
As an adolescent he began to acknowledge his same-gender attraction. But his schoolmates, fearing severe consequences for any infraction, imposed a strict honor code. More than once in his life, Tchaikovsky felt the pain of the suicides of friends and lovers out of shame and disgrace. Throughout his career, Russian critics savaged him for his succession of "failures," only to see them quickly become audience favorites. He was widely rumored to be a "bugger," the Russians having adopted the English slur for homosexual.
Musicologists and biographers have twisted themselves into pretzels trying to deny that "our great Tchaikovsky" was gay. "Sensitive," "emotional," "a loner," yes, but homosexual, absolutely not! Several important figures around the composer, including his brother Modest and a beloved nephew, were also homosexual.
Where Felder steps out of role is usually to comment on current Russian anti-homosexual law and policy, remarking wryly that right after the Russians launched a new anti-gay law, supposedly to "protect children," in 2013, they began the opening ceremony for the Winter Olympics in Sochi with the composer's Swan Lake.
Now, choosing what music and what biographical details to include in an under-two-hour show must be a daunting project indeed, and I don't envy Felder. However, just to set the record straight, and to pique audience curiosity with one of the fascinating ironies of history, he might have mentioned that the Soviets (perhaps thinking of the way Tchaikovsky had been treated) immediately removed the anti-homosexual laws from the books after the 1917 Revolution. In the 1920s gay poets, artists and ordinary people were able to flourish openly—until under Stalin the repressive laws returned in the mid-1930s.
Celebrated for his dazzling concertos, emotionally wrenching symphonies, and soulful ballets, in his own time he likely saw himself as primarily an opera composer—he wrote twelve of them. Only a few have remained popular, however: Eugene Onegin, The Queen of Spades, and the recently rediscovered Iolanta. Mazeppa and The Maid of Orleans might get the occasional production, but that's about it. Felder mentions Onegin in passing and nothing more operatic. Unremarked, Modest Tchaikovsky collaborated with his brother on some of these works. A time constraint, no doubt, but given how much the composer's creativity was tied to the stage, I had hoped for a little more on that.
Much is made of Tchaikovsky's thundering welcome abroad. Music lovers may recall that he conducted his music at the opening night concert of Manhattan's new Carnegie Hall on May 5, 1891. A short video about the hall and that opening night can be viewed here. Surely the composer must have known that returning to his oppressive homeland would only deliver ever more assault to his personal sense of self ("identity" we might say today). He was vilified in the press, blackmailed by his legal wife (that's a story in itself), and thwarted in his loves. In the more modern, liberal societies of the West, he would have found far less harassment, much wider appreciation, and a shower of monetary compensation. But the draw of home was overpowering for him: Was there perhaps a compulsive masochistic component to his retreat to the familiar birch woods of his dacha outside Moscow, and to the fear of exposure that had become engrained into his essential character?
As a healthy 53-year-old, Tchaikovsky conducted the premiere of his enigmatic sixth symphony, the "Pathétique." Nine days later, he was dead. Despite numerous "conclusive" claims of suicide, murder and cholera, all speculations are flawed. To this day, how and why he died is still a mystery.
As a bookend to the show, Felder reads a letter received from a Moscow producer inviting him to bring Our Great Tchaikovsky back home, the most "terrifying" invitation Felder has ever received. Will the Russians really care to hear Felder's take on Tchaikovsky's intimate life, which so colored his music, and quite probably his death? If Felder takes them up on this fateful invitation, I hope the American Embassy is prepared to deal with an international incident.
Performance of this work in Russia today could be a most welcome shot in the arm for daring LGBTQ activists there, much as Paul Robeson's singing of the Yiddish Partisan Hymn "Zog nit keynmol" gave heart to his listeners in the Moscow of 1949, as Jewish anti-fascists were disappearing into prisons and graves.
Felder is married to Kim Campbell, the first and only female prime minister of Canada—she served for a few months in 1993. Outstanding advocacy of homosexual rights and freedom, and his unconditional empathy with a long-suffering victim of prejudice, show Felder to be a courageous cultural warrior, even as the current administration in the White House, and in the state houses, regresses toward the discriminatory anti-homosexual bigotry of decades and centuries past.
The show is set on a single platform outfitted with a Steinway piano as its centerpiece, and other items of furniture and décor suggesting the comfortable life of a successful 19th-century Russian cultural titan. On-stage trees place the room in Tchaikovsky's dacha, and projections take us not only through the seasons and their moody skies, but also through the salons of high society and the concert halls of world fame. This is one of the most effective applications of projection technology that I have seen in the theatre. Felder himself designed the set.
Hershey Felder's Our Great Tchaikovsky plays at the Wallis Annenberg Center for the Performing Arts Bram Goldsmith Theater, 9390 N. Santa Monica Blvd, Beverly Hills 90210 through Sun., Aug. 13, Tues.-Fri. at 8 pm, Sat. at 2 & 8 pm, Sun. at 2 & 7 pm. The engagement closes with the matinee on Sun., Aug. 13. For tickets and other information, go online to TheWallis.org/Felder, call (310) 746.4000, or visit the theatre box office.
On Mon., July 31 at 7:30 pm, The Wallis hosts Felder's The Great American Songbook Sing-Along. Audiences are encouraged to sing along with Felder as he leads them through the familiar melodies of their favorite songs.