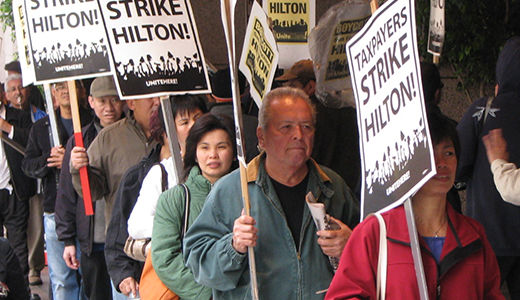 SAN FRANCISCO – Hotel workers in three U.S. cities are giving "taxpayer outrage" a new meaning, as they strike Hilton hotels to protest the chain's drive to increase work loads and take away benefits at the same time the Hilton's owners, the giant private equity firm Blackstone Group, is getting away with $180 million in federal bailout funds.
Here, some 850 Unite Here Local 2 members walked off the job at the Hilton Union Square, the second largest U.S. Hilton, in the early hours of Oct. 13. They were followed the next day by 1,500 Local 5 members who work at Honolulu's Hilton Hawaiian Village – the largest facility in the worldwide chain. And on Oct. 16, they were joined by Chicago Hilton workers, members of the union's Local 1.
All are expected to return to their jobs early this week.
The workers say Hilton is pressing proposals that would increase family health care costs by hundreds of dollars a month, freeze pensions, cut staff and increase workloads.
Though room cleaners face a particularly onerous threat to hike their daily quota from 14 rooms to 20, which workers say would greatly increase their already high injury rate, they are far from the only group experiencing speedup.
On the picket line in San Francisco, Ingrid Carp, a cook at the Hilton for 30 years, said she is now "doing the work of two or three people." The hotel is seeking "some very nasty things" in the contract talks, she said, including combining jobs and curtailing seniority rights.
While Carp is still working full shifts, she said many wait staff and bussers have had their hours cut.
"We also want better pensions," she said. "With hotel workers' wages averaging around $35,000 a year, and area living costs so high, who can afford to stay here in the Bay Area?"
The San Francisco and Chicago workers' contracts expired in August 2009; the Hawaii workers' contract expired June 30.
The strikers' slogan, "Taxpayers Strike Hilton," reflects the deal struck by Blackstone Group with the Federal Reserve, to accept just $142 million in payment of a $320 million debt. The Reserve had taken on the debt as part of a bailout deal, when it assumed loans to Hilton by Bear Stearns. Blackstone Group, one of the country's largest private equity groups, acquired the Hilton in 2007, just before the 2008 financial crisis hit.
"I'm not out here just for me," said Debbie Tabar, an accounting clerk at the Hilton Hawaiian Village. "I'm a taxpayer too and I'm twice as upset over what the Hilston has done. The taxpayer money that Hilton took was supposed to towards helping to create jobs, and not be used to hurt workers in this economy."
Calling Hilton "just another predator of the recession," Tabar added, "They line their pockets with taxpayer money and now they want even more from workers by using the economy as an excuse to eliminate jobs, increase our workload and lock us into a permanent recession."
Unite Here!'s contention that the hotel industry is recovering from the economic crisis is receiving confirmation from within the industry. Just last month, Jonathan Gray, Blackstone's senior managing director and co-head of real estate, spoke of a "dramatic pickup, I think, faster than we and many people expected" and affecting room rates as well as occupancy. Also last month, Hilton CEO Chris Nassetta said that while the chain was in "good shape" before the debt deal, it is in "exceptionally good shape" now.
Nor are Hilton workers in the U.S. the only ones to feel the pain. Hilton and other hotel workers in Melbourne, Australia participated in a survey whose results were released earlier this month by the Liquor, Hospitality and Miscellaneous Union (LHMU). Interviews with over 300 room cleaners at 23 of the city's best hotels found that the overwhelmingly immigrant and female room cleaners are commonly speeded up and deprived of overtime pay when they can't finish their quotas on time. Most of the workers suffered from work-related injuries.
Photo: Marilyn Bechtel/PW