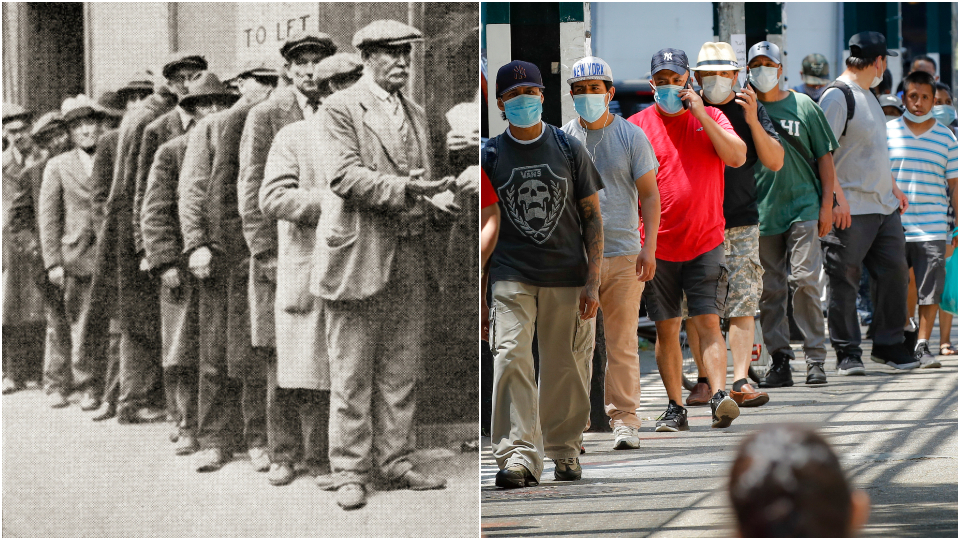 WASHINGTON—The economy tanked in the second quarter of 2020, from April through June, government data shows, as U.S. gross domestic product—the sum total of all goods and services—declined by 32.9% at an annual rate.
And it could have been worse, even the Commerce Department's Bureau of Economic Analysis, which released those numbers, says. Federal checks to workers, both the $1,200 check when the crash began, and $600 weekly jobless aid on top of state unemployment benefits, propped the economy up, BEA said.
The even worse case scenario is likely to materialize in the weeks ahead if the Heroes Act which Trump and the Republicans are blocking, does not become law.
For historical comparison on how bad things are, BEA's statistics add that in the worst year of the Great Depression, 1932, the economy shrank by 12.9%.
The day before BEA's release, the AFL-CIO used the gloomy outlook to once again lobby for the House-passed Heroes Act (HR6800). It would extend the federal $600 weekly jobless aid checks, now sent to at least 30 million unemployed workers through January 31. They're scheduled to end July 31.
But Senate Majority Leader Mitch McConnell, R-Ky., wants to cut those weekly checks by two-thirds.
"After months of sitting on his hands, McConnell has finally released a proposal for COVID-19 relief. The package is called the Heals Act, but unfortunately, this poorly named bill will heal nothing and will only hurt working people and our families," federation President Richard Trumka said.
McConnell's "relief package…is $2 trillion short and 73 days late. The bill drastically reduces the $600 in weekly unemployment benefits that thousands of America's families are relying on right now." The federation provided a toll-free number to call senators: 866-832-1560.
"And during a time when millions of working people are without a job, health care or retirement security, the package also includes a bill from" Utah Republican "Sen. Mitt Romney that fast-tracks Social Security and Medicare cuts," Trumka warned.
The 2020 BEA statistics reflect the mass closures needed to combat "community spread" of the coronavirus—closures also reflected in continual increases in jobless claims from unemployed workers.
The Bureau of Labor Statistics provides those numbers, and it reported that in the week ending  July 25, 1,205,871 people applied for regular state-provided jobless benefits and another 829,697 sought federal-only $600 weekly unemployment aid. Since the pandemic-caused crash began on March 13, an official total of 30,202,498 workers have sought jobless benefits, combining both types, BLS added.
Add in jobless people who can't claim benefits, have had them denied, who are still waiting for their first checks due to creaky state jobless systems, plus the seven million unemployed before the coronavirus crash began, and the total rises above 52 million.
The $600 checks are especially vital to "gig economy" workers, farmworkers, home health care workers, so-called "independent contractors," and other workers the regular state-run jobless benefits system doesn't cover.
They also lessened the impact of the April-June crash, BEA's statement said. It explained that a key part of the economy, personal income, rose, on an annual basis, only because of "government transfer receipts"—i.e., the initial $1,200 checks after the crash began and the $600 weekly benefits since then—which "more than accounted for" declines due to lost jobs.
But the future of those checks is up to Congress, and the Senate's ruling Republicans, particularly McConnell. He'd slash the weekly checks to $200. And half of the Senate GOP wants to give workers nothing at all, Sen. Lindsey Graham, R-S.C., said on TV talk shows on July 26.
"GDP collapsed faster in the second quarter of 2020 than it has in any other recorded quarter of U.S. history. Congress needs to restore the extra $600 in unemployment insurance and provide large-scale, flexible aid to state and local governments," the Economic Policy Institute tweeted.
"We are in a historic economic crisis with no end in sight—now is not the time to slash additional unemployment benefits by $400 a week. I won't stop fighting for $2,000 monthly payments and extending unemployment benefits," Sen. Kamala Harris, D-Calif., tweeted in reply.
Like free stuff? So do we. Here at People's World, we believe strongly in the mission of keeping the labor and democratic movements informed so they are prepared for the struggle. But we need your help. While our content is free for readers (something we are proud of) it takes money — a lot of it — to produce and cover the stories you see in our pages. Only you, our readers and supporters, can keep us going. Only you can make sure we keep the news that matters free of paywalls and advertisements. If you enjoy reading People's World and the stories we bring you, support our work by becoming a $5 monthly sustainer today.