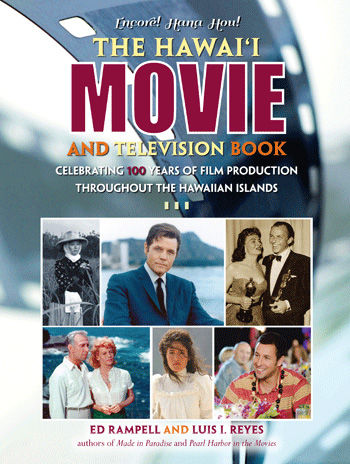 HOLLYWOOD – Hollywood Heritage will be kicking off the summer with Ed Rampell, co-author of "The Hawai'i Movie And Television Book: Celebrating 100 Years of Film Production Throughout the Hawaiian Islands." Rampell will give a video presentation with laser focus on Hollywood feature films and television productions that are shot and set there.
The event will take place on Wednesday, June 11 at 7:30 p.m. in the historic Lasky-DeMille Barn and will cap off this season's Evening @ the Barn series.
The Hollywood Heritage Museum is the oldest movie studio that still exists in Hollywood. Located across from the Hollywood Bowl, it is now a repository of relics and memorabilia from cinema's silent era and golden age in what was a barn where Cecil B. DeMille shot a Western in 1912!
Included in the presentation and book: The screen images of Polynesians and Asians; how South Seas Cinema more than any other film genre is obsessed with the theme of Utopia; where films/TV shows were shot on location in the Hawaiian Islands; a history of the present day Hawai'i Film/TV Industry; and iconic Hawai'i crime fighters as portrayed on screen.
Rampell also places in historic context and re-evaluates important movies such as 1995's Waterworld and 1998's Godzilla, revealing how they are motion picture parables of global warming and nuclear testing.
Rampell is co-founder of the South Seas Cinema Society, an Oahu-based fan club/film society. "The Hawai'i Movie And Television Book" is co-authored by Luis Reyes, who also co-wrote with Rampell "Made In Paradise, Hollywood's Films Of Hawaii And The South Seas" and "Pearl Harbor In The Movies," all published by Honolulu's Mutual Publishing.
After the presentation Mr. Rampell will be signing copies of his book that will be available in the museum store.
The evening will feature live music by The Noble Gasses Surf and delicious Hawaiian influenced foods and specialty drinks. Festive attire is encouraged, so dust off your Hawaiian shirt! Seating is limited. Free parking is available in the Hollywood Bowl Lot "D". Pre-sale tickets are available online at: www.brownpapertickets.com/event/700741.
Film historian and critic Ed Rampell lived in Tahiti, Samoa, Hawaii, and Micronesia, where he reported on the nuclear-free and independent Pacific movement. He co-authored two books on Pacific Island politics, and is the author of "Progressive Hollywood, A People's Film History of the United States." He is a co-founder of the James Agee Cinema Circle and one of L.A.'s most prolific film/theatre/opera reviewers. Many of his reviews appear on Peoplesworld.org.