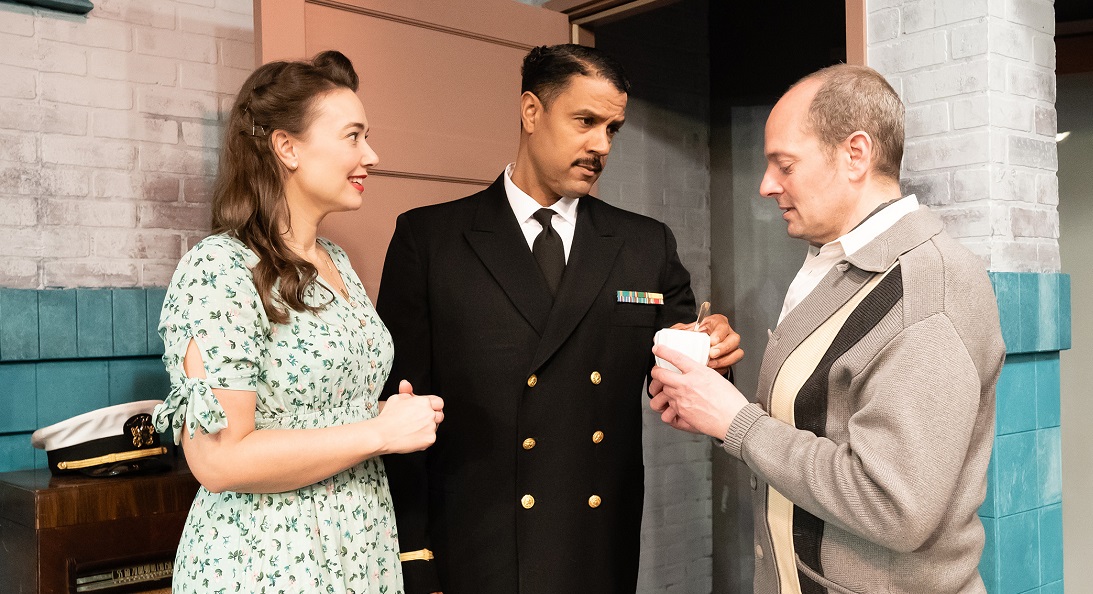 BURBANK, Calif. — It's VJ Night, August 14, 1945, the end of World War II as victory over Japan is declared. Throngs massed to celebrate. In New York City's Times Square, photographer Alfred Eisenstaedt captured the image of a U.S. Navy sailor embracing and kissing a total stranger, a dental assistant in her white uniform. The German Jewish émigré was already a distinguished Life Magazine contributor and the photo appeared there a week later.
In one of his memoirs, The Eye of Eisenstaedt, he recalled, "I was walking through the crowds on V-J Day, looking for pictures. I noticed a sailor coming my way. He was grabbing every female he could find and kissing them all—young girls and old ladies alike. Then I noticed the nurse, standing in that enormous crowd. I focused on her, and just as I'd hoped, the sailor came along, grabbed the nurse, and bent down to kiss her. Now if this girl hadn't been a nurse, if she'd been dressed in dark clothes, I wouldn't have had a picture. The contrast between her white dress and the sailor's dark uniform gives the photograph its extra impact."
Tony Award-winning playwright Warren Leight (Side Man) was familiar with that iconic photo, and it inspired him to write a play. "I wondered what their lives would have been like had they been an interracial couple," he explains. "As the son of a jazz musician, I grew up around many interracial couples, and I saw early on the pressures on their lives and marriages. It's shocking that, more than 70 years after WW II ended, questions about states' right to ban interracial marriage have resurfaced."
In Leight's three-character Home Front, now receiving its West Coast premiere, C.J. Lindsey plays the part of Lt. James Aurelius Walker, one of the Golden Thirteen in World War II, who happened to be in a New York City dance club that night savoring the victory. The Golden Thirteen were a group of 13 African-American men recruited to train as U.S. Navy officers. According to the script, it was Eleanor Roosevelt who had strongly urged the Navy to start desegregating its ranks for the sake of the optics of the military forces. These 13 passed all their tests and requirements with flying colors, and were featured in a group photo in Life Magazine to bring them all, individually and collectively, some recognition. But they never saw combat and never commanded anyone. The Navy feared that if they were ever placed in a position of superior rank over white sailors, mutiny would ensue.
On that night, in that club, Walker meets Annie Overton (Austin Highsmith Garces), a young white woman with a job as pharmacist assistant. Despite their racial difference, a mutual attraction is sparked, which leads to an intimate relationship and a pregnancy. It still takes many months before Walker is able to return to civilian life. On Thanksgiving leave in South Carolina, where he is from, he gets caught up in an incident with Ku Klux Klan-type race instigators, and finds himself in the brig. The case drags on, and he misses the birth of his daughter, whom the couple appropriately name Victoria. (And by the way, the presenting company is the Victory Theatre Center on W. Victory Blvd.) Walker is offered a general discharge (one step lower than honorable) but he is too proud to accept any papers carrying even a taint of shame.
Annie herself is a war widow who had married Will the day before he shipped out. They never even had time to consummate their marriage. Now she waits in a basement apartment with a bathroom out in the hall, unable to visit Walker for fear that their interracial relationship, illegal in South Carolina as in most other states, will only add to his troubles.
Her only salvation is the friendship of a fellow tenant in the building, Edward Glimmer (Jonathan Slavin), a war vet himself on permanent disability from a bombing he suffered as a medic in the invasion of Normandy. He is openly gay and freely shares his unique point of view with Annie. Leight says he modeled this character after his uncle.
So we have a cast of three, all with societal strikes against them—Black, woman, gay. And we get enough of each person's backstory to understand how they have arrived at the place where we find them and how they respond to new twists in the story. Bernstein, a fourth character, is only spoken of, but never seen. He's got a few strikes against him too—the Jewish, Zionist, Communist, atheist landlord. Henry, a fifth character, also unseen, has a good position in a Washington, D.C., federal agency and Edward leans on him as a fellow "Homintern" member to intercede with his "capacity for discretion" in James's case. He's yet another one whose future is probably not rosy as the 1940s unspool into the 1950s.
"The play is both heartfelt and historically accurate," notes the director, Maria Gobetti, who is a Victory Theatre co-artistic director. "Racism was rampant in the military during World War II. At the time, it was still illegal to marry outside one's race in the eyes of the army. Have things really changed all that much?"
Despite the characters' euphoric dreams of the new, different world on the horizon, the country after 1945 still had its fractures and flaws that would take decades to overcome—a process, needless to say, yet to be achieved in full. The playwright does not wrap up their fates in a neat, tidy bow at the end—that would have rung too false a note. As the psychiatrist at the mental hospital where James had been held told him, "Lieutenant, this country will break your heart."
Communists and others on the left who were active in charging American genocide in the late 1940s—to the deaf ears of President Truman and the world—understood the lessons of World War II possibly better than anyone. Jim Crow, it is stated in the play, seemed worse after the war than before. The way Black service members were treated in the postwar years has perhaps never been isolated as the significant factor it was in the rise off the civil rights movement that burst open within the first decade after the war. Black Americans simply had to wonder if they had fought for the United States only to return home and find nothing had substantively changed.
Home Front is taut drama magnificently enacted by three very accomplished actors who totally own their characters—or is it that the characters own them? Especially now, during Black History Month, when Americans of all description are invited to assess the key role African Americans have played throughout our history, this would be a good play to grapple with.
The creative team for Home Front includes set designer Evan Bartoletti, lighting designer Benedict Conran; sound designer Noah Andrade, video designer Jermaine Alexander, costume designer Carin Jacobs, dramaturg Gail Bryson, graphic designer Jennifer Logan and photographer Tim Sullens. The stage manager is Cody Hathcock. Maria Gobetti, Tom Ormeny and Evan Bartoletti produce for The Victory Theatre Center. There is one intermission.
Home Front runs Fri. and Sat. at 8 p.m., and Sun. at 4 p.m. through Feb. 26 (dark Super Bowl Sunday). The Victory Theatre Center is located at 3324 W. Victory Blvd in Burbank 91505. For information and to purchase tickets, call 818-841-5421 or go to www.thevictorytheatrecenter.org.