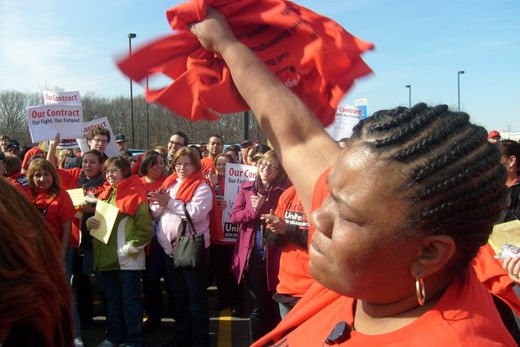 Bloomfield, Conn. — Hundreds of HomeGoods / TJX workers with their families and supporters rallied at the company's distribution center here on March 10 to demand a fair contract to improve wages and health insurance benefits. The company recently posted a record one billion dollars in profits. The workers who do the work are demanding their share.
HomeGoods employee Jessica Rivera noted, "We are rallying for a better contract and for better pay and benefits. We want to be treated fairly and equally at work. We want to feel proud of the work we do and the company we work for." The 600 workers have been hard hit in the economic crisis.
On February 24, TJX, the parent corporation of HomeGoods, Marshalls, AJ Wright and TJ Maxx stores, posted record profit for 2009, breaking the one billion dollar profit mark for the first time in its history. For the quarter ending January 30, TJX posted a profit of $ 395 million, up from $ 250.7 million a year earlier. TJX is one of the most profitable retail companies in the country.
The workers turned out in large numbers to give the message that the time for a fair contract is now! They were joined in support by John Olsen, president of the Connecticut AFL-CIO and Peggy Buchanan, president of the Greater Hartford Central Labor Council. In his spirited speech, Olsen pledged full support from the members of the AFL-CIO in Connecticut.
Wearing red Unite Here t-shirts, the workers pledged to stand firm. In organizing the rally, the Unite Here New England Joint Board said the workers want "a health insurance plan that allows us to afford to see a doctor and bring our kids to the doctor and wages that allow us to provide for our families."
Wages are currently between $8.40 and $11.75 an hour. According to the National Low Income Housing Coalition, in 2007-2008 an income of at least $21.11 an hour is needed to afford a two-bedroom apartment in Connecticut.
"Help stop the race to the bottom," said the call to the rally. "TJX shouldn't join the ranks of the exploiters of the poor like the Hyatt and Wal-Mart."
Photo: PW/Thomas Connolly