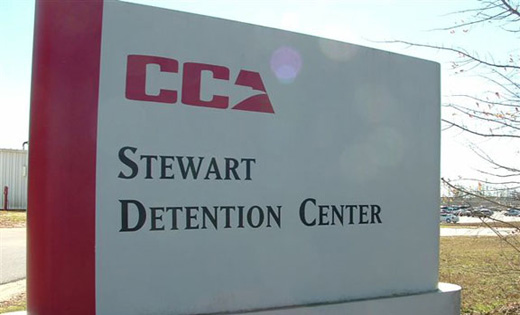 LUMPKIN, GA – From April 5-9, People's World accompanied a local faith based advocacy group to visit immigrants being held at Corrections Corporation of America's (CCA) Stewart Detention Center in Lumpkin, GA. What we witnessed is criminal.
U.S. actions drive immigration
Before I delve into details of the trip, let's review a few things about the realities of immigrants in the U.S.
We cannot even begin a conversation about immigration without first addressing why people leave their home countries and begin a dangerous and often deadly journey to the U.S. We must first start with understanding how U.S. foreign policy and imperialism have been the root of many of the conflicts, economic insecurity, forced relocations and even genocides in much of the developing world. Let's start with what I know about my home country, the Dominican Republic.
On April 28th, 1965, 405 U.S. Marines landed in Santo Domingo, the capital of the Dominican Republic, to support the U.S. backed military dictatorship in their fight against the Constitutionalists and revolutionary forces; a dictatorship responsible for over 50,000 murders including the Parsley Massacre and the disappearing of numerous political and union activists. To this day, U.S. and Canadian businesses through economic and political means, continue to make it nearly impossible for the Dominican people to make a life for themselves and determine their own political destiny. Please go here for a more detailed history of U.S. involvement in the Dominican Republic.
A more recent U.S. supported military coup took place in Honduras with Secretary of State and presidential candidate Hillary Clinton playing a role. W.T. Whitney reported for People's World that "the United States backed the Honduran government formed by plotters who had arranged the military coup overthrowing President Jose Manuel Zelaya in June, 2009. Now the U.S. government supports a successor regime headed by President Porfirio Lobo, elected under dubious circumstances. Lobo's visit to Washington in October 2011, got red carpet treatment." See full article here.
All this because, Whitney writes, "Zelaya experimented with land reform and called for a minimum wage, thereby enraging local political bosses. The U.S. government was offended by his having led Honduras into the anti-imperialist ALBA alliance of Latin American countries."
These are just two examples in the Western hemisphere, but these types of actions have been taking place globally since World War II, fueled by the U.S.'s policy of regime change in the name of anti-communism and "democracy." To me, as an American citizen who knows the consequences of U.S. foreign policy, we as a nation have a responsibility to those who have been displaced by the actions of the United States.
Now to speak to the myths told about immigrants here in the U.S. Many people believe that undocumented immigrants pay no taxes and therefore do not contribute to our national, state and local tax base, but this is simply untrue. According to a study by the Institute for Taxation and Economic Policy (ITEP), "undocumented immigrants paid $10.6 billion in state and local taxes in 2010, a figure that includes $1.2 billion in personal income taxes, $1.2 billion in property taxes, and more than $8 billion in sales and excise taxes." The same article notes that "a 2013 Social Security Administration report estimated that undocumented immigrants and their employers paid $13 billion in payroll taxes. And according to a recent Harvard University study, undocumented immigrants' payroll contributions to Medicare totaled more than $3 billion each year."
Another myth is that undocumented immigrants "drain the system." An article in CNN Money says that "undocumented immigrants do not qualify for welfare, food stamps, Medicaid, and most other public benefits. Most of these programs require proof of legal immigration status and under the 1996 welfare law, even legal immigrants cannot receive these benefits until they have been in the United States for more than five years." The CNN Money article goes on to note that "A CBO report on the Comprehensive Immigration Reform Act of 2007 concluded that a path to legalization for immigrants would increase federal revenues by $48 billion. Such a plan would see $23 billion in increased costs from the use of public services, but ultimately, it would produce a surplus of $25 billion for government coffers."
For more myth debunking, read the full article here.
A visit to Stewart Detention Center
Now let's talk about my trip and what I witnessed. I was invited by a friend and local social justice leader Janet Bernhard from the Coronado Community United Methodist Church in New Smyrna Beach to attend a trip to Lumpkin, Ga. to visit detainees at Stewart Detention Center, a for-profit prison.
Stewart Detention Center, operated by Corrections Corporation of America (CCA), is a notoriously inhumane prison that has been described as a "living nightmare." Azadeh Shahshahani of Huffington Post wrote that immigrant detainees at Stewart have insufficient or no access to translators, poor or no medical care, food infested with maggots and unsafe high temperatures. In 2009 Roberto Medina Martinez, a 39 year old Mexican immigrant and detainee at Stewart, died from an easily treatable condition while being transported by ICE to the closest hospital in Columbus, Ga., nearly 45 minutes away. And this is just one known example; others have perhaps not made the news because communication between detainees, their families, and advocates is extremely difficult.
Heavy restrictions are also put on those who want to visit detainees, including family and attorneys. All visitors must wear "socially accepted" clothing which prohibits shorts, tank tops, sleeveless shirts, above mid-thigh skirts, "short dresses," open-toe shoes, leggings, pants/jeans with holes in them, half or no sleeve blouses, any see-through garments, hats and caps. Womens' underwire bras also frequently trigger the metal detectors, disqualifying them from visiting detainees. If you have a medical condition or implant that sets off metal detectors, you must bring medical documentation. Also, you cannot bring anything into the visitation room, not your phone, a note pad and pen, reading material, nothing. Many visitors to Stewart Detention Center are not aware of these restrictions and are turned away.
Now about the treatment of visitors by the staff of Stewart Detention Center. I was shocked by the way the guards addressed myself and my fellow visitors. They were excessively rude and mean, yelling at us to stop talking (forcing us to whisper), sit down (no standing up no matter how long you have been waiting), there are no bathrooms, no water fountains, and again, you cannot have any belongings with you (no books, magazines, papers, phones, nothing) and you cannot wait in your vehicle. I waited a total of three hours to visit with no access to a bathroom or water. I should state that, judging by the way we were treated by the guards, I cannot imagine how they interact with the detainees. After all, these detainees are not formally "prisoners" and Stewart Detention Center is not a "prison," but a holding center for immigrants being processed by ICE.
When I finally got to visit a detainee after a three-hour wait, he arrived chained to a wheel chair and with his face masked like a scene from Silence of the Lambs. I soon found out that he was being held in segregation, also known as solitary confinement. Previously, we heard stories of detainees being punished with "segregation" for arguing for their right to a $2 a day job within Stewart, asking questions, complaining about food and conditions, conversing with staff when not prompted to and others. Roque Planas of Huffington Post has written about detainee abuses at Stewart Detention Center.
After the detainees we were visiting arrived, the guards removed his mask and our conversation immediately started flowing (he had been in "segregation" for 4 days with 16 days to go). The effect that solitary confinement had on him was obvious. He was so excited to be able to talk with someone and be able to converse in Spanish. I was surprised about how optimistic he was, speaking about going to college, seeing his family, cooking food he loved and missed and leaving his current detainment in the past. Our conversation was abruptly ended by a guard who pulled him back into his wheelchair, put him back in chains and pulled him away with no consideration of our exchange.
El Refugio, a hospitality house in Lumpkin, Ga. near the Stewart Detention Center which serves the family and friends of men detained there, briefed visitors on what to expect and how to conduct ourselves while at Stewart, but there is no substitute for firsthand experience. Amilcar Valencia, Executive Director of El Refugio, told us to not use the names of detainees we visited in any sort of story or article because of retaliation against them, but through El Refugio we could correspond with the detainees.
El Refugio is a non-profit that provides free meals and lodging for families of detainees, friendship and comfort, and arranges visits with the detainees at Stewart. There are no hotels or other lodging in Lumpkin, Ga. and El Refugio provides a priceless service to the families and friends of detainees that they otherwise would not have.
Upon returning home, I researched the history of Stewart Detention Center and was even more shocked about what the detainees go through. Stewart is only one of many for-profit immigration detention centers used by ICE, and how profitable and prolific the privately owned prison business is.
Sharita Gruberg of the Center for American Progress reported that the "increase in detention bed space coincided with an increase in spending on immigration detention from $700 million in FY 2005 to more than $2 billion today (Dec., 2015). Not surprisingly, this spending increased revenues for CCA and the Geo Group (another for-profit prison company)." Gruberg went on to note that ICE contracts alone account for 13 percent ($28 million) of CCA's $221 million revenue in FY 2014. At the same time their revenues doubled between 2005 and 2015, CCA spent $18 million on lobbying Congress with more than $8.7 million spent solely on Homeland Security appropriations.
It is obvious who has had the largest impact on our national immigration policy and who is responsible for the misery that many immigrants endure while in detention here in United States: those who profit from it.
I can't help but think of all the families that these companies and policies have hurt over the years; people being disappeared on their way to work, families having their doors kicked in in the middle of the night, U.S. citizens and permanent residents being illegally detained for months because of their names. It's sickening. I also know that this could easily happen to me or someone in my family at any second.
Let's make sure we elect a president and Congress this fall that will rid us of this horrible business of detention and misery. A president and Congress to help our undocumented sisters and brothers become citizens and live in peace, not fear.
Photo: Stewart County GA