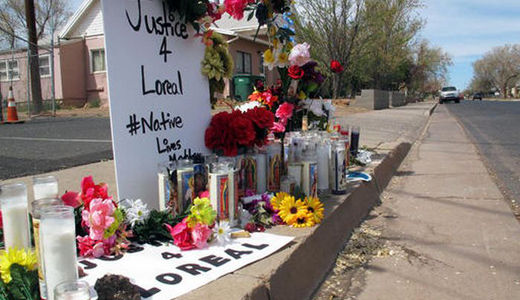 Easter Sunday, 2016 should forever resonate as a day of infamy in Winslow, Arizona. On that date a young Navajo mother, 27 year old Loreal Tsingine, was mercilessly and brutally gunned down by Winslow Police Officer Austin Shipley. The young woman was shot five times by the officer, allegedly for resisting arrest by brandishing a pair of scissors. Loreal was petite- five feet tall and weighing less than 100 pounds- and Officer Shipley is six feet tall, a white male and weighs over 200 pounds. One eyewitness, who arrived at the grisly scene just seconds after the shooting, stated that he saw "her body either writhing in pain or convulsing in shock, blood still pouring out of her, with a cop standing over her and telling everyone to back up."
On March 27, Easter Sunday, officers of the Winslow Police Department (WPD) responded to a call from a Circle K store clerk that a young Native American woman had just shoplifted a case of beer. Two police cars pulled up to where Loreal was walking. Officer Shipley and another policeman stopped her about two blocks from the store. In the course of attempting to make an arrest, according to police spokesman Lt. Jim Sepi's remarks printed in the Arizona Republic, a struggle ensued, Loreal presented a pair of scissors and was shot five times by Officer Shipley and died at the scene. This is the police version of this horrific tragedy.
But eyewitness accounts and cell phone video tell another story. Loreal did not flash any scissors, nor were any scissors even seen. She was not carrying any beer when the incident occurred.
Whose story is true?
Who should be considered credible? Border town police who have a reputation for wantonly abusing and killing Native people? Or eyewitness accounts backed up by cell phone video? To me, the answer is obvious. In addition to this, so far no footage has been released by the authorities from the officer's body camera, although they did admit he was wearing his camera.
Certain aspects of this episode can be determined by common sense reasoning. Again, Loreal was petite, which means that she could have been easily subdued without a shot being fired by a big, bulky, policeman who was being assisted by at least one other officer. This would be true even if she was brandishing scissors.
More common sense reasoning: there was no reason for even one shot being fired, much less five shots. Officer Shipley emptied or nearly emptied his service revolver into this young mother of an eight year old daughter.
This gut-wrenching incident occurred at about 5:30 in the afternoon. After the shooting, witnesses say the police did not administer CPR, nor would allow any civilian to assist in aiding her.
Further, the WPD would not remove Loreal's body from the scene until 6:00am Monday morning. This brings to mind the killing of the young African American, Michael Brown, whose body also lay for hours at the scene where he was killed by a white police officer in Ferguson, Missouri. This is a callous shock to the senses and in Loreal's case, also, a violation of Navajo customs, traditions and beliefs.
This slaying is a sickening outrage to all of Indian Country and this police officer must be brought to justice. There was a candle light vigil, organized by Red Nation, a coalition of Indian and non-Indian activists, held April 2. The vigil was attended by Loreal's family members, members of Winslow's Indian and non-Indian communities, Navajo Nation President Russell Begaye and members of the Phoenix Chapter of Black Lives Matter at the WPD to demand justice for the killing of Loreal.
Native lives matter
The hideous killing of Loreal has also raised the issue of police violence against Native people in general and Native women in particular in the reservation border towns. At the vigil, Indian speakers and attendees shared story after story of abuse at the hands of the police, running the gamut from intimidation to outright assault. For many this has been a fact of daily existence. Indeed, some Navajos that I know, while expressing sadness and outrage at this odious, barbaric murder were surprised that it made the news because it happens so often.
Loreal's family has found that her hands were grazed by bullets and there were bullet exit wounds in her back. This means that this helpless young mother reflexively threw up her hands in a terror-stricken and vain attempt to ward off the fusillade of bullets that took her life. The bullet exit wounds in her back mean that the officer was standing in close proximity to her when she was gunned down by bullet after bullet.
It must be kept in mind that in a military conflict the circumstances surrounding the killing of Loreal would be considered a war crime. Should the UN be called in for an international investigation, in light of the fact that the U.S. justice machine is broken in these type of cases because of systemic racism?
This hideous slaying further highlights the high rate at which American Indians, and in particular young Native people are killed by the police. According to the Center on Juvenile and Criminal Justice, Native Americans are the racial ethnicity most likely to be killed by police . In proportion to their share of the general population, Native people are killed at a higher rate than any other ethnicity.
But because of the odious racism of the mainstream news media, the wanton, relentless police killings of American Indians have not been part of any national reporting. Native people have as usual been kept behind the racist "buckskin curtain." For example, the death in jail of longtime Choctaw activist, Rexdale Henry, while in Mississippi police custody just one day after African American, Sandra Bland was found hung in her Texas jail cell, went comparatively unnoticed. The blotting out of Native Americans from the national conversation can be directly attributed to the ultra racist national news media that ignores the plight of Native Americans.
Moreover, the killing of this helpless young Native woman reflects the fascist atmosphere faced by American Indians at the hands of the police in reservation border towns. The war against Native people continues unabated. The police forces in these towns operate like an occupying army that has invaded another country. This has prompted Lakota Peoples Law Project(LPLP} attorney Chase Iron Eyes to comment that there is an "undeclared race war" being waged against American Indians.
Where is the outrage in the mainstream media for Native people? Native lives matter, but obviously not to the news media.
Having lived and worked on various reservations in an attorney capacity in the Southwest, I have frequented a number of border towns and am familiar with the racist behavior of the police.
Statements by Andrew Curley, a spokesperson for Albuquerque-based Native rights group The Red Nation, indicate further actions to be taken (in addition to the candle vigil held on April 2) at the WPD headquarters. "The focus shall be not just on Officer Shipley , but on the issue as a systemic problem," said Curley. He added, "We are working to organize the community to continue the pressure for an independent investigation."
This writer shall continue to report on this matter as it further develops and to also focus in future columns on the horrific circumstances for Indian people subjected to a genocidal reign of terror in the reservation border towns in the Southwest.
Let the death of Loreal be not in vain.
Photo: April 5, candles, flowers and stuffed animals at the site where Loreal Tsingine was shot and killed by Winslow, Ariz., police officer Austin Shipley on March 27. Shipley has been disciplined twice in his three-year law enforcement career. Felicia Fonseca | AP