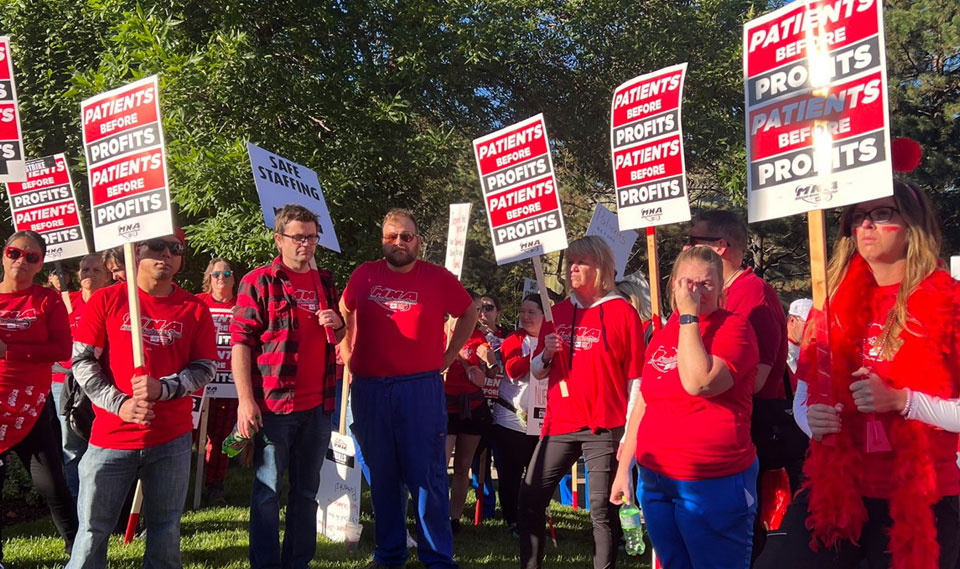 Hospital refusal to address sort-staffing, nurse-patient ratios, patient safety, and low pay forced more than 15,000 Minnesota nurses at 16 hospitals into what their union says is the largest private sector nurses strike in U.S. history.
The nurses, members of the Minnesota Nurses Association/National Nurses United, gave their official strike notice to institutions in the Twin Cities and Twin Ports—Duluth, Minn., and Superior, Wis., plus their suburb of Moose Lake—on September 1. The forced strike began September 12. Nurses will return to work the morning of September 15.
Hospital bosses walked away from bargaining on September 10, the Duluth Labor World reported. The old contracts expired June 30, and fruitless bargaining had been going for months before the hospitals forced the nurses to walk in what MNA officially calls an unfair labor practices—labor law-breaking, in plain English—strike.
"Nurses believe that healthcare in Minnesota should put patients before profits," MNA said in a statement on September 12. "We believe that safe patient care should be the top priority in Minnesota hospitals, not the profits of hospital executives or corporate bottom lines and results for shareholders.
"Right now, 15,000 nurses are on strike to oppose the corporatization of healthcare in Minnesota at the hands of hospital executives, as clinics and hospitals are closed, nurses are short-staffed, and patients are overcharged," MNA added.
Short-staffing and pay problems are issues nurses face nationwide, as hospitals and other health care institutions kowtow to the demands of insurers for higher returns to those firms at the expense of care—evidence of the nation's profit-driven dysfunctional health care system. NNU says the profit motive, and the insurers, would be driven out of health care by the creation of government-run Medicare For All.
"Hospital executives with million-dollar salaries have created a crisis of retention and care in our healthcare system, as more nurses are leaving the bedside, putting quality patient care at risk," Minnesota Nurses Association President Mary Turner, an RN at North Memorial Hospital, said after the strike authorization vote earlier in the month.
"Nurses do not take this decision lightly, but we are determined to take a stand at the bargaining table, and on the sidewalk if necessary, to put patients before profits in our hospitals."
Joined by state Attorney General Keith Ellison and others, nurses walked picket lines in the Twin Cities, Duluth-Superior, and Moose Lake to publicize the staffing shortages and the danger that poses to patients.
They also pointed out that low pay only makes things worse. Meanwhile, an MNA chart showed hospital CEOs walking away with huge compensation packages.
Interviewing nurses on the picket line in the Duluth area, Labor World editor Catherine Conlan found them making those same points. Nurses in an Essentia chain hospital, at St. Luke's, and in Moose Lake picketed there.
"We don't want our patients to go through this and neither do we," said Sarah Lambert, a 14–year RN who works at Moose Lake. "But we have to. We've been negotiating for two years."
The bosses aren't budging on either safe staffing or nurse-patient ratios. "Management walked away because we refused to drop our staffing priorities," Chris Rubesch, MNA first vice president and a cardiac nurse at Essentia, told Conlan.
Rubesch added hospital bosses also have used legal threats to intimidate nurses to stay on the job. "We demand no retaliation in this strike to any nurse who participates," she said.
On Duluth-area picket lines, the mood was high as participants picked up signs and started walking. Honking cars and trucks, cheers and cowbells filled the air as nurses walked off the job.
Walking the picket line with nurses in the Twin Cities, Ellison tweeted: "Nurses are vital to our health care system. They deserve a voice on the job, safety, and fair compensation."
"Nurses in my state are striking en masse. Yes, it's disruptive to patient care, but ya know what? So is corporate healthcare. I am grateful to @mnnurses for standing up collectively to ensure our patients can receive safe high-quality care. #solidarity," Dr. Hannah Lichtsinn tweeted.
MNA also released a chart showing eight hospital CEOs' compensation covering all 16 hospitals involved, and the pay ratios between each CEO and that of the average RN.
The ratios ranged from 40-1 between M Health CEO James Hereford, whose compensation totaled $3.5 million for running five of the hospitals, down to 10-1 for Co-CEOs Eric Lohn and Nicholas Van Deelen of St. Luke's, who each garnered at least $700,000.