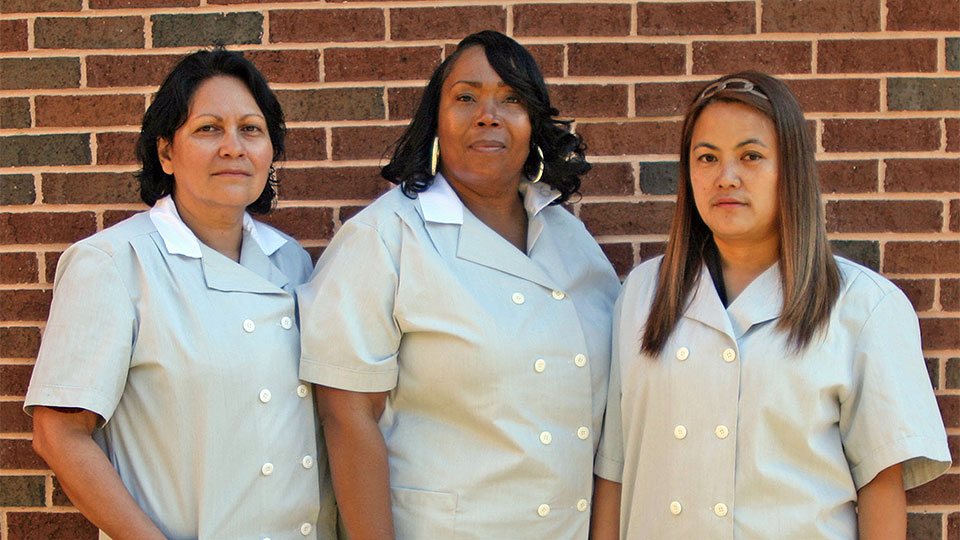 LAS VEGAS—U.S. hotel industry executives, using the coronavirus pandemic as an excuse, plan to cut up to 39% of their housekeepers, depending on the chain involved, even after fully reopening once the plague retreats, Unite Here reports.
Its eight-page study, Playing Dirty, released at the end of June, calculates up to 180,917 housekeepers, 89% of whom are women and 73% of whom are Black and brown, would lose their jobs.
The report's conclusions are based on interviews with housekeepers and hotel honchos' public statements and spending and earnings forecasts to Wall Street investors. They're also based on history, the union notes.
Hotel CEOs cut housekeepers after each of the last two industry recessions, one due to 9/11 and the other from the 2008 financier-created crash, Unite Here said. The hotels also urge guests to decline demanding daily housekeeping services, resulting in less work each day—and a lot more work, per remaining housekeeper, at the end of each guest's stay.
That's when all the sheets must be cleaned and changed, sinks, toilets, and tubs scrubbed, linens washed, and mattresses turned. If a room isn't cleaned until it must be, the tasks become infinitely harder. longer and more injurious, Playing Dirty notes.
The same pattern is repeating itself as hostelries reopen following the apparent retreat of the coronavirus pandemic, which at one point had cost 98% of all Unite Here members—including virtually its hotel workers—their jobs.
"Almost since this crisis began, hotel executives seized on the pandemic as a chance to end the practice of daily room cleaning, long a target of efforts to reduce labor costs in housekeeping."
The report quotes two top hotel CEOs, by name, as planning hotel housekeeping cuts, saving the industry at least $4.8 billion in total pay and benefits while leaving the women and their families out of pocket and out in the cold.
"The work we're doing right now…is about [making hotels] higher-margin businesses and creating more labor efficiencies, particularly in the areas of housekeeping… When we get out of the crisis, [hotels will] require less labor than they did pre-Covid,' Hilton CEO Chris Nassetta recently told investors," the report says.
And it quotes Host-Marriott CEO Jim Risoleo as saying: "We view…this crisis truly as an opportunity to redefine the hotel operating model. We won't have the incremental cost associated with housekeeping."
"Epidemiologists, industrial hygienists, and other health experts, including former President Obama's OSHA director, said daily room cleaning yields similar public health benefits to cleaning other parts of a hotel and is safe when workers have appropriate PPE (personal protective equipment) and the hotel is well-ventilated," Playing Dirty adds.
But the hotel honchos are focused on increasing their bottom line, and their attractiveness to Wall Street, not on cleanliness, paying workers, or satisfying guests, few of whom—10%—want their rooms' cleaning skipped, the report adds.
Unite Here has managed to avoid that fate for its members in selected big hotel/convention cities, including New York, Las Vegas, and San Francisco. That doesn't solve the problem, union President D. Taylor says.
"The hotel industry is trying to get back to full occupancy without ever bringing back its full workforce," he said in introducing the study. "That's bad for workers and guests because hotel executives are using Covid-19 as an opportunity to eviscerate housekeeping jobs and cut cleaning services.
"And when you think about a hotel without daily housekeeping, that's almost like a college dorm experience. Housekeeping jobs are the backbone of the service economy, and taking these jobs away means that many working families and especially communities of color might never recover."