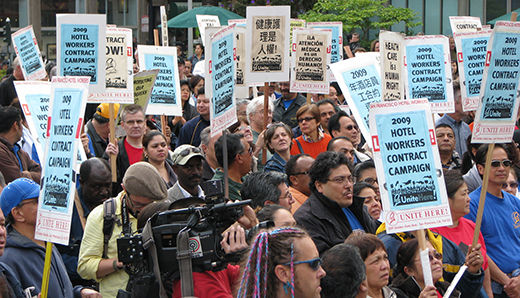 SAN FRANCISCO – With an overwhelming strike authorization vote Oct. 22, workers are ratcheting up the pressure on the city's top hotels to end their stalling, drop demands for takeaways and agree to a fair contract. Many of the city's most prominent hotels are among the 31 affected by the vote.
With more than 3,000 workers casting ballots, over 93 percent voted to authorize Unite Here Local 2's bargaining committee to call actions up to and including strikes, if necessary. In the meantime workers are remaining on the job. The union is calling a "day of action" from 7 a.m. to 7 p.m. on Oct. 27, at an as-yet-unspecified hotel.
Speaking to reporters as the vote was in progress, Local 2 President Mike Casey said employers are proposing "deep, unjustifiable and impossible cuts" in bargaining ongoing since mid-August, when the previous contract expired.
The union has proposed two options: a one year contract keeping affordable family health care and making "extremely modest" adjustments to wages and pensions, and a three year pact addressing core issues including continued affordable family health coverage, better dental and retirement benefits, fair wage increases and guarantees of reasonable workloads.
Though the corporations "may be crying the blues right now," Casey said, "all the analysts indicate that in 2011-2012, we're going to see a rebound" in the hotel industry as well as in the economy generally, and hotel workers must also benefit from the upswing.
Meanwhile, he said, the hotels are "seeking to use the economy as an excuse to combine jobs, shorten shifts, require workers to pay for health care, and reduce pensions," in the hope of accomplishing what they could not during talks for the previous contract in 2004-2006.
As in most contract talks throughout the country, health care tops the list of issues. Though negotiations are taking place separately with the various hotel corporations, overall the union says they are trying to cut health care contributions, putting workers on a path to huge monthly copays and/or drastically reduced benefits. Several are also proposing combined job classifications, new four-hour shifts, and cuts in starting rates.
Addressing the reporters, Ringo Mak, a server at the Hilton Hotel, underscored the health care issue's seriousness: "If they don't give us the health benefits, we will have to go to San Francisco General Hospital [the city's public hospital] and the burden will fall back on the city. I don't think anybody should want that. The hotel is making a profit every year, and that makes what we're asking for affordable."
The union points out that in the "boom period" of 2004-2008, hotel corporations made record profits of over $110 billion in North America, and that they remain profitable even under current conditions.
Workers participating in the strike authorization vote included room cleaners, dischwashers, cooks, bell staff, servers, bussers, bartenders and others. Their earnings average $30,000 to $35,000 annually. About 40 percent are of Asian/Pacific Island descent and another 30 percent are Latino. The average Local 2 member has worked at the same hotel for more than a dozen years.