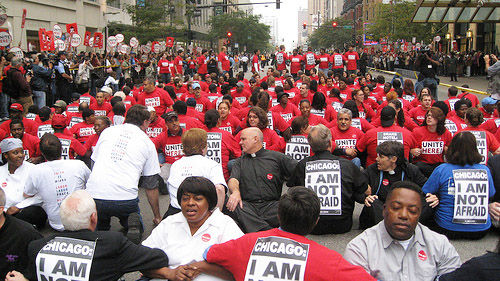 CHICAGO – About 200 hospitality workers and supporters were arrested here Sept. 24 as part of a civil disobedience action in the streets outside the Hyatt Hotel and corporate headquarters. Those who participated in the sit-in, blocking rush hour traffic for more than an hour, were cheered on by almost 1,000 demonstrators who jammed the sidewalks in front of and across the street from the hotel. All those arrested were bussed to a special police facility where they were given citations and released.
The largest civil disobedience action by workers here in many years came less than a year after other workers in Chicago made history last winter by occupying a window and door factory after the owner shut it down.
The sit-in was organized by Unite Here Local 1, the union that represents 15,000 hotel and food service workers in Chicago and casino workers in Northwest Indiana. The action came amid escalating labor disputes with Chicago hotels and growing public backlash against Hyatt hotels for the recent firing of 100 housekeepers in Boston. Unite Here Local 1 is in contract negotiations with hotel employers, including the Hyatt. Their contract expired Aug. 31.
Massachusetts Gov. Deval Patrick confirmed Sept. 25 that he has ordered state employees to stop doing business with Hyatt hotels until it rehires the fired workers. Hyatt fired the workers and brought in lower-paid replacements the laid-off workers had trained.
Reflecting the national nature of the outrage, 92 hotel workers in San Francisco were arrested in a simultaneous civil disobedience action, also on Sept. 24.
The protests capped months of anger in the ranks of hotel workers here and around the country who are criticizing their employers for driving down wages, increasing workloads, cutting health benefits and jobs.
Susan Tynon, a banquet server at the Hyatt here told the World, as she sat in the middle of Chicago Ave., arms linked to co-workers on her left and right, that "Hyatt made $200 billion in profits in the last ten years and now they are trying to use the excuse that the economy is bad to cut jobs, cut benefits and make one of us do the work of three. I'm sitting here because I'd rather go to jail than to a hospital for being worked to death – if they get away with this I wouldn't be able to go to a hospital anyway – they're trying to cut our health benefits."
Cheers and applause broke out from the crowds of supporters lining Chicago Ave. every time another dozen or so workers, wearing their uniforms and placards reading "I Am Not Afraid," moved into the street, linked arms and sat down. Among those arrested were community leaders including Chicago Alderman Ricardo Munoz and Jane Ramsey, executive director of the Jewish Council on Urban Affairs.
"These men and women wash your plates and make your beds. They are our brothers and sisters," Munoz said as he sat down in the middle of the street.
Frances La Rowell, a housekeeper at the Blackstone Hotel, was among the first to sit down. "I am not afraid," she said, "I'm doing this because I have breast cancer and I have children to take care of. They want to cut my health benefits and pay. The chemotherapy is really rough but it's not as bad as what they are doing to us at work."
Despite the urgency of their own struggles on the job here, almost everyone expressed support for the workers in Boston.
In that city, on August 31, Hyatt fired the housekeepers (all women) and replaced them with low wage workers from a contractor in Georgia after telling the women they were training "vacation" replacements.
Angela Norena, a fired housekeeper at a Boston Hyatt told the World, "You cannot imagine how bad they were to us. I came to America 21 years ago and for all those years worked my fingers to the bone for them here in the land of opportunity.
"They came to me and said 'don't worry, you are too important to us to lose. Just train this person so we have someone here when you are on vacation.' I believed them. I taught the person everything I knew. And then they came to me and said, 'we don't need you anymore.' I'm mad as hell. After 21 years, I made $15.22 an hour and they kicked me out and replaced me with a woman I trained. They are paying her $8.00 an hour."
Norena then linked arms with several local hotel workers, moved into the street and sat down. One of the workers who joined her in the sit-in was Claudette Evans, a floor care attendant at the Chicago Hyatt for 11 years. "They can arrest me because what the Hyatt did to those housekeepers in Boston is unthinkable and by sitting down, I'm standing up for those ladies," Evans said. "I'm also standing up for myself and my mother, who's been a housekeeper here too for 14 years. Our future, our health and our jobs depend on this."
Earlier in the day Norena joined a delegation of women working in Chicago hotels in an appeal to Hyatt owner Penny Pritzker, who was giving a talk at the Sheraton Chicago, to bring back the "Hyatt 100" housekeepers in Boston.
Hyatt, which made $1.3 billion in profits from 2004 to 2008, is 85 percent owned by Chicago's Pritzker family. Pritzker was at the Sheraton Sept. 24 addressing a conference of the National Center for the Seniors Housing and Care Industry.
Pritzker made no comments to the workers and reportedly ran away from them. Norena said she was "disappointed" but would "continue to fight until every last one of us gets our jobs back."
(Photos and video by ProgressIllinois.com)