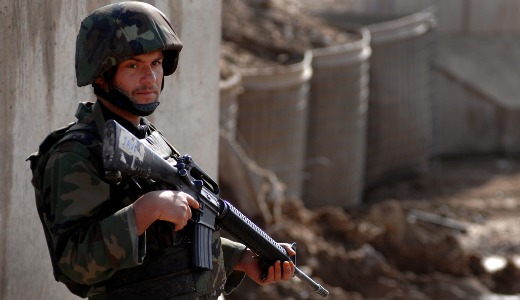 With a 204 to 215 vote on a bipartisan amendment by Reps. Jim McGovern, D-Mass. and Walter Jones, R-N.C., the U.S. House of Representatives May 26 came closer than ever before to calling for an end to the Afghanistan war.
The proposed amendment to the National Defense Authorization Act called on President Obama to prepare a plan "with a timeframe and completion date" to speed up transfer of military operations in Afghanistan to Afghan authorities. The amendment was backed by 178 Democrats and 26 Republicans; eight Democrats and 207 Republicans opposed it.
Though the measure was narrowly defeated, the vote represents a significant advance over previous tallies: last summer, a similar amendment received just 162 votes.
The amendment was backed by three Republican members of the Armed Services Committee, and got significant support from new Republican House members.
Obama has set July 1 to start the drawdown of U.S. troops from Afghanistan, but the amendment's supporters fear that as few as 5,000 troops may be withdrawn initially.
An Associated Press-GfK poll earlier this month found 59 percent of Americans opposing the war, with substantial backing for the July start of troop withdrawal.
"Today's strong bipartisan vote represents a huge step forward in the effort to bring the war in Afghanistan to a close," McGovern said after the vote. "I hope the president recognizes that there is a growing consensus in Congress and the country that our policy needs to change."
In the end, the National Defense Authorization Act passed, 322-96. It authorizes military spending of $690 billion in the coming fiscal year.
Over 1,500 U.S. troops and many thousands of Afghan civilians have been killed in the nearly ten-year-old war, which is now costing the U.S. at least $10 billion monthly.
Before the vote, McGovern told his fellow legislators, "This is the longest war in our nation's history. It's no longer about al-Qaeda.
"President Obama has promised a drawdown of U.S. troops in July," he added. "Now we hear that might just be a token drawdown… Help him do what the American people want him to do – bring our troops home, and invest in America."
Also May 26, the House voted overwhelmingly to bar the sending of U.S. ground troops to Libya.
On the same day the House vote took place, eight U.S. soldiers were killed in an explosion in southern Afghanistan.
Photo: DVIDSHUB // CC 2.0